Job mastering made easy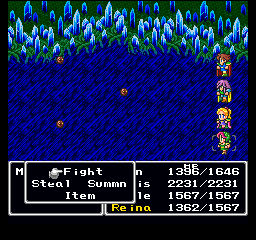 In the N-Zone, make your way to the level where you fight Necrophobe. This also provides a Save Point of course. In this area, not only do the normal random encounters provide a heafty amount of ABP, but there is one enemy who can bring mastering jobs to fruition very easily.
You will randomly come across the Mover enemies. They always travel in 3. These enemies need to be taken care of quickly, so it is best to use summons such as Bahamut, or multi-striking spells. If you can defeat them, they bring in 199 ABP, and 150,000 Gil! You can easily master jobs with just a couple of fights with these guys. Keep around here, and get a lot of jobs mastered before the big fight with X-death.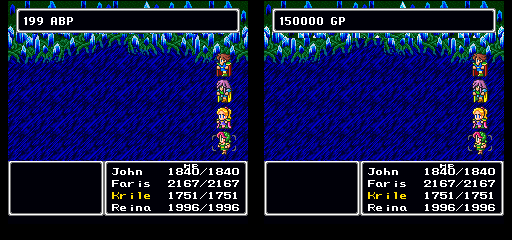 Play us a song Piano Man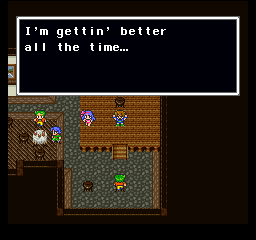 From your very first town of Tule, you will find piano's scattered across the game. There is more to them, than simply a little bit of background decor.
Each time you play a new piano, your skill at playing will increase. When you have managed to play all the available piano's in the game (Merged World), you will become a Piano Master. When this happens, return to the Bard in Crecsent, and he will teach you the Hero's Rime. Below is a list of the different piano locations.
Piano 1: Tule Village Pub
Piano 2: Carwen Pub
Piano 3: Karnak Pub
Piano 4: Jachol Pub
Piano 5: Crescent (Bard's House)
Piano 6: Regole Pub
Piano 7: Moore Pub
Piano 8: Phantom Village (hidden passage)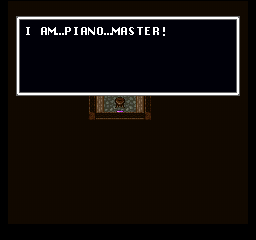 The last piano is in Phantom Village. The player must head to the Pub but not go in, instead, head behind it, and go down to get behind the pub's counter. The door on the left leads outside, and heading down will eventually come to a door. Inside, the player will eventually arrive at some steps. The player should then head down to reach the wall and turn left and press against the wall to reach a room that has steps leading up. It leads to the black chocobo. Before getting on the chocobo, the player can press against the left wall of the room that leads to it, and the last piano is in the next room.
It should be also noted that as Bartz increases his skill level of playing, the music will change with "real-world" music. Below is a listing of what different tunes will play as you advance in levels.
Lessons 1-4: Various finger exercises
Lesson 5: Schubert's "Marche Militaire No. 1"
Lesson 6: "Beautiful Dreamer" by Stephen Foster
Lesson 7: Mozart's "Rondo Alla Turca"
Lesson 8: Debussy's "Arabesque No. 1"

The job of the century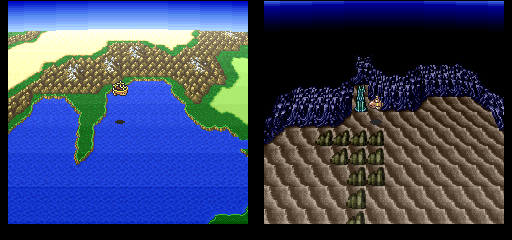 In X-Death's world, you can revisit the Walse tower, after getting the submarine. It is located underwater, south of the northern desert. Just land the ship in the sea, and submerge. It should be on the northern edge of the continental shelf. When you enter the shrine, you will find it to still be underwater. Basically you have 7 minutes to get to the bottom of this quest, and back out again.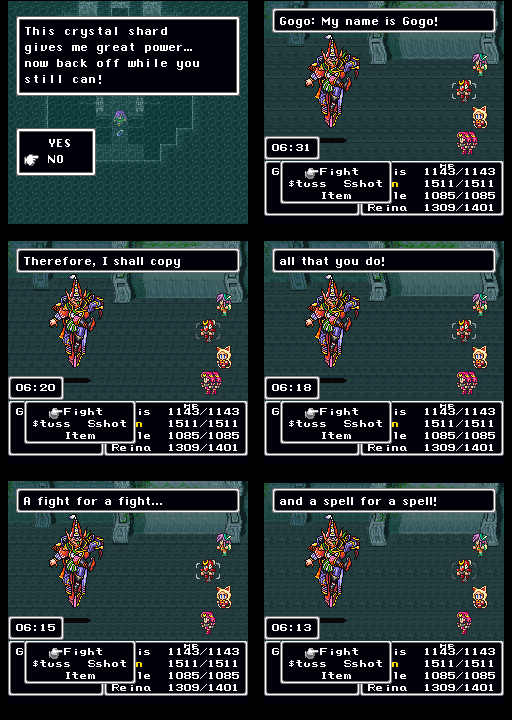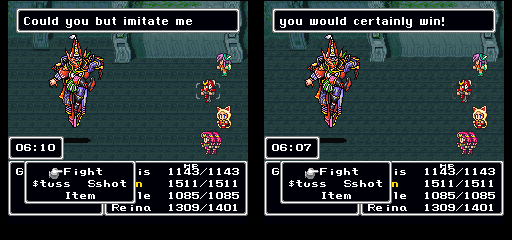 When you reach the bottom, you will come across a crystal shard. (Remember when the tower sunk, there was a crystal you could not get to.) When you pick it up, you will be challenged by a very unusual character...the Famed Mimic Gogo.
Gogo will tell you briefly about his style of mimic. Listen carefully to what he is saying, since he is basically telling you what to do. He will say a fight for a fight, and a spell for a spell. Or he will do everything you do do him right back. But if you do nothing to him, he can only do nothing to you in return. Thus he will see that you have learned the art of mimic, and let you go with the Mimic job and 50 ABP! This is by far the best job in the game. Along with the default Mime ability, you can attach three oher jobs as well! When you finish the fight, you can simply cast Teleport to leave the tower.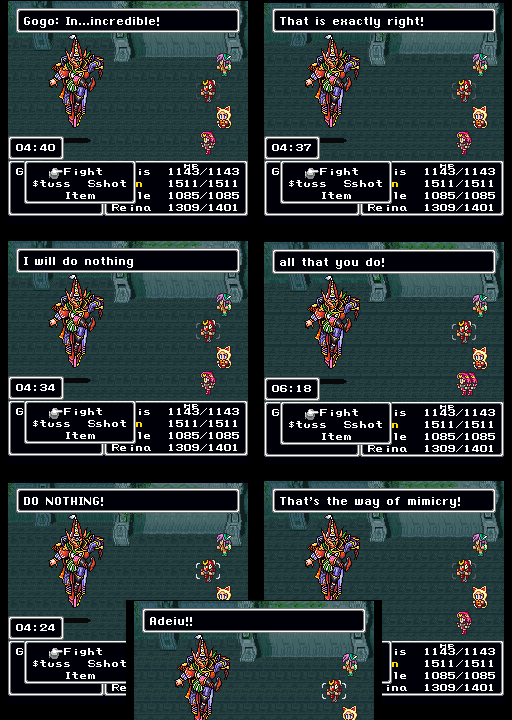 The fabled Guardian spell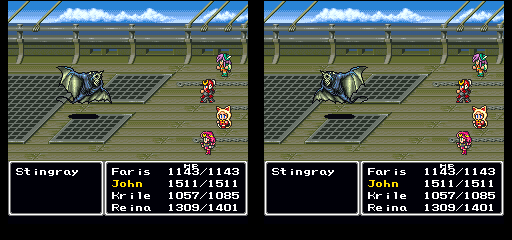 The ultimate in Blue Magic spells, is probably the hardest to get ahold of. The Guardian spell is found in X-Death's world, on the water above the sunken Waltz Tower. You need to sail around, until you come across the Sting Ray enemy.Once you find him, have one of your party members control him, and make him cast it on you. Be sure to either have a Blue mage handy, or the learning ability equiped. It is very rare to come across this guy, so you will want to be prepared for the first encounter with him. Otherwise, you will spend several more hours trying to find him.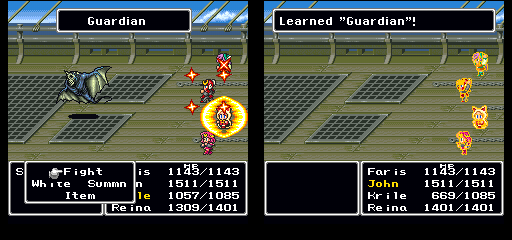 Old friends return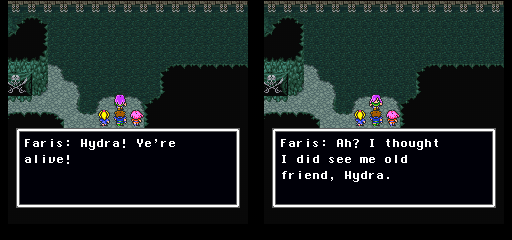 While in the Merged World, take a break and revisit the Pirates Hideout. When you enter, you will hear a very familiar sound. Everyone will investigate, and that is where Faris will see her friend Hydra. While no one else sees her at first, Krile recognizes the great sea beast. She explains that Hydra has a desire to aid her friend, and wants to be with her always. At this time, Hydra vanishes and becomes a powerful summon for the party. True friends are with you to the end and beyond.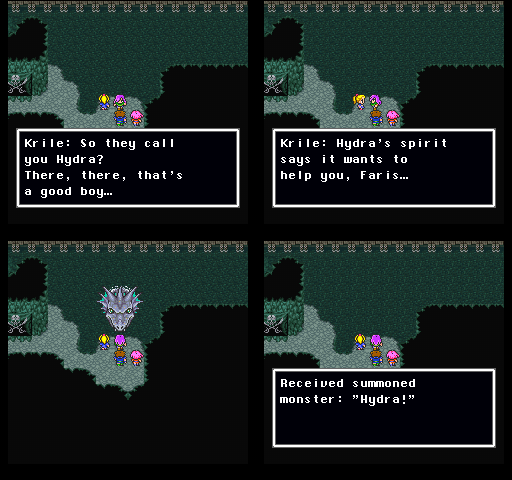 God of Thunder
when the world is merged together, you can enter the Jachol Caves. This time, instead of coming out in a surrounded small valley, you will come out in the locked Bal Castle basement.
Make your way through the many holes in the ground up to the summon stone. Here you will find Odin. He will give you a couple of chances to back away. So definitely make sure you are ready before heading into this fight. He will give you 1 Minute of attack time. Odin will not attack back. In this minute, it is all about your ability to take him down.
Boss Fight: Odin

Bring along a couple of folks who can cast Thundaga and Summon Catoblepas. There is a good chance you can win this battle pretty quickly. Using Break and Catoblepas has a chance of being successful. Basically this fight can end in one shot.
Otherwise Thundaga can do some pretty descent damage, as can a Flare enfused sword with Super Shot. Remember you have only 1 minute. If you find you cannot beat him, take some time and level up. In the same basement is an enemy called the Objet D'Art. 5 of them in a fight will yeild 4 ABP. This is the best place to master jobs outside the Interdimensional Rift.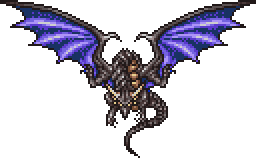 N. Mountain & the Dragon Lord
When you receive the first tablet at the Pyramid, Bahamut will appear. He will direct you to find him at North Mountain. You shoudl certainly wait, until you are better prepared, with a few levels under your belt, before rushing off to face him. When you are ready, take the Black Chocobo to the forst by the desert of the Phoenix Tower. Head up North, and then East to the mountain.
Inside the mountain should be a cake walk, since it is the same enemies you fought the first time around. Just head to the summit where you found the Wind Drake, and Bahamut will come to meet you there.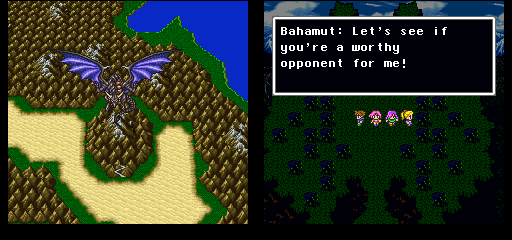 Boss Fight: Bahamut
Bahamut is certainly the most powerful of summons around. His Mega Flare attack is brutal. It can cause upwards of 2000 damage to the entire party. And this is just one of his attacks. He can use Maelstrom, and several elemental spells up his sleeve. It is a great idea to have two people who can heal you. First you will want a character with the Blue Magic ability to cast Mighty Guard.

This will definitely help render some of the damage, as well as giving you a speed advantage. The best method of winning is someone with a Super Shot and Flare Sword. This will bring him down within a couple of rounds. If not hit him with your highest spells. Slow and Stop have a chance of working, but it is pretty risky. Keep at him, and you will eventually prevail.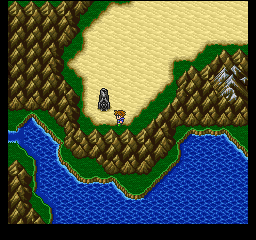 Phoenix Tower
The Phoenix Tower is located just over the mountains, to the west of the sunken tower of Walse in X-Death's world. There are 30 floors in this tower, and most of the floors have hidden doors. When you activate the door, a fight will ensue.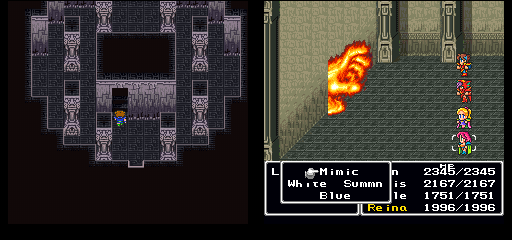 Before you head in, I would suggest having 30-40 Elixirs on you, and the Oracle's ABP Up ability. On the 5th, 10th, 15th, 20th, and 25th floor, you will find Magic Pots on either side of the rooms. They will ask you for Elixirs. Give them the Elixirs, until they dissappear. You will get 100 ABP for each Magic Pot encounter. Add that up, and you will get a total of 500 ABP! You could easily get the Hunters !Rapid Fire ability, or master almost any other class in here.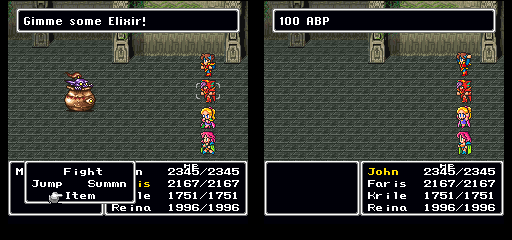 With the ABP Up, you could easily master 2-3 jobs, depending on the ones you choose. If you do not want to go through the tower as, say a Ranger, you don't have to. Just be sure to change into what you are trying to master, before you activate the pot.
If you mess up, you will have to start all over again to fix it. There are no save points in the Phoenix Tower.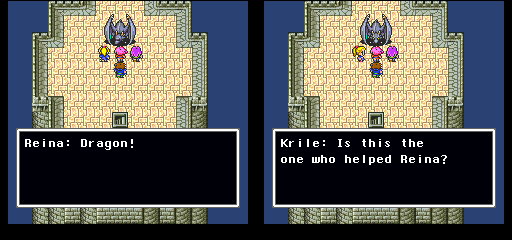 Once you reach the top floor, you will find Reina's dragon. Here you will get a flashback of Lenna's childhood. Her mother is dying, and the only cure is Dragon's Tongue.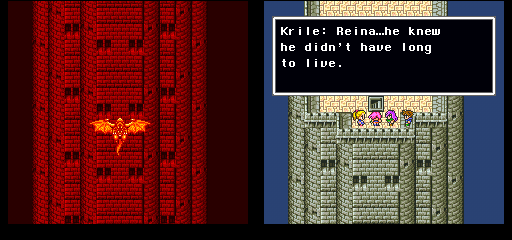 You will be given the option of sparing the dragon, or killing it. If you did the right thing, and spared the dragon, you will obtain the Phoenix Summon. If you choose to kill the dragon, you will lose the summon for good. This is a pretty powerfull summon, and it can revive fallen allies. The choice is yours.
(To see the dialogue from the past, and the choice, click Here.)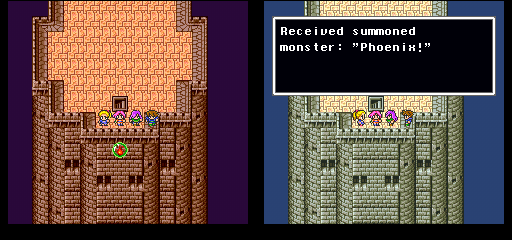 Here is a list of the proper doors to choose from on each level. Follow it, and you should have no encounters at all. That being said, you can gain several levels and Abilities fighting as well.
| | | | | | |
| --- | --- | --- | --- | --- | --- |
| 1 | Left | 11 | Stairs | 21 | Stairs |
| 2 | Stairs | 12 | Left | 22 | Left |
| 3 | Left | 13 | Right | 23 | Left |
| 4 | Left | 14 | Right | 24 | Right |
| 5 | Magic Pots | 15 | Magic Pots | 25 | Magic Pots |
| 6 | Stairs | 16 | Stairs | 26 | Right |
| 7 | Right | 17 | Left | 27 | Right |
| 8 | Right | 18 | Left | 28 | Right |
| 9 | Left | 19 | Right | 29 | Center |
| 10 | Magic Pots | 20 | Magic Pots | 30 | Find Dragon |
Are you brave? Or just plain chicken??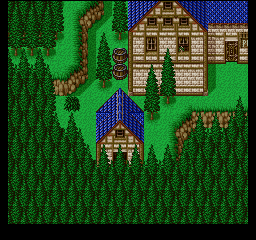 In X-Death's world, you might make a trek to Moore Village. In the southwestern edge of town, against the trees, there is a small building that was previously locked. Go through it and navigate the woods, until you come across an old man. He will tell you the box on the left contains the Brave Blade, while the one on the right contains the Chicken Knife. If you fight all the time and do not run from battles, choose the Brave Blade. It's power increases every time you win a battle. If you run from battles a lot, (wimp) the Chicken Knife is the one for you. It's power increases every time you flee from battle.
So which are you?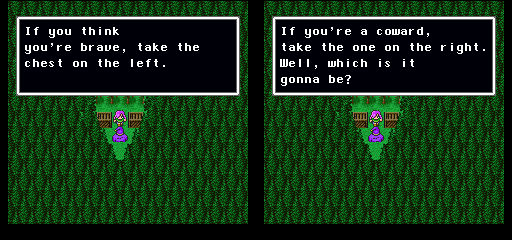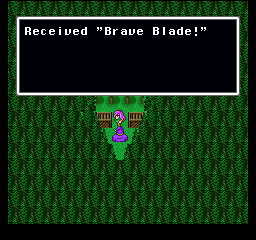 In this case, I chose, and always choose the Brave Blade...The only time I chose the Chicken Knife is for the update on the PS1/SNES version. The Brave Blade is not the most powerful weapon in the game, but it is certainly a good one to have around. If you are a constant runner from battles, it will take a few hours to get the Chicken Knife to do any real damage by this time in the game.
Keeping Track??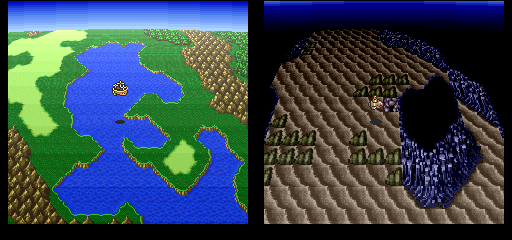 Are you keeping records of everything you do in the game? I know..."Are you nuts?" Well, believe it or not, somone is doing it for you.
This guy lives below the water, south of Karnak in X-Death's world. He will claim to be psychic, and tell you the number of times you fought, how many enemies you have destroyed, your party's average experience, the number of times you ran from battle, and the percentage of treasure you have uncovered.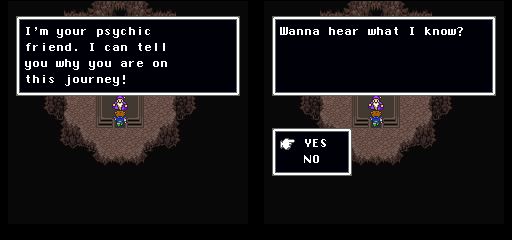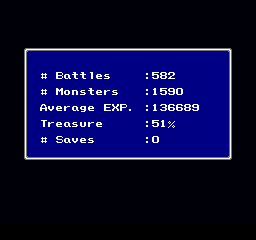 Well, someone had to keep track of this stuff!
A face on the Moon, a face on Mars, a face in Final Fantasy?!?!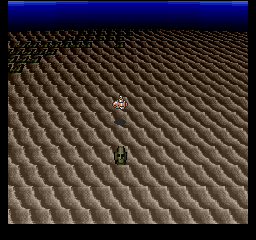 Believe it or not there is a Moai Statue, like the ones on Easter Island, in Final Fantasy V. Off the southern shore of Phantom Village, submerge and go just a bit east. There in the sand is our mysterious face, staring right back at us.
The Magic Lamp
In X-Death's world, (yes everything happens in his world!) you have the ability to ride Boko to the Istory Falls. Simply follow the rivers northwest, and eventually you will get to the top of the falls. Go to the center, and you can enter a hidden room. Here you will get the Magic Lamp.
If you rub the lamp three times, a Genie appears, and grants you a wish....wait, never mind. I was thinking about the other Lamp. This lamp will call a summon from Bahamut back to Chocobo, without using MP. Once you have summoned all 12 summons, you will not be able to use it again, until you refill it. To do so either return to the falls, or enter the spring past the Dwarf Village in the Great Sea Trench.
Around the World in a few minutes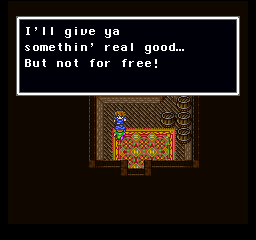 While exploring the hidden village of Mirage, you will most certainly happen upon a man in a room alone. If you speak to him, he will offer you a nice reward. Of course you know this is not just some free item. You have to work for your reward. He wants you to ride a chocobo around the entire world.
Before freaking out, remember two most important things.
1 - You have Boko, so finding a chocobo is a piece of cake. He should be right where you left him.
2 - The world is completely different now that it is merged together, and this is definitely a possible task.
Head out and find your Chocobo. Once you do, get on him and ride. The object is to remain on the outer limits of the world, while going around it. You will head East, South, West, North, and back East again.
When you return to the airship, head back to Mirage. The guy will congratulate you on your success and hand over a Mirage Vest. And you thought you would really have to work for this huh?
And because I am so nice, a full map with the path can be found Here.