Welcome to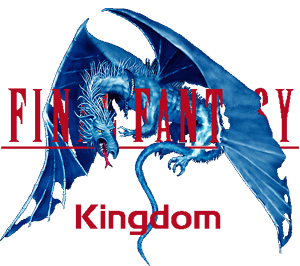 Final Fantasy is one of the most known and most loved game series in the world. For three decades, gamers have emmersed themselves in the fantastic worlds, awesome battles, and amazing stories that have become trademarks of the series. It has become my goal to get the most coverage of each and every game I bring into the Kingdom. There is everything you want to know from Weapons and Armor, to Bosses and Enemies. But it has not stopped at just Final Fantasy.
While everyone else seems to remain in a certain game type, Final Fantasy Kingdom has branched out to cover some of the most popular game series out there. Kingdom Hearts, Zelda, and Castlevania are just a few of the 10 series covered inside. There is a game for everyone. So whether you are following Tera as she unlocks the mysteries of Final Fantasy VI, or you are traveling with Mario through the Doughnut Plains, you will find what you need inside.

7-13-2013
Transylvania PC Is honored in Final Fantasy Kingdom.
Transylvania is a rare gem of the by gone days before the NES took over by storm. It is the first game this webmaster ever played. Now I open it, with Final Fantasy Kingdom's very first walkthrough, as one of the extra content in the website. It is honored as the FIRST GAME PLAYED. Be sure to check it out!
7-8-2013
Final Fantasy Legend comes to Final Fantasy Kingdom.
Ah the very first spin off of the main Final Fantasy series. Welcome the first of the original Game Boy titles to come to Final Fantasy Kingdom! A lot of information on this revered title inside!
7-4-2013
Final Fantasy V Advance Neo Shinryu strategy added.
Our friend Jared has submitted a different strategy for fighting Neo Shinryu in the Sealed Temple of Final Fantasy V Advance. Our thanks for the honor of placing it inside Final Fantasy Kingdom! It should work just fine on the GBA version, as well as working on the IPhone version.
6-29-2013
Final Fantasy Adventure comes to Final Fantasy Kingdom.
Welcome the very first "Actual" Final Fantasy title to come to the hand held systems! Definitely worth a look into the history of Final Fantasy portable titles.
6-29-2013
All the Bravest comes to Final Fantasy Kingdom.
Welcome the very first title for hand held devices to be placed into Final Fantasy Kingdom. All the Bravest will have a great expanse of information regarding the game. Though beautiful looking, it has received this website mark as worst title in Final Fantasy History.
6-18-2013
IGN presents the history of Final Fantasy
Final Fantasy is the longest swan song of all time. It was never meant to last, but now, more than two decades later, it remains the most recognizable name in role-playing games. More of an idea than a true series, it has evolved into something that a young Hironobu Sakaguchi would never recognize and almost single-handedly turned a small, struggling company into an international powerhouse. In the twenty years since it first arrived on Japanese Famicom systems, it's never once relied on nostalgia or conceded to rest on its laurels.
(Read More)
6-14-2013
Final Fantasy IV SNES Complete!
Final Fantasy IV SNES version is now complete with not only the proper sprite images for the title, but the proper screenshots for the secrets section as well. Something that has been bothersome for me ever since I put up IV back in 2006! Now it is 100% SNES version!
Some new artwork has filtered into the multi-media sections of FFKingdom. As well as a page that has been lost for some years now. Bahamut (With whom I share a name with online) now has his own page showing his many different looks through the years. Be sure to check it out, as it is pretty amazing!
6-12-2013
Final Fantasy XV Announced!
Final Fantasy XV has been announced, though the revelation that it once was Final Fantasy Versus XIII may make it a little harder to be excited about. Yes, originally unveiled in 2006 alongside Final Fantasy XIII and Final Fantasy Type-0, Versus XIII's transformation into XV must be quite complicated. It's still technically part of the "Fabula Nova Crystallis" mythology, but now it's.. something more.
(Read More)
6-12-2013
Kingdom Hearts III is coming!
When Square Enix took the stage at Sony's PlayStation 4 E3 2013 press conference everyone expected to see Final Fantasy Versus XIII turn into Final Fantasy XV. That happened. What came next shook down the stadium. A "surprise trailer" turned out to be the announcement of Kingdom Hearts III. It's been a long, cold console generation since Kingdom Hearts II was released for PS2. The wait is over. Fill in that hole in your heart.
(Read More)
6-8-2013
Castlevania Kingdom joins in the new update. Great new images, as well as additional information. Maps for many of the games. Several new titles await the completion of the update, so they can be brought into the kingdom.
6-3-2013
Dedicated to my Mother, Diane Grant Thompson... February 22, 1960 - June 4, 2013 with all of my love)
From November 1st until now, Final Fantasy has been undergoing its update, and the wait is over! In 6 months, almost every single title has received new images and information that staggers even this webmaster.
Final Fantasy also now boasts the addition of II and IV PSP, IV DS, as well as a complete map and bestiary of Dissidia. And it does not stop there. Everything from Mystic Quest to XIII has new information! This is the single largest update I think FFKingdom has ever seen. With a heavy heart, I dedicate Final Fantasy Kingdom to my Mother. I will miss you.