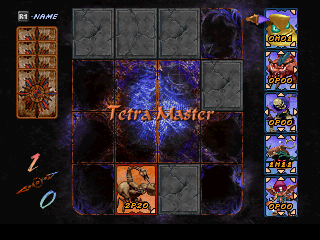 Tetra Master is all the rage in the universe of Final Fantasy IX. And the people take this game seriously. Whether you are playing one of the folks in a town, or participating in the Treno Tournaments, this game can get very difficult, very fast.
Tetra Master is an advanced card game, that was fist introduced in Final Fantasy VIII as Triple Triad. Tetra Master is a bit overwhelming to get a hold of, comparred to its counter-part. But once you get everything down, it should be just as easy to play...and twice as fun.

As a player of the game, you need to not only play, but you need to understand and utilize the rules of the game as well. And there is not just a set card, as there was in Triple Triad. There are higher and lower valued cards for Tetra Master, for each card in the deck off 100. But we can get to that shortly.
Like Triple Triad, Tetra Master is played on a 4x4 grid. The difference now, is there are randomly blocked spaces, that cards cannot be placed on. This simple little tactic makes every game completely unique from the last game.

There are a total of 100 cards in Tetra Master, each with a unique image. Most are from IX, but there are a couple of rare cards, that harken back to the Final Fantasy's of old. These cards will also almost always have a orangish arrow somewhere on the card. (There are cards out there though that do not have arrows.) These arrows represent a possible attack direction. If a player lays one down with an arrow, and the game lays another with an arrow facing the players arrow, a battle will ensue. If the arrow placed by the game does not hit another arrow, the card is taken without a fight. Same holds if the player does this.
But we are going to go over what happens, if the battle ensues. This is where things get tricky, and generally the player gets frustrated and stops playing Tetra Master.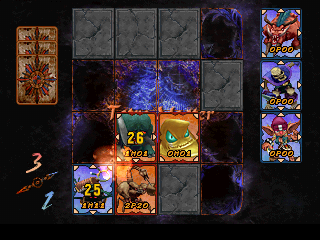 Card Parameters
Learn this term well. The parameter of the card is what determines whether or not it is going to win a battle. Take a look at the cards. In the bottom-center of the cards, you will see four didgets. This is known as the card parameter. These four didgets represent the card's attack and defence properties, i.e. its strengths and weaknesses. Here is what each didget represents on the card:
Didget 1: AP - the card's attack power.
Didget 2: AT - the card's attack type (There are 4 attack types in Tetra Master)
Didget 3: PD - the card's physical defense.
Didget 4: MD - the card's magical defense.
These didgets are shown as a series of numbers from 1-9, and continuing with letters A, B, C, D, E, and F. In Tetra Master, 0 is the weakest parameter and F the strongest parameter. For some unknown reason to this webmaster, not all cards can reach a parameter of F. If someone knows why, please let em know.
Now that we have gone through that a bit, let's break down the different parameters.
Attack Power
Everyone should know what this is. This is simply the attacking power of the card you are using. It is usually a number here, but if you can get it up to F, you will have a very powerful attack card.
Attack Type
The next digit stands for Attack Type. This is what determines what parameter your card will attack on the games card. An "A" for the attack type parameter is the highest you can get. An A will always attack the lowest parameter of the games card, to ensure a certain victory. If you can get a card with an FA as the first two didgets, you will almost be unstoppable.
Physical Defense/Magical Defense
This didget gives you your cards physical defense against an attacking card. If the card attacking you has a low PD, it will most likely lose the battle. This all can be said about the Final Didget which is the Magical Defense. As long as the value of your card is higher, then its likely their card will be flipped over.


I have decided to show you the four attack types in a key so to speak. Once I did this for myself, the game got a lot easier to understand, rather than trying to get it explained.

P - Physical Attack: The opponent's card defends using PD.
M - Magical Attack: The opponent's card defends using MD.
X - Weakness Attack: Attacks the lowest defence number of the opponent's card: Either its PD or MD.
A - Ultimate Attack: Always attacks the lowest number on the opponent's card. This can be its AP, PD, or MD. Ultimate Attack Type cards attack using their highest parameter: AP, PD, or MD.

Hopefully you have a better understanding of Tetra Master, and how it works. Now that we have some knowledge of the game, head on over to the rules, and get brushed up on those.