10-1-1991
6-8-1991
10-16-1993
-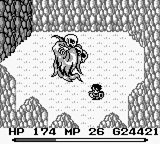 Final Fantasy Adventure is a very odd entry into the book of the Final Fantasy Universe... It is an action/adventure RPG that preludes into the Seiken Dentsu series (Secret of Mana) yet is still has a lot of familiar Final Fantasy approaches.
In other reviews, you will have undoubtedly read that this is not a Final Fantasy game. It is, in fact, a prelude to the Mana franchise. I am going to set this little rumor straight for all to see- Final Fantasy Adventure is most definitely a Final Fantasy game. Its full title is Seiken Dentsu: Final Fantasy Gaiden. It was originally not meant to be a beginning of a whole other serries, but rather a side story to Final Fantasy, such as Mystic Quest. (It's title in Europe). But it does not matter whether you believe it to be a Mana game, or a Final Fantasy game, it is certainly one of the best games on the Gameboy.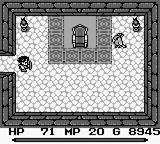 There are a many good reasons for Final Fantasy Adventure being such a hit, when it was released in 1991. One of the biggest was its great story. The plot in Final Fantasy Adventure is surprisingly deep for a portable RPG, especially one as old as this. This is America's first real taste at the powerful story telling capabilities of Squaresoft, along with Final Fantasy II (IV) released the same month.
You play as a gladiator-turned-hero who has escaped captivity and finds himself caught up in a struggle to save the world from the Dark Lord. The key to ultimate power is Mana. With the fabled Pendant of Mana, the Dark Lord can open the path to the Mana Tree that is the source of all Mana in the world. In your quest to rid the land of the evil that is the Empire of Glaive, you'll not only uncover the secrets of your past, but also cross paths with one of the legendary Gemma Knights. Interesting characters and a few surprise plot twists round out a very solid tale. The translation is a little meh, but the story was solid, and certainly a massive leap ahead of America's first Final Fantasy on the NES.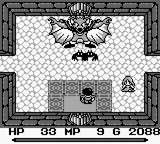 When it comes to graphics...who are we kidding. None of the original 4 colored graphics of the Gameboy are going to win any awards, yet Final Fantasy Adventure still manages to deliver great graphics and a rich enviroment despite the GB's limitations. In some respects, this is very much like playing the Legend of Zelda on the NES (Minus color). You adventure from one screen to another, up hills, down rivers, across snowy plains, and into deep forests. And this is not where the similarities end. Your enemies wander around the screen with you, and you can fight or not fight them. But it is framed in a RPG stand point of leveling up, gaining better equipment, etc. This is truly one of the best marriages of these two genres out there. And if you can manage to forget the limitations of the GB, as well as the visual presentation, you will be amazed at how much Square actually was able to squeeze into this title.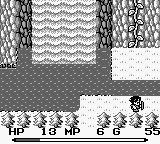 Sound on the other hand...is something of a let down. And it is not really the fault of the game. It is more the fault of the limitations of the system it is on. There are several great scores, that you will be humming long after shutting the game off. But without a better system to showcase them, it is very hard to say anything on here was of the greatness of the console counterparts. And the effects were less impressive than that. But again, it is hard to judge the sound harshly, knowing there was such a limitation on the system itself.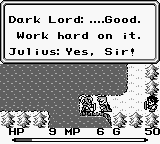 Square set out to establish a new brand with Final Fantasy Adventure and they succeeded in their goals in total. Despite later becoming an entirely new and separate franchise from the Final Fantasy series, this first deviation from the traditional turn-based RPG norm proved to be a milestone for Square. They managed to blend together the best elements from both Legend of Zelda and Final Fantasy to create an adventure RPG unlike any before it. The creative use of weapons as tools adds a layer of depth that makes the game more than just typical hack-n-slash fair. Add to it a plot that goes beyond the typical "save the princess cliché and challenging dungeons filled with originality in their design and you've got yourself a masterful little chunk of portable gaming goodness.
A lot of reviewers recommend side stepping this game, unless you are a die hard Final Fantasy (I love you Sephiroth) fanboy/girl. I say they are completely wrong. This is a darn good game, even by todays standards. If you can find a original GB copy, get it. Or rom it. Definitely worth at least giving it a shot, before believing what someone else has determined YOU would think about it.