Long ago the War of the Magi reduced the world to a scortched wasteland,
and magic simply ceased to exist.

1,000 years have passed... Iron, gunpowder, and steam engines have been
rediscovered, and high technology reigns...

But there are those who would enslave the world by reviving the dread, destructive
power known as "Magic".

Can it be that those in power are on the verge of repeating a senseless, deadly
mistake?
What do you think you've found, here, in this dying world?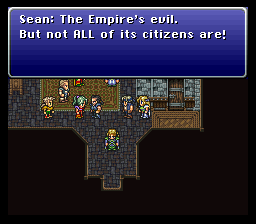 Final Fantasy VI, released in 1994 asks this very question, and asks it well. Basically what do you think you have found in this game? Most find it to be an extremely well balanced RPG with some great game play elements. Others find an intelligent storyline that has not been matched since. And of course, there are a sparse few, that merely fid an enjoyable game and time waster. And somewhere in a dark dank corner of the world, there are a couple of folks who just did not like the game. I like everyone else, have found these things as well, but more importantly I found under all the itty bitty issues complained about, above the balance, above the simple enjoyment of a game, I found a true Final Fantasy Masterpiece.

It's not the net result of one's life that's important; it's the day-to-day concerns, the personal victories, and the celebration of life

Final Fantasy, now infamous for characters and story, has done just beyond expectations. Square took such a different direction with this game than most others that it's hard to compare it to other games. The first act of the game is a pretty straightforward story, with an evil threat rising, and a band of heroes setting off to stop it. This portion of the story in itself is so well done; you want to just "let me play 5 more minutes!" The way the characters come together, grow, revealing not only their reason for the struggle, but the history that brings them to this point in life. And it does not end with the cast either. The NPC's are just as in depth as the characters you are struggling with. Each NPC having their own lives, struggles, and thoughts. The depth here is simply unimaginable.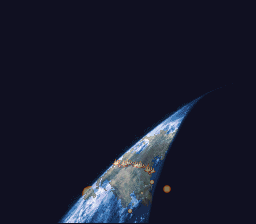 When the second act comes into play, things change. (And here is where a few critics had issue with the plot.) Rather than focus on a probably contrived plot to get rid of Kefka, Final Fantasy VI takes a completely different direction. Instead of a linear story to get rid of Kefka for good, they focused on so much more. You got to see how everyone was trying to deal in this ruined world. The way they were trying to rebuild, replant, and bring the world back. It was each person's "personal victories" that was the heart of the second act. And this was no different for the main characters. There was no point to a plot, as it would have completely ruined this entire thematic set up. You see South Figaro working together to rebuild, you see people trying to plant flowers despite recognizing the hopelessness of the situation, and you see the children of Mobliz living on without their parents.
None of these little pieces required a complete storyline, but combined, they all come together to answer why people "yearn life knowing all things must die". Story wise, this is simply the top of almost every type of game out there. Not since VI has Square took such great attention to the entirety of the story, and how it is told.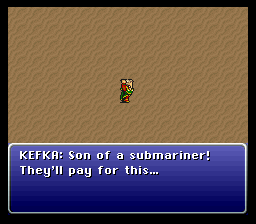 Characters….oh my God the characters, especially with the main characters, are the best that have been produced. The characterization found in VI has yet to be matched There were no simple flashback sequences that told the characters entire history in 3 minutes or less. Instead the characters tell their history through the game. The past didn't make them; they made the past, and that is how fantastic characterization is done.
Perhaps the greatest example of this characterization is in Shadow. From his dreams, you can see Shadow has a very complex and complicated history. You see him struggle with his identity and his emotions throughout the game, but in subtle ways. Once you know his story, other, smaller details of him begin to emerge. He tells Terra there are those who cleanse themselves of emotion, he tells the party he only saved them to get his dog. I mean it should be just that simple, and in all other games it would be. Here however, you find yourself doubting both. All of his actions show off a man struggling with his past life, past mistakes, and seeking a way to make it right. You see that his time with the crew, more so with Relm, begins to change him. His emotions he has been running from begin to come to the surface, and he finally begins to deal with them. This kind of development has never been seen anywhere outside of film again. And this was accomplished before the advent of 3-D, and facial expressions to help convey emotions of the character.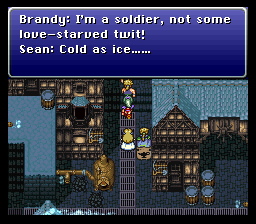 The graphics for the game are beyond that of IV and V, with detail, detail, and did I say detail?!. Characters had the ability to display a large range of emotions from laughing, sadness, excitement, and fear. It was just beyond what had been done before and they did it well. The enemy and boss sprites are larger than life, with some of the greatest 2-D graphics ever seen. Just simply an amazing show of how far the video game graphics had come in just a short 7 years. It was perfection, but the sprites were not the only shining gems in this game. A number of the spells were mind blowing amazing, the opera house looked gorgeous, and who would even think about complaining about the final battle!. The stunning tower of the statues, and the way the sun was shining through in the background while fighting Kefka...it was just amazing when it is seen for the first time. These leaps ahead have rarely if ever been redone, reused, or in any way improved upon in later titles. (Now is that because they could not duplicate what they did, or was it because it was so perfect you do not want to ruin a great thing?).
And there are probably more sound effects in VI than in I-V combined. Effects for the different weapons, striking, jumping, casting, dancing, blitzing, you name it! There is almost nothing that does not have a sound to it at all. And this back in 1994 was completely unheard of. And perhaps the greatest, most frightening sound in the game...Kefka's laugh. It was the perfect range of comical and sinister all rolled into one. Sometimes I wonder if the Joker had a brother, and Kefka was that brother.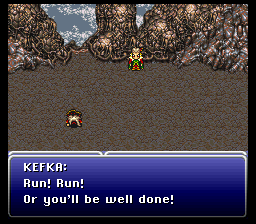 And the music? Wow the music is...just...perfection. This is the best soundtrack you will ever here in any video game, period. in most games, there is a song or two that you remember, that strikes a chord in your heart and soul. But it is only one or two. Final Fantasy VI is completely the opposite. There is maybe one or two songs that just do not make any difference, while the entire rest of the score is perfect. Did anyone who has played both VI and VII notice that the theme Nobuo Uemetsu wrote for Aerith is composed of a good deal of the Opera score in VI! And the boss music, especially that of Atma, and the statues...some of the most suspenseful gripping scoring out there in the video game world. All of them are just top notch, but the perfect song in this game is Kefka's theme. The totality of Kefka is in his theme, which starts slow and somewhat goofy (much like the way Kefka was depicted in the beginning). And as it continues on, it becomes darker and more menacing, just as Kefka does in the game. Not too many other games have perfection like this in their scoring. There is a reason this musician is considered the best in the business, and this game was certainly his peak.
And game play is on top as well. It may be your basic RPG, with dungeon exploration and the typical battle setup, but it does what it does well. You will never feel that the game is going too slowly, that the battles are cheap and unfair, or you have to level up for hours on end to get through the next section. The game never is too slow, and (thankfully) it never intrudes on the story. There is an excellent balance between magic, fighting, and special skills, and a wide variety of bosses. But even this is not the best of the game play.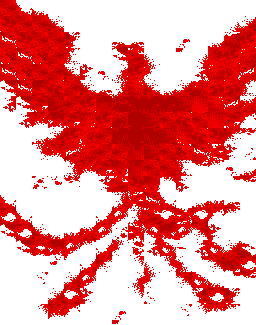 That would be the 2nd half of the game. A full decade before we really had a ability to freely do as we will in a game, VI was on top of that. The complete freedom and nonlinear game play allows the player to do what he or she wants to do, not what they HAVE to do. You can take the sub quests in any order you want, allowing you to optimize your strengths in any way you want. The only problem with the game, of course, are its numerous glitches. And most of these revolve around Relm sketching certain things. Otherwise it was a masterpiece of gaming if there ever was one.
This became more than just another game. All of them hard core gamers, and game makers, believe that the first, last, and only important element in a game is fun. To me, that's a bunch of BS. Do not get me wrong, fun is important, and in some respects the most important aspect. But these are throwaway games, games you play with your friends or to kill a few hours. Final Fantasy 6 is so much more than that. It goes beyond mere enjoyment to touch the player's heart and mind, to keep the player thinking about the game, about the characters, about everything hours, days, weeks, years after playing. It makes us want to play it again immediately after finishing it, to experience it all again. It is a game that makes us excited as the time for the opera draws near, not because it's "FUN" but because we will once again get to experience the beauty and emotion of the scene as it plays out. It draws you in and makes you feel as if you were there experiencing everything the characters were experiencing. This is the game that showed us that Final Fantasy (And games in general) were more than just a waste of time and money. It was a means of telling a fantastic story, introducing engaging characters, and becoming more like a high art form than just a simple game. To me...Final Fantasy VI was the "Snow White" of the video game world. I do not feel like I'm playing a game when I play this, I feel as if I'm experiencing an epic masterpiece film.
It's obvious that some people will not feel this way regarding this game, and I totally get that. But even without my absolute love of the game getting involved, it's hard to deny that this is a high quality game. With the different approach to storytelling than had been seen before or since, Square allowed us to explore a theme, rather than yet another simple plot. Couple this with a fantastic sound track, amazing characters, and a great system of play...and you have lightning in a bottle. All together Final Fantasy VI is greater than any one of its single parts. Together it is not a simple game for most anymore. It is an experience like no other that they enjoy again and again.