2-20-2007
9-14-2005
Cell Phones
-
-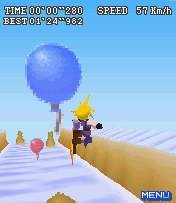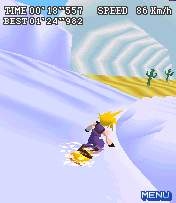 Final Fantasy VII Snowboarding is a mobile game created and released in North America in 2005, and in Japan three years later in 2008. This is, shockingly only the second time a Final Fantasy title had been released here first (The first being Mystic Quest). And the only time where there was such a gap between releases. It is a remake of Final Fantasy VII's popular snowboarding mini-game near the Icicle Inn, as well as its near-identical mini game in the Gold Saucer. Different courses and different models were added.
The main character is Cloud Strife, and the objective is to snowboard down tracks, dodging Moogles, doing tricks off ramps, and collecting balloons. The chocobo theme song is played throughout the game.
The game is playable on certain mobile phones such as LGVX8000, LGVX8100, Audiovox 8940, and Samsung A890.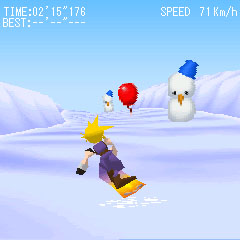 If you loved the Snowboarding mini-game found in the original Final Fantasy VII, you will definitely love this. It is nearly identical to the Gold Saucer game, and has about the same graphics. That may sound like not a whole lot, been when considering the graphics on a phone in 2005, that is really good.
There are several different courses added to the ones already present in the game, as well as new models that make it feel like something completely new. This was certainly a surprise to me, considering the lack of new in their more recent spin offs and sequel X-2. I was definitely glad to get a hold of something, even as simple as this game, and see new things being added.
There is no plot or story found within Snowboarding. And honestly, where would it belong? This is a game of just having a lot of fun, trying to beat a higher score. I mean it is arcade gone Final Fantasy! The music is the same as the actual mini-game, and on my phone it sounded really good for the device. (LGVX8000) It was, and still is just nice to be able to have something simple and absolutely fun to play while traveling here and there.
And fun it is. I have updated my phone many times, but I still keep a hold of this phone, just to play this game. I do not know if it works on later devices, and I have not been able to find it for any as of yet. But this was certainly a purchase worth making.