Final Fantasy Misc. Things
There are a couple of fairly unknowns in the original Final Fantasy, that has been passed on with each port to a different system. One is a great leveling up secret, that is still somewhat unknown, and the second is Final Fantasy's very first Easter Egg. Let us begin with our little leveling up spot shall we?
Leveling up made easy...sort of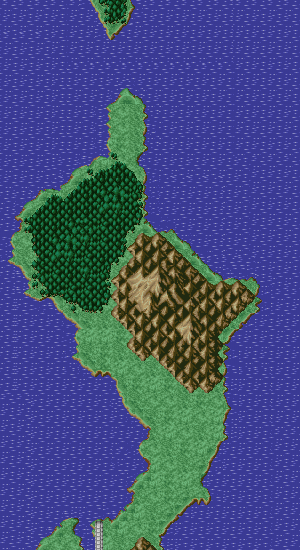 Well, once you have made your way to the water town of Pravoka and obtained your ship, you are most likely looking for the next thing to do. You will soon discover things are a little up in difficulty. Especially those who do not level up proficiently. Well, there is a solution for those who are looking to gain some super fast levels. But doing so is a monster in and of itself. Before you go and find this secret spot, you will need to have the following:
Dia 2, and Fire 2. This is essential to this leveling spot. You will be facing monsters that are weakest to these spells. If you are fighting without a mage of some type, (hopefully a Red/Black and a White both) Then this will surely fail.
You will also want several Cottages items as well. 4-6 of them will do real nice. For sure you need one Mythril Sword. All of this can be bought in Elfheim for 1500/1000 (spells each), 3000/2000 for the Cottage, and 4000/3200 for the sword. I know that souds like a lot, but trust me it is needed.
Spend time leveling up around Elfheim. Get yourself to about level 6-7. (This is where you will be making money). And even to save some dollars, travel to Cornelia to rest there for a mere 30GP. Once you have the items needed, head back to Pravoka.
Head to the East of the dock, and begin wandering North when you can. You know you are on the right track when you see a dock on the Western shore (Shown at the bottom of the map). This area is full of undead, and enemies that poison. You should have no issue getting past these fights. But bring some PURE just in case you get poisoned.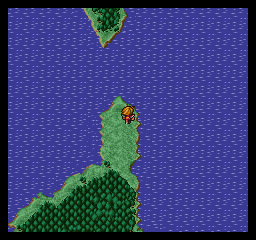 Just follow the route north, until you see the end of the land. The absolute best place to put up your house is the edge of the forest. Do not go any further than that without putting the house up and saving the game. Once you are ready, walk to the last two spots to the north, and continue going left and right. Eventually you will get into a fight. and get ready.
ZomBULL, FrostWolf, FrostGiant, Troll, all frequent these two spots. This is due to the programers setting the enemy encounters of the land North of you a bit too far South. All possile encounters around Lefein, can be found here.
My suggestion is to go into battle with a single or duo of enemies at first. You might have to reset the game a few times, but it will mean a great deal less dying. Go through this, until you hit about level 15. (Won't take long at all) Then you can hit groups will a little effort. when you win the fights, STOP! Back to the forest and use a Cottage. When you run out, simply go buy more. You will have money fighting these guys as well. Get any other fighter a Mythril sword if you have them, and just go back to here, until you are tired of it. This will make everything else in the game just go so smoothly. Almost too easy. Good amount of GP to get spells and weapons/armor, and well above the required level for this point in the game.
This time around, I was more adequetly prepared. Though I did not yet have Dia 2, or Fire 2, I was at level 6, and my first warrior (Thanks to the mini-game below) had his Mythril Sword. with that he was doing 70-85 damage, while Dia and Fire were helping out too. This fight took 5 turns, with a casualty as you can see. But it was beaten. The GP and Exp is so well worth it.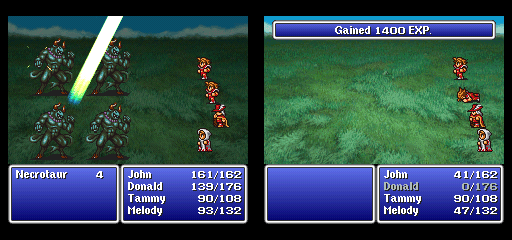 Final Fantasy Tile Game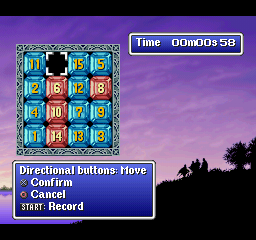 Once you gain the Ship, you have the ability to find Final Fantasy's very first Easter Egg. A kind of fun little tile game you can play anytime you wish.
To do so, hit the A and B buttons repeatedly, until the game appears. It will randomly palce the tiles on the board, and you will have to set them in the proper order. It is just like those novelty birthday Tile games, most everyone has played at some time or another. If you are quick enough, you are rewarded with a prize. This is simply 100 GP. But you must finish it within a certain amount of time. and that time frame is:

1st Place: 0:30:00 or less

2nd Place: 0:30:00 - 1:00:00

3rd Place: 1:00:00 - 2:00:00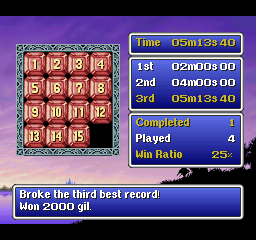 It is a nice diversion, and can be a simple way to get some extra GP without fighting for it.