Dirge of Cerberus Limit Breaks
If you played Final Fantasy VI-XII, you will know that your characters have a form of Limit Break. Dirge of Cerberus is no different.
In Dirge of Cerberus, Vincent has the ability to change into his Galian Beast form. While in his Limit Break mode, he is almost two times as powerful as when he is his normal self. He can mash enemies with a string of Melee hits, or shoot homing projectiles of fire.
Unlike Final Fantasy VII, Vincent can only use his Galian form, after using a Limit Breaker. Being that this is something of a rare find, it is best to save his Limit Breaks for boss battles, or difficult groups of enemies.
Galian Beast
Galian Beast is Vincent's first Limit Break in Final Fantasy VII. This time around, he will utilize this terror of a monster to aid in his journey.
You will need Limit Breakers, in order to transform into Galian Beast. Once you do, your attack power, jumping, and projectile shooting become far more powerful. Also if you change into Galian Beast, Vincents HP is completely filled.
Below is the difference in Vincent fighting normally, VS him fighting as Galian Beast.
| | | |
| --- | --- | --- |
| Attack | Vincent | Galian Beast |
| Attack 1 | 10 | 85 |
| Attack 2 | 15 | 90 |
| Attack 3 | 20+30 | 155 |
| Attack 4 | 2x25+30 | 200 |
Chaos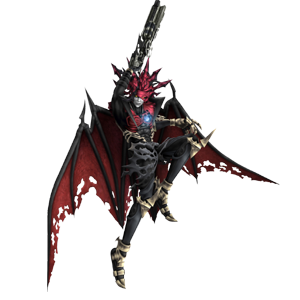 Chaos is not one of Vincent's Limit Breaks in The Dirge of Cerberus. Chaos plays a more prominent role in the game. This though is a form of Vincents, and it is extremely powerful.
It is not known what Chaos truly is, but it has something to do with why the Tsviets are after Vincent. It would seem there is a connection between Chaos, the Proto-Materia, Omega WEAPON, and Vincents survival of Hojo's experiments so many years ago.