Relm's Skill- Sketch/Control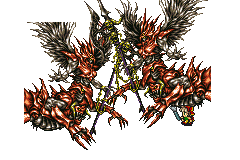 Relm is indeed an artist above all others. Not only can she paint a life-like picture, she can bring them to life!
When using her sketch technique, Relm quickly paints a portrait of the targeted enemy. The painting will then use one of the enemy's attacks on them, as if it were the real thing. Relm's Sketching also has a higher chance of success, if she has one of her brushes equiped.

In the World of Ruin, you will find the Fake Mustache relic. This will change Relm's Sketch into Control. When Relm is wearing this, she has the ability to control her enemy's actions. This is a good thing when you need a bit of time from enemy attacks, or helping her grandfather learn his Lore spells.
Below is a complete listing of Relm's different Sketch and Control attacks
| | | |
| --- | --- | --- |
| Enemy | Sketch | Control |
| 1st Class | Fight, Ore Wrench | Fight, Ore Wrench |
| Abolisher | Duster, Poison | Fight, Duster, Poison |
| Actaneon | Clamp, Aqua Rake | Fight, Clamp |
| Adamanchyt | Claw, Acid Rain | Fight, Claw, Blaster |
| Allosaurus | Doom, Poison Claw | Fight, Doom, Poison Claw |
| Allo Ver | Fight, Dead End | Fight, Dead End |
| Anemone | Imp, Giga Volt | Fight, Bolt 3, Giga Volt |
| Anguiform | Garrote, Aqua Rake | Fight, Garrote, Aqua Rake |
| Apokryphos | Silencer, L3 Muddle | Fight, Silencer, L3 Muddle, L4 Flare |
| Apparite | Slip Touch | Fight, Slip Touch, Imp |
| Aquila | Flap, Cyclonic | Fight, Flap, Cyclonic, Shimsham |
| Arneid | Fight, Numb | Fight, Numb |
| Aspik | Numb Spine, Giga Volt | Fight, Giga Volt, Paralyze |
| Balloon | Flare Up, Exploder | Fight, Flare Up, Exploder |
| Barb-e | Slap, Love Token | Fight, Slap, Muddle, Dispel |
| Baskervor | Claw, Absolute Zero | Fight, Claw, Blizzard |
| Beakor | Fight, Duster | Fight, Duster |
| Behemoth | Take Down, Meteor | Fight, Take Down, Fire 3, Meteor |
| Black Drgn | Sand Storm, Fallen One | Fight, Sand Storm, Doom, Bolt 3 |
| Bleary | Fight, Slumber | Fight, Slumber, Dread |
| Bloompire | Energy Sap, Bio | Fight, Enery Sap, Bio, Doom |
| Bogy | Fight, OogyBoog | Fight, OogyBoog |
| Bomb | Exploder, Blaze | Fight, Exploder, Blaze |
| Borras | Uppercut | Fight, Uppercut |
| Bounty Man | Fight, bite | Fight, Bite |
| Boxed Set | Mirror Orb, Meteor | Fight, Mirror Orb, Meteor, Lode Stone |
| Brachosaur | Step Mind, Swing | Fight, Swing |
| Brainpan | Smirk, Blow Fish | Fight, Smirk, Blow Fish |
| Brawler | Fight, Punch | None(??) |
| Brontaur | Wall, Fire 3 | Fight, Wall, Fire 3, Meteor |
| Buffalax | Fight, Riot | Fight, Riot, Storm |
| Bug | Fight, Stone Spine | Fight, Stone Spine |
| Cactrot | Mind Sting, Blow Fish | Fight, Mind Sting, Blow Fish |
| Cephaler | Fight, Husk | Fight, Husk, Stop |
| Ceritops | Imp, Giga Volt | Fight, Bolt 3, Giga Volt |
| Chaos Drgn | fight, Disaster | Cinderiser, Disaster, Meteor |
| Chaser | Program 17, Plasma | Fight, Program 17, Plasma, Dischord |
| Chicken Lip | Lash, Quake | Fight, Lash, Quake |
| Chimera | Frisky, Aqua Rake | Fight, Frisky, Blizzard, Aqua Rake |
| Cirpius | Fight, Beak | Fight, Beak, Break |
| Cluck | Lash, Quake | Fight, Lash, Quake |
| Coelecite | Hypno Sting, Magnitude 8 | Fight, Hypno Sting, Magnitude 8 |
| Commander | Fight, Fire | Fight, Fire |
| Commando | Fight, Program 65 | Fight, Program 65, Shell |
| Covert | Disappear, Wind Slash | Fight, Disappear, Wind Slash, Rage |
| Crasshoppr | Fight, Flap | Fight, Flap |
| Crawler | Feeler, Step Mine | Fight, Feeler, Step Mine |
| Crawly | Fight, Heartburn | Fight, Heartburn, Magnitude 8 |
| Critic | Condemned, Slip Seed | Fight, Condemned, Slip Seed |
| Cruller | Brain Sugar, Slimer | Fight, Brain Storm |
| Crusher | Blow, Lifeshaver | Fight, Crush, Lifeshaver |
| Dahling | Mute, Cure 2 | Fight, Mute, Cure 2 |
| Dante | Quartz Pike, L3 Muddle | Fight, Quartz Pike, L3 Muddle, Ice 3 |
| Dark Force | Clean Sweep, L5 Doom | Fight, L5 Doom, Clean Sweep, Pearl Wind |
| Dark Side | Slip Touch, Fire 3 | Fight, Slip Touch, Fire 3 |
| Dark Wind | Fight, Dice | Fight, Dive |
| Deep Eye | Dreamland, Dread | Fight, Dreamland, Dread |
| Delta Bug | Rush, Mega Volt | Fight, Rush, Mega Volt |
| Didalos | Quake, Poison Tusk | Fight, Flare, Flare Star, Blaster |
| Displayer | Rib, Doom | Fight, Rib, Doom, X-zone |
| Doberman | Fight, Bite | Fight, Bite |
| Doom Drgn | Fallen One, N. Cross | Fight, Fallen One, N. Cross, S. Cross |
| Dragon | Tail, Revenge | Fight, Tail, Revenge, Blizzard |
| Drop | Mad Signal, Muddle | Fight, Mad Signal, Muddle |
| Dueller | Giga Volt, Megahit | Fight, Megahit, Mega Volt, Giga Volt |
| EarthGuard | Poison Tail, Big Guard | Fight, Poison Tail, Big Guard |
| Eland | Stench, Bio | Fight, Stench, Bio, Fire 3 |
| Enuo | Slime, Clean Sweep | Fight, Slime, Clean Sweep, Aqua Rake |
| Evil Oscar | Poison, Sour Mouth | Fight, Poison, Sour Mouth, Sneeze |
| Exocite | Fight, Scissors | Fight, Scissors |
| Exoray | Doom Pollen, Virite | Fight, Doom Pollen, Virite |
| Fidor | Fight, Pounce | Fight, Pounce |
| Figaliz | Dischord, Gunk | Fight, Dischord, Gunk, Raid |
| Flan | Slip Gunk, Slimer | Fight, Slip Gunk, Slimer |
| Fortis | Double Arm, Shrapnel | Fight, Double Arm, Shrapnel, Snowball |
| FossilFang | Bone, Sand Storm | Fight, Bone, Sand Storm, X-zone |
| Gabbledegak | Gold Wrench, Vanish | Fight, Gold Wrench, Vanish |
| Garm | Program 95, Frost 3 | Fight, Program 95, Fire 2 |
| Geckorex | Petriglare, Break | Fight, Petriglare, Break, Dread |
| General | Bio Attack, Cure 2 | Fight, Bio Attack Cure 2 |
| Ghost | Fire, X-Zone | Fight, Fire |
| Gigan Toad | Croak, slimer | Fight, Croak, Slimer |
| Gigantos | Fight, Throat Jab | Fight, Throat Jab, Revenge |
| Gilomantis | Sickle, Lods Stone | Fight, Sickle, Shrapnel |
| GloomShell | Rock, Net | Fight, Rock, Net |
| Gobbler | Silence, Shimsham | Fight, Silence, Shimsham |
| Goblin | Fire 3, Bolt 3 | Fight, Fire 3, Bolt 3, Ice 3 |
| Gold Bear | Fight, Gouge | Fight, Gouge |
| GreaseMonk | Fight, Lode Wrench | Fight, Lode Wrench, Step Mine |
| Grenade | Mesmerize, Blaze | Mesmerize, Fire, Blaze |
| Gt Behemoth | Hay Maker, Meteor | Fight, Hay Maker, Meteor, Fire 3 |
| Guard | Fight | Fight |
| HadesGigas | Head Butt, Magnitude 8 | Fight, Head Butt, Magnitude 8 |
| Harpiai | Aero, Nail | Fight, Aero, Nail |
| Harpy | Grip, Cyclonic | Fight, Grip, Cyclonic, Aero |
| Harvester | Sickle, Firewall | Fight, Sickle, Drain |
| Hazer | Fight, Drain | Fight, Drain, Fire |
| Heavy Armor | Tek Laser, MetalHand | Fight, Tek Laser, MetalHand |
| Hemophyte | Shock Wave, Hit | Fight, Shock Wave, Curser Gaze, Pearl |
| HermitCrab | Rock, Net | Fight, Rock, Net |
| Hipocampus | Acid Rain, Flash Rain | Fight, Acid Rain, Flash Rain |
| Hoover | Crush, Sand Storm | Fight, Crush, Sand Storm, Quake |
| Hornet | Fight, Iron Needle | Fight, Iron Needle |
| Humpty | Hug, Poison | Fight, Hug, Poison |
| Ing | Glare, Lifeshaver | Fight, Glare, Lifeshaver |
| Innoc | Fight, L? Pearl | Fight, L? Pearl |
| Insecare | Fight, Flap | Fight, Flap |
| Intangir | Step Mine | Cannot Control |
| Io | Plasma, Crush | Fight, Plasma, Crush, Blaster |
| Iron Fist | Fight, Stone | Fight, Stone, Knee Kick |
| IronHitman | Dischord, Destroy | Fight, Dischord, Destroy, Tek Laser |
| Joker | Parasol, Bolt 2 | Fight, Parasol, Bolt 2, Acid Rain |
| Junk | Parralout, Bolt 3 | Fight, Paralout, Pep Up, Exploder |
| Karkass | Break, Bolt 3 | Fight, Break, Bolt 3, Flare |
| Kiwok | Imp, Cyclonic | Fight, Remedy |
| Land Worm | Compress, Magnitude 8 | Fight, Compress, Magnitude 8, Lode Stone |
| Latimeria | Magnitude 8, Wind-Up | Fight, Magnitude 8, Wind-Up |
| Leafer | Fight, Incisor | Fight, Incisor |
| Lethal Wpn | Metal Arm, Megazerk | Hit, Megazerk |
| Lich | Fire, Fire 2 | Fight, Fire, Fire 2, Fire 3 |
| Lizard | Imp, Remedy | Fight, Break, Dischord |
| Lobo | Fight, Tusk | Fight, Tusk |
| Lunaris | Fight, Face Bite | Fight, Face Bite |
| Luridan | Horn, Land Slide | Fight, Horn, Land Slide, Cave In |
| Madam | Flare, Pearl | Fight, Flare, Pearl, Ice 3 |
| Mad Oscar | Drool, Sour Mouth | Fight, Drool, Sour Mouth |
| Magic Urn | Remedy, Cure | Fight, Remedy, Cure 3, W Wind |
| Mag Roader (purple) | Fight, Wheel, Rush | Fight, Wheel, Rush |
| Mag Roader (red) | Fight, Wheel, Rush | Fight, Wheel, Rush |
| Mag Roader (yellow) | Fight, Wheel, Rush | Fight, Wheel, Rush |
| Mag Roader (brown) | Fight, Wheel | Fight, Wheel |
| Maliga | Fight, Scissors | Fight, Scissors, Remedy |
| Mandrake | Stone Touch, Raid | Fight, Stone Touch, Raid |
| Mantodea | Mind Reaper, Wind Slash | Fight, Mind Reaper, Wind Slash |
| Marshal | Fight, Charge | Fight, Charge, Bolt 3 |
| Mesosaur | T. Lash, Step Mine | Fight, T. Lash, Step Mine |
| Mind Candy | Fight, Sleep Sting | Fight, Sleep Sting, Sleep |
| Misfit | Glare, Lifeshaver | Fight, Glare, Lifeshaver |
| Mover | Fight, Disaster | Fight, Big Guard |
| M-Tekarmor | Fight, Teklaser | Fight, Teklaser |
| Muus | Pep-Up, Gunk | Fight, Pep-Up, Slimer |
| Nastidon | Fight, Hug | Fight, Hug |
| Nautiloid | Fight, Ink | Fight, Ink |
| NeckHunter | Mad Sickle, Imp | Fight, Mad Sickle, Imp |
| Necromancer | X-Zone, Doom | X-Zone, Doom, Flare |
| Nightshade | Poison Rod, Charm | Fight, Poison Rod, Charm |
| Ninja | Fire Skean, Water Edge | Fight, Fire Skean, Water Edge, Bolt Edge |
| Nohrabbit | Cure, Cure 2 | Fight, Cure, Cure 2, Remedy |
| Ogor | Fight, Meteor | Fight, Cold Dust, Pearl Wind |
| Opinicus | Riot, Slide | Fight, Slide, Wind Slash, Surge |
| Orog | Bio, Pearl | Fight, Bio, Pearl |
| Osprey | Beak, Shimsham | Fight, Beak, Shimsham |
| Osteosaur | Fight | Fight, Fossil |
| Outsider | Fight, Ruin | Fight, Metal Arm, Teklaser |
| Over Grunk | Bane Touch, Poison | Fight, Bane Touch, Muddle |
| Over Mind | Fight, Dread | Fight, Dread |
| Pan Dora | Hypno Gas, Revenge | Fight, Hypno Gas, Revenge |
| Parasite | Mind Stop, Giga Volt | Fight, Mind Stop, Giga Volt |
| Parasoul | Spin Slice, Flash Rain | Fight, Spin Slice, Flash Rain, El Nino |
| Peepers | Tail, Pearl Wind | Fight, Tail, Pearl Wind |
| Phase | Blow Fish, Smirk | Fight, Blow Fish, Smirk |
| Pipsqueak | Imp, Roulette | Fight, Demi, Quartr |
| PlutoArmor | Crush, Tek Laser | Fight, Crush, Tek Laser, Schiller |
| Pm Stalker | Poison, Drain | Fight, Poison, Drain, Bio |
| Poplium | Fight, Slow | Fight, Slow |
| Poppers | Imp, Stone | Fight, Break, Stone |
| PowerDemon | Flare, Daze Dance | Fight, Flare, Daze Dance |
| Primordite | Fight, NumBlade | Fight, NumBlade |
| ProtoArmor | Program 35, Tek Laser | Fight, Program 35, Tek Laser, Schiller |
| Prussian | Fight, Bear Hug | Fight, Bear Hug, Stone |
| Psychot | Lifeshaver, Mind Shock | Fight, Lifeshaver, Mind Shock |
| Pterodon | Wing, Fire Ball | Fight, Wing, Fire Ball |
| Pug | Cleaver, Break | Fight, Cleaver, Break |
| Punisher | Fight | Fight |
| Rain Man | Umbrawler, Bolt 3 | Fight, Umbrawler, Bolt 3, Flash Rain |
| Ralph | Fight, Tackle | Fight, Tackle |
| Reach Frog | Tongue, Slimer | Fight, Tongue, Slimer |
| Red Fang | Fight, Rabies | Fight, Rabies |
| Red Wolf | Rush, Revenge | Fight, Rush |
| Repo Man | Wrench, Flare | Fight, Wrench |
| Retainer | Wind Slash, TradeOff | Fight, Wind Slash, TradeOff, Condemned |
| Rhinotaur | Mega Volt, Giga Volt | Fight, Mega Volt |
| Rhinox | Bane Strike, Life 3 | Fight, Bane Strike, Life 3 |
| Rhobite | Fight, Incisor | Fight, Incisor |
| Rhodox | Snare, Near Fatal | Fight |
| Rhyos | El Nino, Surge | Fight, Flare Star, Surge, El Nino |
| Rider | Silver Pike, Virite | Fight, Silver Pike, Virite |
| Rinn | Fight, Slow | Fight, Slow |
| Samurai | Flare, Doom | Fight, Flare, Doom, Haste2 |
| Sand Horse | Sand Storm, Clamp | Fight, Sand Storm, Clamp |
| Sand Ray | Fight, Tail | Fight, Tail |
| Scorpion | Fight, Doom Sting | Fight, Doom Sting |
| Scrapper | Knife, Elf Fire | Fight, Knife, Elf Fire |
| Scullion | Gamma Rays, Exploder | Fight, Gamma Rays |
| Sea Flower | Fight, Feeler | Fight, Feeler |
| Sewer Rat | Fight, Incisor | Fight, Incisor |
| Sky Armor | Backlash, Tek Laser | Fight, Backlash, Tek Laser |
| Sky Base | Doom, Giga Volt | Fight, Doom |
| Sky Cap | Atomic Ray, Slip Anchor | Fight, Slip Anchor, Tek Laser |
| Slam Dancer | Ice 2, Fire 2 | Fight, Ice 2 , Fire 2, Bolt 2 |
| Slatter | Choke, Shimsham | Fight, Choke |
| Slurm | Fight, Heartburn | Fight, Heartburn, Magnitude 8, Quake |
| Soldier | Fight, Scan | Fight, Scan |
| Soul Dancer | Fight, Osmose | Fight, Osmose, Drain, Fire 2 |
| Spectre | Fight, Fire | Fight, Fire |
| Spek Tor | Scratch, Blaster | Fight, Blaster, Acid Rain |
| Sp Forces | Fight, Blow | Fight, Blow, Safe |
| Spit Fire | Propeller, Tek Laser | Fight, Propeller, Tek Laser, Schiller |
| Sprinter | Drain Beak, Aero | Fight, Drain Beak, Cyclonic |
| Steroidite | Rush, Slide | Fight, Rush, Blizzard, Blaster |
| Still Life | Bane Kiss, Lullaby | Fight, Bane Kiss, Lullaby, Condemned |
| Stray Cat | Blaster, Catscratch | Fight, Catscrath |
| Suriander | Yawn, Aqua Rake | Fight, Yawn, Aqua Rake |
| Tap Dancer | Waste Shake, Slow2 | Fight, Waste Shake, Slow 2, Haste |
| Telstar | Launcher, Tek Laser | None |
| Templar | Fight, Axe | Fight, Axe |
| Test Rider | Gold Lance, Flash Rain | Fight, Lance, Flash Rain |
| Toe Cutter | Doom Sickle, Shrapnel | Fight, Doom Sickle, Shrapnel |
| Tomb Thumb | Dash, Step Mine | Fight, Dash, Step Mine |
| Trapper | L3 Muddle, L5 Doom | Fight, L3 Muddle, L4 Flare, L5 Doom |
| Trilium | Fight, Bane Touch | Fight, Bane Touch |
| Trilobiter | Fight, Poison Barb | Fight, Poison Barb, Poison |
| Trixter | Fire, Fire 2 | Fight, Fire, Fire 2, Fire 3 |
| Trooper | Fight, Swing | Fight, Swing |
| TumbleWeed | Blinder, Lifeshaver | Fight, Blinder, Lifeshaver |
| Tusker | Gore, Blizzard | Fight, Gore |
| Tyranosaur | Bite, Aero | Fight, Bite, Slow, Haste |
| Uroburos | Bio, Quake | Fight, Bio, Quake |
| Ursus | Scratch, Fire 2 | Fight, Scratch |
| Vaporite | Fight, Slow | Fight, Slow |
| Vectagoyle | Giga Volt, Aqua Rake | Fight, Gig Volt, Aqua Rake, Blaze |
| Vectaur | Tusk, Pearl Wind | Fight, Claw, Pearl Wind |
| Vector Pup | Fight, Bite | Fight, Bite |
| Vermin | Bacteria, Bio | Fight, Bacteria, Bio |
| Veteran | Fight, Roulette | Fight, Doom, X-Zone, Roulette |
| Vindr | Beak, Acid Rain | Fight, Beak, Acid Rain |
| Vomammoth | Bear Claw, Blizzard | Fight, Bear Claw, Blizzard |
| Vulture | Blinder, Shimsham | Fight, Blinder, Shimsham |
| Warlock | Magic Drain, Pearl | Fight, Magic Drain, Pearl |
| Wart Puck | Fight, Yawn | Fight, Yawn, Exploder |
| WeedFeeder | Fight, Flap | Fight, Flap, Berserk |
| Were-Rat | Fight, Bite | Fight, Bite |
| Whisper | Quartr, Demi | Fight, Fire, Demi |
| Wild Cat | Pounce, Blaster | Fight, Pounce, Blaster |
| Wild Rat | Fight, Scratch | Fight, Scratch |
| Wirey Drgn | Wing, Cyclonic | Fight, Wing, Cyclonic |
| Wizard | Rasp, Demi | Fight, Rasp, Demi, Stop |
| Woolly | Frenzy, W. Wind | Fight, Frenzy |
| Wyvern | Slip Wing, Cyclonic | Fight, Slip Wing, Cyclonic |
| Zombone | Bone, Bolt 3 | Fight, Bone, Poison, Bio |
| ZoneEater | Fight | None |