Ghost's Skill- Possess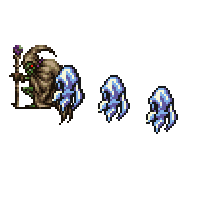 You can find friendly ghosts while on the Phantom Train. (There are also ghost merchants too!) They possess a very handy skill called...well...Possess! This allows the ghost to take over (KO) The body of any living enemy. This does not work on creatures such as Ghosts, or Oversouls. But be warned, if you use this skill you will lose your friend. You will then have to find another one, or continue on alone.
*NOTE Also Ghosts are wearing Lich Rings. This will cause healing items such as Potions to harm the Ghost. That said, Potions and spells will work outside of battles however.