Gau's Skill- Leap/Rage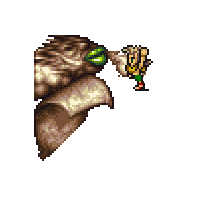 Gau's skill is perhaps the most unique skill in the entire Final Fantasy series. You first need to visit the Veldt, with Gau in your party. When you go into battle, use gau's Leap command. Gau will then leap into a pack of enemies, and the battle will end.
Go around on the Veldt fighting enemies, and Gau will eventually reappear. When you get him back, he will have learned the strength, weaknesses, and abilities of the enemies he lept into, and returned from. While in battles, use the attacks of the enemies he has learned with his
Rage command. While in rage, he will become uncontrollable, using only the attacks of that enemy until the end of the fight or he is KO'ed. Below is a list of the enemies Gau can learn.
The first column is the enemy (of course).
the second is their main attack. This attack is used almost 60% of the time. otherwise the attack is a basic hitting one.
The third column gives you the statuses Gau will gain when he goes into that enemies rage.
The fourth column shows whether or not he becomes immune to sudden death attacks. If there is a yes in that column, he cannot be hit with sudden death.
The final column will tell you if he becomes susceptible to undead qualities. This means basically the same thing as him wearing the Relic Ring. If he has this status, and someone casts Cure on him, he will take damage. That said, if Doom is cast on him....
The choice of what enemy to use should be carefully weighed. This list will hopefully help out.
| | | | | |
| --- | --- | --- | --- | --- |
| Guard | Special | - | - | - |
| Imperial Soldier | Fire | - | - | - |
| Templar | Fira | Protect | - | - |
| Ninja | Water Scroll | Float | - | - |
| Samurai | Lullaby | - | Yes | - |
| Orog | Pearl | - | - | Yes |
| Magna Roader | Bio | Protect | Yes | - |
| Yojimbo | Shock | - | Yes | - |
| Cloud | Thundara | - | - | - |
| Misty | Cura | - | Yes | - |
| Al Jabr | Thundaga | Float | - | - |
| Zaghrem | Stone | Berserk | - | - |
| Apocrypha | Lv.3 Confuse | - | - | - |
| Dark Force | Tsunami | - | - | - |
| Angel Whisper | Gravity | Float, Siezure | - | Yes |
| Oversoul | Elf Fire | - | - | Yes |
| Skeletal Horror | Banish | - | - | Yes |
| Commander | Break | - | - | - |
| Mu | Snare | - | - | - |
| Wererat | Poison | - | - | - |
| Mugbear | Net | - | - | - |
| Belmodar | Mega Volt | - | - | - |
| Muud Suud | Blizzard | - | Yes | - |
| Leaf Bunny | Special | - | - | - |
| Stray Cat | Special | - | - | - |
| Silver Lobo | Special | - | - | - |
| Doberman | Special | - | - | - |
| Megalodoth | Blizzard | - | - | - |
| Fidor | Special | - | - | - |
| Briareus | Cyclonic | - | Yes | - |
| Suriander | Aqua Breath | - | Yes | - |
| Chimera | Aqua Breath | - | Yes | - |
| Behemoth | Meteor | - | - | - |
| Fafnir | Traveler | - | - | - |
| Lesser Lopros | Fire Ball | Float | - | - |
| Fossil Dragon | Sand Storm | - | - | Yes |
| Holy Dragon | Holy | - | Yes | - |
| Fiend Dragon | N. Cross | Float | Yes | - |
| Brachiosaur | Disaster | - | Yes | - |
| Tyrannosaur | Meteo | - | Yes | - |
| Darkwind | Break | Float | - | - |
| Aepyornis | Special | - | - | - |
| Vulture | Shimsham | Float | - | - |
| Vasegiatta | Cyclonic | Float | Yes | - |
| Zokka | Net | Safe | - | - |
| Trapper | Lv.3 Confuse | Float | - | - |
| Hornet | Special | Float | - | - |
| Nettlehoppr | Berserk | Float | - | - |
| Delta Beetle | Mega Volt | - | - | - |
| Killer Mantis | Shrapnel | - | Yes | - |
| Trillium | Bio | - | - | - |
| Rafflesia | Charm | - | Yes | - |
| Tumbleweed | Lifeshaver | - | - | - |
| Vampire Thorn | Bio | - | - | Yes |
| Cartagra | Special | Protect | - | - |
| Siegfried | Flare | Protect | Yes | - |
| Nautiloid | Special | Protect | - | - |
| Exocite | Special | | - | - |
| Anguiform | Aqua Breath | Dark | - | - |
| Leap Frog | Slimer | - | - | - |
| Lizard | Break | - | - | - |
| Litwor Chicken | Quake | - | Yes | - |
| Slagworm | Sand Storm | - | - | - |
| Rider | Virite | - | - | - |
| Typhon | Tornado | - | Yes | - |
| Onion Knight | Imp | - | - | - |
| Magitek Armor | Tek Laser | Protect | Yes | - |
| Sky Armor | Tek Laser | Float | - | - |
| Satellite | Sonic Boom | Float | Yes | - |
| Armored Weapon | Gravity Bomb | Reflect | - | - |
| Spritzer | Blaze | Float | - | Yes |
| Flan | Slimer | - | - | - |
| Outcast | Lifeshaver | Float | - | Yes |
| Humpty | Poison | - | - | Yes |
| Brainpan | 1,000 Needles | Float | - | Yes |
| Cruller | Slimer | - | - | Yes |
| Cactuar | 1,000 Needles | - | - | - |
| Bandit | Self Destruct | - | - | - |
| Harvester | Haste | Float | - | - |
| Bomb | Blaze | Float | - | - |
| StillLife | Lullaby | - | Yes | - |
| Luntys | Meteor | Float, Reflect | - | - |
| Viel Dancer | Blizzara | - | - | - |
| Hill Gigas | Magnitude8 | - | - | - |
| Tonberry | Break | - | Yes | - |
| Magic Urn | Curaga | - | Yes | - |
| Mover | Meltdown | - | - | - |
| Figaro lizard | Dischord | Reflect | - | - |
| Devoahan | Slowga | Seizure | - | - |
| Aspirian | Giga Volt | Float | - | - |
| Ghost | Thundara | Float | - | Yes |
| Crawler | Traveler | - | - | - |
| Sand Ray | Special | - | - | - |
| Alacran | Special | - | - | - |
| Actinian | Special | Dark | - | - |
| Sandhorse | Sand Storm | - | Yes | - |
| Dark Side | Blizzara | Float, Seizure | - | Yes |
| Malboro | Bad Breath | - | - | - |
| Urok | Special | - | - | - |
| Foper | Death | - | - | - |
| Guard Leader | Wind Slash | - | - | - |
| Corporal | Special | - | - | - |
| General | Cura | Protect | - | - |
| Covert | Wind Slash | - | Yes | - |
| Kamui | Storm | - | Yes | - |
| Warlock | Holy | - | Yes | - |
| Cherry | Holy | - | Yes | - |
| Joker | Thundara | Float | - | - |
| Iron Fist | Stone | - | - | - |
| Devil | Thundaga | Reflect | - | - |
| Provoker | Imp | Float, Seizure | - | Yes |
| Cloud Wraith | Flare | - | - | Yes |
| Displayer | Death | - | - | Yes |
| Vector Hound | Special | Haste | - | - |
| Peeper | White Wind | Seizure | - | - |
| Stunner | Special | - | - | - |
| Sorath | Cave In | - | Yes | - |
| Destroyer | Re-Raise | Protect | Yes | - |
| Chipperabbit | Raise | - | - | - |
| Coeurl Cat | Blaster | - | - | - |
| Bloodfang | Drain | - | - | - |
| Hunting Hound | Special | - | - | - |
| Gorgias | Blizzard | - | - | - |
| Don | Special | - | - | - |
| Murussu | Stop | Protect | Yes | - |
| Wartpuck | Rasp | - | Yes | - |
| Gorgimera | Surge | - | Yes | - |
| Behemoth King | Firaga | - | - | Yes |
| Vector Lythos | White Wind | - | Yes | - |
| Wyvern | Cyclonic | - | - | - |
| Zombie Dragon | Doom | - | - | Yes |
| Dragon | Revenge Blast | - | Yes | - |
| Primeval Dragon | Firaga | - | Yes | - |
| Weredragon | Death | - | - | - |
| Cirpius | Hastega | Float | - | - |
| Sprinter | Aero | - | - | - |
| Lenergia | Shimsham | Float | - | - |
| Harpiai | Aero | Float | Yes | - |
| Gloomwind | Net | - | - | - |
| Dropper | Confuse | Seizure | Yes | - |
| Rock Wasp | Special | Float | - | - |
| Grasswyrm | Berserk | Float | - | - |
| Luridan | Land Slide | Float | - | - |
| Twinscythe | Shrapnel | - | Yes | - |
| Paraladia | Special | - | - | - |
| Exoray | Virite | Shell | - | Yes |
| Crusher | Lifeshaver | - | Yes | - |
| Ouroboros | Quake | - | - | - |
| Acrophies | Special | - | - | - |
| Schmidt | Megazerk | Float | - | - |
| Devourer | Special | Protect | Yes | - |
| Cancer | Esuna | - | - | - |
| Gigantoad | Slimer | - | Yes | - |
| Basalisk | Break | - | - | - |
| Medusa Chicken | Quake | - | - | - |
| Landworm | Magnitude8 | - | - | - |
| Test Rider | Flash Rain | - | Yes | - |
| Pluto Armor | Tek Laser | - | - | - |
| Onion Dasher | Traveler | - | - | - |
| Heavy Armor | Tek Laser | Protect | - | - |
| Chaser | Plasma | Float | - | - |
| Gamma | Dischord | - | Yes | - |
| Poplium | Special | Float | - | Yes |
| Intangir | Transfusion | Clear, Float, Haste, Safe, Shell | - Yes | - |
| Misfit | Lifeshaver | Float | - | Yes |
| Creature | Bio | - | - | - |
| Enuo | Tsunami | Seizure, Reflect | - | - |
| Deepeye | Dread | - | - | - |
| Unseelie | Shell | Haste | - | |
| Neck Hunter | Imp | Haste | - | - |
| Grenade | Blaze | Float | - | - |
| Alluring Rider | Doom | - | - | - |
| Pandora | Revenge Blast | Float | - | Yes |
| Blade Dancer | Osmose | - | Yes | - |
| Gigantos | Magnitude8 | Protect | - | - |
| Magna Roader | Silence | Haste | Yes | - |
| Lycaon | Blaster | - | Yes | - |
| Parasite | Giga Volt | Float | - | - |
| Land Ray | Mighty Guard | Seizure | - | - |
| Antares | Magnitude8 | - | - | - |
| Anemone | Giga Volt | - | - | - |
| Moonform | Flash Rain | Float | - | Yes |
| Spectre | Fire | - | - | Yes |
| Great Malboro | Bio | - | - | - |
| Bonnacon | Slimer | - | - | - |
| Oceanus | Magnitude8 | - | Yes | - |
| Living Dead | Osmose | - | - | Yes |
| Death Warden | Quake | - | - | Yes |
| Face | 1,000 Needles | Float | Yes | - |
| Outsider | Holy | Haste | - | - |
| Coco | Love Token | - | Yes | - |
| Zeveak | Flash Rain | Float | - | - |
| Night Walker | Drain | Float, Seizure | - | Yes |
| Demon Knight | Shock Wave | - | Yes | - |
| Imperial Elite | Protect | - | Yes | - |
| Desert Hare | Cura | - | - | - |
| Wizard | Gravity | - | Yes | - |
| Devil Fist | Elf Fire | Haste | Yes | - |
| Illuyankas | Giga Volt | Protect | Yes | - |
| Sergant | Reflect | - | - | - |
| Aspidochelon | Slide | - | - | Yes |
| Knotty | Stone | - | - | - |
| Luna Wolf | Special | - | Yes | - |
| BelZecue | Gravity | - | - | - |
| Caladrius | Acid Rain | Float | - | - |
| Tzakmaqiel | Imp | - | - | - |
| Lukhavi | Blizzard | Protect | Yes | - |
| Rinn | Fire | Float | - | Yes |
| Land Grillion | Special | Float | - | - |
| Goetia | Libra | - | - | - |
| Greater Mantis | Wind Slash | - | Yes | - |
| Bogy | Specail | Protect | - | - |
| Purusa | Land Slide | - | - | - |
| Black Dragon | Storm | Seizure | - | Yes |
| Adamankary | Acid Rain | Protect | Yes | - |
| Dante | Lv.3 Confuse | - | - | Yes |
| Platinum Dragon | Cyclonic | Float, Protect | - | - |
| Duel Armor | Mega Volt | - | - | - |
| Psychos | Lifeshaver | Float | Yes | - |
| Mousse | Transfusion | Shell | Yes | - |
| Shambling Corpse | Thundaga | Float | Yes | Yes |
| Punisher | Thundaga | Haste | - | - |
| Balloon | Self Destruct | Float | - | - |
| Gobbledygook | Vanish | - | - | - |
| Great Behemoth | Meteor | - | Yes | - |
| Scorpion | Poison | - | - | - |
| Chaos Dragon | Disaster | - | Yes | - |
| Spitfire | Tek Laser | - | - | - |
| Vector Chimera | Aqua Breath | - | Yes | - |
| Lich | Fira | Float | - | Yes |
| Rukh | Shimsham | Float | - | - |
| Magna Roader | Haste | - | - | - |
| Bug | Stop | Float | - | - |
| Seaflower | Sleep | - | - | - |
| Fortis | Fire Ball | - | - | - |
| Venobennu | Poison | - | - | - |
| Galpdes | Cyclonic | Float | Yes | - |
| Junk | Transfusion | Float | - | - |
| Mandrake | Raid | - | Yes | - |
| Valeor | Stone | - | - | - |
| Amduscias | Slowga | - | - | - |
| Necromancr | Death | Float | - | Yes |
| Glasya Lebolas | Revenge Blast | - | Yes | - |
| Magna Roader | Lv.4 Flare | Haste | - | - |
| Wild Rat | Special | - | - | - |
| Gold Bear | Special | - | - | - |
| InnoSent | Virite | Float | - | - |
| Clymenus | Fira | Float | Yes | - |
| Garm | Special | - | Yes | - |
| Daedalus | Meltdown | - | - | Yes |
| Baalzephon | Blizzaga | Float | - | - |
| Ahriman | Doom | Float | Yes | - |
| Death Machine | Death | - | - | - |
| Metal Hitman | Dischord | - | - | - |
| Io | Flare Star | - | - | - |