Setzer's Skill- Slots/Gil Toss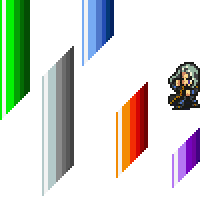 In the spirit of Setzer's gambling lifestyle, his slot skill acts just like a regular slot machine. (Without the quarters falling out...sorry) When you activate Setzer's slot command, a wheel will begin spinning. When you want it to stop, hit the command button.
The outcome of the spin, will determine Setzer's next attack. As with all gambling, there is a great deal of risk in getting a good attack. This makes it hard to use Setzer's skill in certain fights.
| | | |
| --- | --- | --- |
| Flash | | A flash of rainbow light attacks enemies |
| Chocobo Stampede | | A stampede of Chocobo's trample enemies |
| Magicite | | Summons a random Esper into battle |
| Dive Bomb | | The airship drops explosives onto the field |
| Mega Flare | | Blasts enemies with Bahamut's firey breath |
| Prismatic Flash | | Instantly kills all enemies on screen |
| Joker Doom | | Kills everyone on the screen (yea you too) |
| Mysidian Rabbit | | A strnge creature appears, and restores some HP to everyone |

In the cave to the Sealed Gate in the World of Balance, you will find Setzer's Heiji's Jitte relic. This will turn his Slot command into Gil Toss. When you activate Gil Toss, a screen appears showing your current amount of money. You then choose how much you are willing to throw at your enemies. Though this is potentially a powerful attack, it might end up leaving your party in the poor house!