Mystic Quest Battlefields
In Final Fantasy: Mystic Quest, you will come across little Grey tile areas you can enter.

These are called battlefields.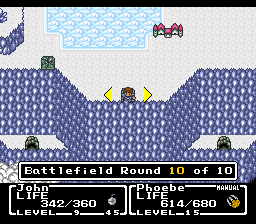 In battle fields, you will fight ten sets of enemies, to get EXP, GP, or even a rare item or spell. This is where the majority of your experience comes from in the beginning of the game. And this is where you should head to, if you find difficulty in getting through areas in the story. Once you clear all battlefields to the point you are, you will be more than ready for the challenges ahead. It also should be noted that it is best to have two members in your party when doing the fields.
When standing on the battlefield icon, you will be shown how many battles remain for that particular field (Right). The yellow number is the amount of battles that remain. Once a field has been completed, you will get a message

when you stand on the field, and the icon will change from

to

.
Below is a list of the battlefields, and what your rewards, and enemies are. The "MAP #" represents the number on the map below the table. This will give you the location of the battle field you are looking for.
| | | | |
| --- | --- | --- | --- |
| MAP # | BATTLEFIELD # | ENEMIES | REWARDS |
| 3 | 1 | Mad Plant, Poison Toad | 54 Exp |
| 5 | 2 | Basilisk, Mad Plant, Poison Toad | Charm |
| 6 | 3 | Basilisk, Minotaur Zombie, Sand Worm | 150 GP |
| 9 | 4 | Mint Mint | 99 Exp |
| 11 | 5 | Mint Mint, Giant Toad | 300 GP |
| 12 | 6 | Mint Mint, Giant Toad, Scorpion | Magic Ring |
| 14 | 7 | Edgehog, Giant Toad, Scorpion | 99 Exp |
| 16 | 8 | Desert Hag | 600 GP |
| 18 | 9 | Desert Hag, Lamia, Mage | 540 Exp |
| 20 | 10 | Sphinx, Phanquid | Exit spell |
| 21 | 11 | Freezer Crab, Gather | 744 Exp |
| 23 | 12 | Jelly | 900 GP |
| 24 | 13 | Jelly, Sting Rat | Gemini Crest |
| 25 | 14 | Plant Man | 816 Exp |
| 27 | 15 | Sting Rat, Plant Man, Flazzard | 1200 Exp |
| 29 | 16 | Flazzard, Red Cap | Thunder spell |
| 31 | 17 | Red Bone, Ghost, Zombie | 1200 Exp |
| 34 | 18 | Iflyte, Stheno | 1086 Exp |
| 40 | 19 | Ooze, Skuldier, Water Hag | 2808 Exp |
| 40 | 20 | Water Hag, Vampire | 2700 Exp |