Crisis Core Minerva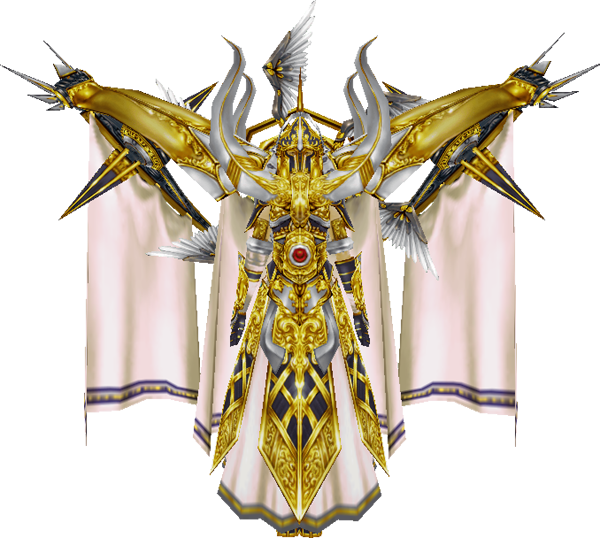 As you may know, there is a secret boss hidden within the missions. This is none other than Minerva. Minerva is a difficult boss to challenge if you are not prepared properly for the fight. A lot of people I know actually did not take Minerva on, until they had completed the game one time already. If this is the case with you, do not feel bad. Even I did the same thing.
There are several different things you must have, before you go into battle. I will list them here, and explain where to get them. Each item has a significance to winning the fight. Here is a list of what was used by me:
Genji Glove: Sets damage limit to 99999.
This is found in a chest in mission 9-6-4. You will need to take the first left path from the beginning of the mission to get it. Genji Armor: Sets HP limit to 99999, and adds Endure and Regen.
This is acquired if you complete the DMW. (Get 100% on each DMW) You will want this for the added Regen and Endure effects. Minerva cannot destroy auto-status effects. But if you are finding it hard to get this, you can settle for the Adaman Bangle (Complete mission 7-3-6). The downfall is you lose out on the status effects.
Power Suit: HP+100%, MP & AP-50%, Atk & Vit+100, and Mag & Spr-50.
This is gotten from completing mission 7-5-4. You can also get it out of chests in missions 6-6-6 and 7-6-3.
Ziedrich: Atk, Vit, Mag, and Spr +100. Halves elemental damage.
This is gotten from a chest in mission 9-5-6. Instead of going from the beginning to the boss, head down the first path to the left. Turn right down the next path after that, and you will find it on the left side of the final room.
Now that you have all of these accessories, it will be time to boost your stats via Materia. The stats you will need to have maxed out are: HP: +999%
Vit: +100
Spr: +100
The reason I did not add Attack, is with the Costly Punch, you are doing 99999 damage regardless. The attack is not really needed here. Ok, to get the Costly Punch, you can go three ways. 1-Complete mission 9-5-4. That is on your way to Minerva, so there you go. You can also steal it from Mako Ifrit in mission 9-5-1. But if you want it a bit earlier than even that, simply fuse any of the punches with any of the DMW Materia.

These are the Materia I went with:
Costly Punch (HP+999%)
Assault Twister (HP=999%)
Gil Toss (Vit+100)
Status Ward (Spr+100)
Curaga

The Gil Toss and Status Ward might seem odd. They were actually being used to see if another strategy I got off of Youtube would work. You can really use any Materia you wish. The Materia here also do not have these as their default Attributes either. I changed them with Materia Fusion. I figured I would go with what was needed, rather than what had the Stat bonuses needed. (Through your Materia Fusion process, be sure to save all the time. Just in case you do something you do not like) Now that you have all of this done, you will want to do one more thing. Equip the Mog Amulet, and Steal/Mug. I know these are not in the preparation list, but you want to do this. Now head into the battle with Minerva. Steal 99 Phoenix Downs from her. Let her kill you, and you will now have the means to keep reraise constantly activated. Now set your stuff up correctly, and save your game. Now for the fight of all fights!
Boss Fight:
Minerva
Minerva has a bunch of dangerous attacks, but there are really only twyou should be very cautious of. These are Ultima and Judgement Arrow. By now you have seen Ultima tknow when it is coming. When she is preparing it, you need to BLOCK. If you don't block, Ultima will do 99999 damage, causing the loss of your reraise status. Yea, that's right, you will die from it. Blocking it, will only reduce your HP by around 63000.

Judgement Arrow is actually a pretty awesome cutscene attack, but it is not nice. The damage is not that great, but it will negate all of your status enhancements, including reraise. When this attack occurs, stop everything, and place reraise back on yourself. If the hurt was felt with this attack, be sure to heal after. Key word there is AFTER you get reraise back in place.
Her other attacks include Crimson Flare, Cocytus, Thor's Hammer, and Photon Feather. With the Zeidrich, you can help substancially against the damage of the elemental attacks, but it really does not hurt tblock these attacks when they happen. They could still easily do 15000+ damage tyou. And you really want to stay in this fight as long as possible.
She also has some nasty abilities to go with her attacks. These abilities make her immune to certain attacks for a set amount of time. They are:
Anti Material (Physical Guard for 20 seconds)
Anti Magic (Magical Guard for 20 seconds)
Absolute Barrier (Invincibility for 20 seconds)
Blessing Light (Recovers some HP)
when she does these immunities, especially Absolute Barrier, take the time to get yourself healed, and back into shape for your next assault.
And as for the assault, Costly Punch is the weapon and attack of choice here. There is not even a need for any other attack, as the damage will not compare. It will become mute to do other attacks after she begins the Blessing Light. The HP recovery will definitely negate any other attack. Simply keep yourself moving around, and hitting her with Costly Punch. Block any attacks she might throw, especially Ultima, and make sure to keep reraise on at all times. With the preparations, Materia Fusion, and Accessories, you should easily come out of this the victor.

And what is the reward for defeating the Goddess of all? An accessory called the Divine Slayer. This accessory will increase your HP, MP, and AP by +100%, increase all your stats +50, break the HP, MP, AP limits, and gives Auto-Libra. In other words, it is awesome as all get!
And if this happens tbe your final mission to complete, you will get the Heike Soul accessory. This is the mother of all accessories. it has the following stat bonuses:
Break HP, MP, AP, and Damage Limit
Add Sudden Death, Poison, Silence, Stop and Stun t'Fight' command (added to some other physical techniques as well)
Absorbs All Elements
Auto-Potion
Increases Drop Rates for enemies
100% successful steal
Stolen and Dropped items are 100% rare
Doubles Gil, Item/Materia from enemies
Smart Consumer Level 1
Double Magic
Auto-Libra
SP Master Level 1
Basically, if you are wondering if the battle is worth the effort....You darn right it is. with these accessories YOU are a god!!