Final Fantasy VIII Card Quests




There are a number of small quests you need to complete in order to get every card in Triple Triad. All but one of these quests needs to be completed before you get to Disk 4. The Card Queen can be put off until Disk 4, providing you complete the CC Members quest. In this section, you will find all the information you will need to complete these quests.
Alien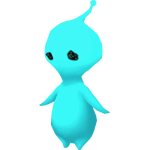 Encounter

While out and about, you most likely come across a fight with no enemies in it. Instead, you will see a small UFO carrying a object of some type away. This is actually part of a quest to get the rarest card there is.
Once you get the Ragnarok, and the Enc None ability, you can easily locate these sightings. With the Enc None, you will lose all the random battles, but the sightings will still happen. There are a total of 4 encounters you will need to witness, before you can move on.
| | |
| --- | --- |
| Encounter 1: Moa Head | Encounter 2: Symbol |
| Beach south of Timber | Penninsula east of Trabia Garden (Actually on the small island east of the penninsula) |
| | |
| Encounter: 3 Cow | Encounter: 4 Pyramid |
| Winhill area | Desert north of Cactuar Island |
| | |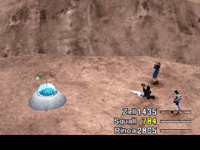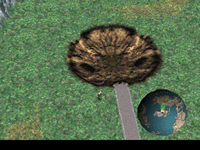 Once you have seen all four encounters, it is time to take a trip to the cliff above Chocobo Sanctuary. This is located north of Esthar, and east of Trabia Garden. Land on top, and wander around a bit. Soon, a UFO comes to check you out up close and personal, and a small fight ensues. This is an easy fight, and nothing should go wrong in it. Once you defeat the UFO, it will go flying off to the west, and you will hear a small crash.
Before you go investigate, I will suggest setting everyone with the Item command. Also make sure you have 5 Elixirs. If you do not have enough, you will need to get them before continuing.
Once you have the Elixirs, and have set your commands with Item, head over to Balamb Garden's old location. Wandering around the crater, you should encounter Pupu.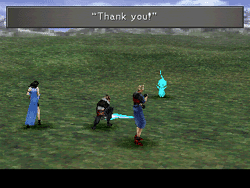 Do NOT attack Pupu. Instead, it will ask you for an Elixir. If you give him one, he will continue asking for another up to five times. Once you give him the fifth Elixir, he will dance around, thank you, and the fight will be over. Your reward for letting him live is the Pupu Card. This is the only way in the game to get this one of a kind card. The Card Queen does not have it, neither do the CC members. If you kill Pupu, you will not get the card. But you will get a Accelerator. (I would prefer the card) This item teaches a GF the Auto-Haste ability. Also if you refine the card, you cannot get it back. It does refine into a Hungry Cookpot, that teaches a GF the Devour ability...in case you were wondering.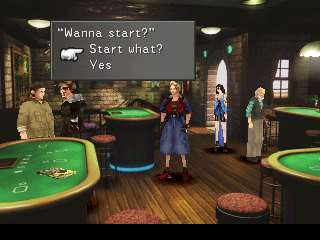 Dollet & the Siren Card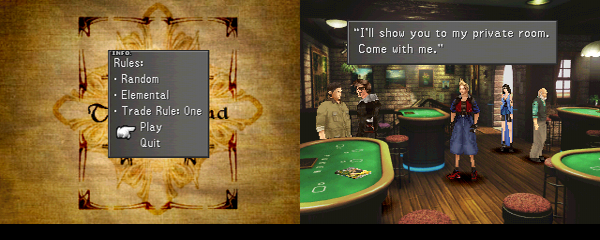 When you leave Timber to head to Galbadia Garden, you can also stop in Dollet. In the bar with all the gambling tables, you will find a guy in a light brown shirt. Offer to play Triple Triad with him. (I would suggest not allowing for rules to be melded. Say no until he just asks). If you can beat him, he will offer to take you to his secret room in the back of the club. Head across the walkway, and meet him in his room. Here you can get the Occult Fan II hidden in the stacks of magazines, as well as a few iems. Talk to him, and he will provide you with several low grade cards.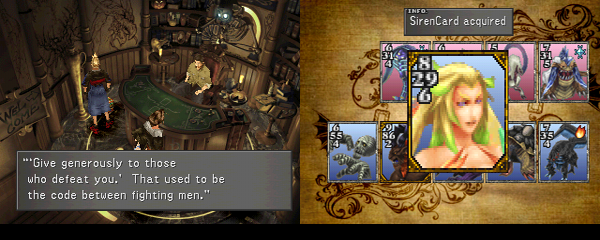 But this is not all there is to it. Talk to him a few more times, and you will discover he has a rare card of his own. Play him enough, and you will find he is holding the Siren Card. It might be difficult to get when you are first able to get to Dollet, considering the lack of rare cards on your part and his Random rule. But you can do it.
If you find you are losing too much, return at any time before Disk 4. He will be right here waiting for you to win her. Do not allow yourself to lose any of your own rare cards. Save before you begin in the back room. This way you can always return with no issue.
Deling City: Rinoa's Card

Though there are a great many people to play to get a complete deck, getting Rinoa's card is a bit different. Other than the Card Queen, this is the only time you have to lose a card, in order to get another one.
First, you need to head back to Deling City. Go to Rinoa's house, and speak to her father. General Caraway admits to having the card, but does not play it. He then says he might play it, if you relinquish your Ifrit Card.

Do yourself a favor, and lose the card. He will then begin playing Rinoa's Card. Once you've acquired Rinoa's Card, you might wonder how to get back Ifrit's card. Usually you have to play the person you lost the card to, but not in this case. If you ask, Caraway will tell you he already lost it to the former Garden Master Martine.
(Funny how he lost it, while you were standing in front of him the whole time huh?) Well, the once Head Master of Galbadia is found to the right of the mayor's house in FH. He will have your Ifrit Card safe and sound.
CC Members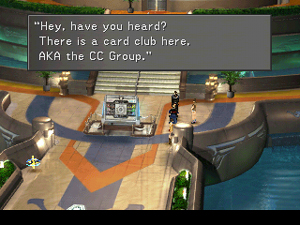 Once you've played enough games of Triple Triad, you can take on the CC Members before Disk 4. There is a total of seven members, and they will need to be played in order, from lowest to highest. Not all the members have rare cards either, but they can easily fill out any missing level 6 and 7 cards. The table below gives you the order, location, and card you might get from each member.



If you find the members are not challenging you, it is because you have not been playing enough. Spend time playing in Balamb Garden, until you feel you have won quite a few games. The best one to play is the guy in the library entrance, by the bookshelf's. He has every level card up to 5. This is a great way to get cards for refining items and weapons. Once you get at least 50 victories under your belt, try to challenge the CC group again.
1 Jack

2 Club

3 Diamond

He enters from the right side of the directory, and heads to the front gate.
Has no rare cards.

Club is found coming out of the cafeteria.
Has no rare cards

This is actually two females standing next to the directory.
Has no rare cards

4 Spade

5 Heart

6 Joker

The second floor hall, in front of the elevator.
Has no rare cards

None other than Xu. She is found on the bridge of the Garden.
Has the Carbuncle Card

He randomly appears after you defeat Jack, inside the Training Room.
Has the Leviathan Card

7 King

You need to defeat the CC group, and the CC King before disk 4. If you do, they will show up on the Ragnarok, and challenge you there. If you do not, you will lose them for good. If you do get the CC members on disk 4, you can challenge them to any rare cards you might have traded in for items. Also you can win the Card Queens set from the Diamond Duo.

The CC King is none other than Quistis. Speak to Nida and Xu on the bridge. Then head to your dorm. Sleep over, and over, until Quistis appears.
Has the Gilgamesh Card
Card Queen
It is imperative that you save all the time, during this quest. Everything can go horribly wrong with this quest. You might actually want to make a backup save in a different slot, before taking this quest on.
The Queen of Cards can be found as early in the game as the mission to the Fire Cavern. She is located at the train station in Balamb. Here she will stay, until you lose or win a level 8 or higher card.
Once you accomplish this, speak to her again. She will give you a hint as to where she is going next, thus beginning this quest.

The actual quest itself takes place in Dollet City. Once she arrives in Dollet, speak to her normally. A fourth option not previously available will appear. Select the option: "About your artisan father". When you ask about this, the Queen will ask you to give up the Mini Mog Card to her in a game. In order for this quest to continue, you will have to lose the card to her. When you lose the card, her father will make a new one for you to track down and get. Each of the cards created by the artisan are rare cards. There is no other way to get them, than from the Card Queen. That said, this is not the only way to get them. (More on that in a bit)
Once you lose the card the Queen wants, she will move to another location. You will need to chase her down, until you wind up back in Dollet. She will then tell you the next card she wants, and the process is begun again. You will have to repeat the process to get all the rare cards from her. I warn you now, that this can get very, very frustrating. Remember the Queen not only changes the rules, but plays by every one of them. She will not decline to mix the rules. If she asks to mix, you have to do so. I think Disney's Queen of hearts said it best... "Always are the Queen's ways!"
This is a time consuming quest indeed. There is even one time you have to hunt a new card down, in order to get another made. Refer to the Rare card Locations for finding the cards she wants to have. Make sure to note where the Card Queen is going, in order to avoid hunting her down again. Below is a list of where she will be in the towns, and what percentage she will show up in another.
Locations & destinations
Locations, and % of next location
Mentioned place
Specific location
Present location
% Of next location
Galbadia
Hotel in Deling City
Balamb
Dollet-37.5%
Deling City-62.5%
FH
On the train tracks
Deling City
Balamb-12.5%
Dollet-12.5%
Winhill-12.5%
FH-62.5%
Esthar
Presidential Palace
Dollet
Balamb-25%
Deling City-62.5%
Trabia
Shumi Village Hotel
Shumi Village
Balamb-25%
Dollet-50%
Lunar Gate-25%
Centra
Winhill Hotel
Winhill
Deling City-37.5%
Dollet-37.5%
Lunar gate-25%
Dollet
The Pub
FH
Dollet-12.5%
Winhill-25%
Esthar-62.5%
Balamb
Balamb train station
Esthar
Dollet-12.5%
Shumi Village-25%
FH-12.5%
Lunar Gate-50%
Far away
Lunar Gate concourse area
Lunar Gate
Random area, without a clue
Here is a list of the cards you will be asked for, and the cards you will get in return. (Not in order) This also gives the location of the newly formed card for you to find. To make things easier, return to Balamb Garden. Inside, decline to play, until the person stops asking to mix the rules. This will reset the card rules overall. Now it will be easier to get your new card.(This might not always work, since some people will not play without mixing the rules together)
| | | |
| --- | --- | --- |
| Card needed | Card created | New card location |
| | | Deling City-The guy in black, across from the Junk Shop, has the card. |
| | | FH-The Mayor's wife, Flo, has the card. |
| | | Timber-Pub's owner behind the counter gets this card. |
| | | Balamb Garden-The student sitting on the bench outside the libreary will have this one. |
| | | Esthar-In the Presidential Palace, the aid in blue has this card. |
Another option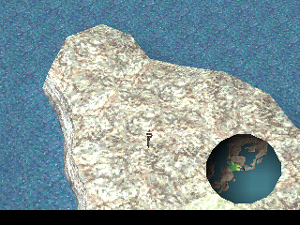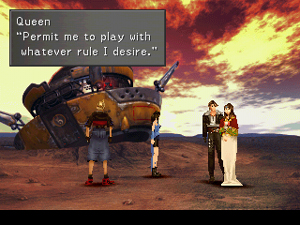 There is another way to get these cards, without going through this grueling quest. You must first face and defeat all CC Members, before you get to Disk 4. Once you do this, simply wait until you reach Disk 4. Find the Ragnarok, and head to the escape pod crash site. The Card Queen will appear here, along with all the new cards. I warn you now... she plays the rules Random, Same/Plus/Wall, Elemental, and plays the new cards together. Make sure you SAVE, before entering the area. Every time you get a new card, SAVE AGAIN. This is a lot less frustrating, and time consuming than the actual quest itself. But choose the way that suits you best. Both options will win you the cards. Also you can refine them, and then get them back from her, or the Diamond Duo in the hangar of the Ragnarok.