Omega Weapon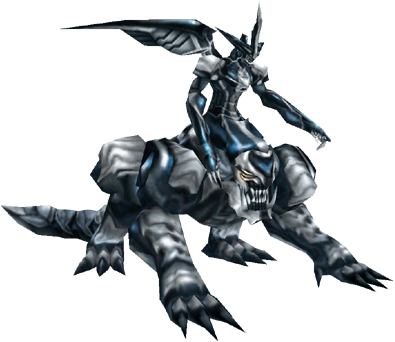 Now a days, with the advent of Yaizmat in Final Fantasy XII, Omega Weapon may seem a bit easy. But when Final Fantasy VIII was released almost a decade ago, this was one tough bugger to crack. When you defeat Ultimecia's servants, you have the chance to face Omega Weapon. It has 1,161,000 HP, more than the Emerald Weapon, and its attacks are simply downright deadly. There is no real reward for defeating Omega Weapon, it is just to see how good you are. And there has been no other Optional Boss (In this editors opinion) that requires so much preparation. There is a lot of things you will want to get a hold of, before you even attempt to go into this fight.
Preparing for an Epic Battle
First off, let us get into the junctions. Junctioning magic in certain areas, will greatly reduce some of Omega's attacks and spells. Here is the way I have my spells junctioned to each of my players. (All spells are at 100 total)
Attribute
Spell
Attribute
Spell
HP
Meteor
SPD
Triple
STR
Flare
EVA
Slow
VIT
Regen
HIT
Double
MAG
Demi
LUCK
-
SPR
Reflect

Elem Def
Status Def
1
Life
1
Esuna
2
Full Life
2
Pain
3
Shell
3
Confuse
4
Ultima
4
Death
Make sure that the Death spell is junctioned to your Status Defense. Omega will begin the battle with Level 5 Death. Anyone with a level multiple of 5, not junctioned with Death, will be KO'ed.
The Elemental Defense set up will make every elemental attack heal you. It also greatly reduces the damage of Ultima, and Meteor.
Now that you have your junctions set for magic, let us get the GF's into the game. You will want to definitely have Eden, Bahamut, and Doomtrain. Eden and Bahamut should be junctioned to different people, and not Squall. Doomtrain can be junctioned to anyone you wish. I usually give Doomtrain and Bahamut to Rinoa, and Eden to Zell. For some aid in magic casting, I will also give Zell Cerberus. This way, you can give everyone Double/Triple, and cast Vit-0 on Omega in the first round. The other GF's do not matter too much. But you will want all stats available on each character. The one you might not get is the EVA-J. I only know of one in the game, and it is gotten from the UFO fight in the Alien Encounter quest. The two GF's with it are Jumbo Cactuar, and Eden. So try to disperse them accordingly. The rest of the stat junctions are pretty easy to get a hold of.
In your character abilities, remove all the bonus items, in favor of strength and speed for Squall, and magic and speed for Rinoa and Zell. But keep the Enc-None on Squall. You will want to have no fights before you get to Omega Weapon. (More on that shortly) You should also give Squall the Initiative ability. This will get him the first strike, and he can use a Holy War right off the bat. Auto-Abilities such as Haste, Potion, and Regen are fine, but stay away from Auto Reflect. If you need to cast any magic, you will not want it to bounce off someone, hitting Omega instead.
Now is also where your playing cards will pay off. You should refine Bahamut - 100 Megalixirs, Chubby Chocobo - 100 LuvluvG's, Angelo - 100 Elixirs, and Gilgamesh - 10 Holy Wars. You might actually want to refine Gilgamesh, get him back from Spade on the Ragnarok, and refine him a second time. This will give you 20 Holy Wars, which should be enough to survive the battle. Use the LuvluvG's on each player, to max their compatibility with the GF's out. You want the GF's showing up NOW, not in a few seconds.
Make sure you have a full supply of Phoenix Downs, Full-Life, and Curaga spells. You will
need them if something goes wrong, or you do not get a Holy War off fast enough.
Now go into the Item Menu, and select battle. Place Holy Wars first, Phoenix Downs second, followed by Megalixirs, and Elixirs. This will make it a lot easier to find the items you will be using throughout the battle. You should also set the controller to memory. This will make it a lot faster to execute commands, giving you full use of each Holy War.
Above any other character, make sure you have Squall's Lionheart weapon. (There should be no reason not to have it by this point anyways) If he gets off a Lionheart Limit Break, that will do close to 100,000 Pt's damage! It is by far the best attack you will have in your arsenal.
For those who do not keep Squall in HP critical for his limit breaks, make sure your magic caster has about 20-30 Aura spells in their inventory. Also be sure to cast it on Squall, before using a Holy War.
This is just about everything you will need for the battle. Now let's set up our party.
Set Up
I go with Rinoa, Zell, and Squall in this battle...and every other battle. But you are free to use whomever you want to.
Squall - Give Squall the Item, Magic, and GF command. Also give him Initiative, HP+80%, SPD+40%, and Enc-None. Since he will be the first to strike, he will be able to get a Holy war off, before you can take any damage.
Rinoa - Give Rinoa Item, Magic, and GF commands. Then give her MAG+60%, HP+80%, and SPD+40%. Set her up with Doomtrain, and Jumbo Cactuar.
Zell - Give Zell Item, Magic, and GF commands. Then give him MAG+60%, HP+80%, and SPD+40%. Set him up with Eden and Bahamut.
If you are not too worried about the EVA-J being on every player, set Zell with Cactuar, and give Rinoa Bahamut. This is actually what I do for this battle. It gives Rinoa a better GF, and gives Zell a back up, in case he loses Eden. With everything ready, head for the entrance to Ultimecia's castle. (It is easier to start there) And let us track this beast down.
Save outside of Ultimecia's castle, and go inside. Have your main party head through the door on the left of the stairs. Go through the hallway, and into the room with the falling chandelier. Now go through the door, and switch to the secondary party at the switch point. Now make sure to switch Squall's junction to the leader of the second party, for the Enc-None ability. Now take them up the stairs, and through the door on the right. In this room, you will see a large bell on the ceiling. You need to go down the stairs, and pull the rope to ring it. Afterwards, you will see a timer appear in the corner of the screen. This is the time you have to get to Omega. Quickly go to the switch point, and switch to the main party. Give Squall back his junction, and head into the Chapel. You should see Omega there in front of you. To initiate combat, simply run into him.
Boss fight:
Omega Weapon
In the first round, you should have Squall use a Holy War, Rinoa summon Doomtrain, and Zell use Cerberus. This will set your entire defense up at once, and weaken Omega with the Vit-0. In the next Round, have Rinoa summon Bahamut, Zell summon Eden, and Squall unload Limit Breaks.
The first attack from Omega is Level 5 Death. If the Holy war is in place, you have nothing to worry about. If it is not, you should still be fine with the 100 Deaths junctioned to your Status Def.
Omega Weapon has so many different attacks, that it isn't funny. His spells will consist of Ultima, Flare, Quake, Holy, and Meteor. With the Status Defense the way it was suggested, Quake and Holy will heal you, if you get caught without a Holy War. Ultima and Meteor will still do damage, but Ultima will not be nearly as painful.
He sometimes uses Diablos Gravija attack. This will reduce your HP to 3/4 what they were. Be sure to quickly get your health back up.
Omega also likes to use Ultima Weapon's Light Pillar attack. If this connects to someone, they will be instantly KO'ed. Quickly revive them, and get their HP back. (Unless it is Squall) In a twist of luck though, Omega does not use this attack as much as Ultima did.

Omega also has two very devastating attacks. There is the Terra Break, and the Medigo Flame.
With Medigo Flame, Omega fires a ray underneath the party. Then a radiance of heat comes up from the ground, and can severely damage the party. It will definitely knock Squall out, if Holy War is not in place.
With Terra Break, Omega jumps into the air, (yea I am wondering how that hulk can do that with ease) and bombard the party with laser blasts. This attack seems to be more like Meteor in the sense that it is random on who gets hit, and how many times they are hit. This devastating attack can leave you in severe pain, and makes it easy for Omega to pick you off in the next round.
The best way to get him, is by keeping up on the Holy Wars. Keep having Squall wail on him with Limit Breaks, and keep Rinoa and Zell summoning Bahamut and Eden. When the Holy War wears off, have the next character just throw another one. If someone gets knocked out before you get a Holy War off, use one, then revive them, and use another one. You do not want to leave the other members vulnerable, while trying to revive someone. Keep this up, and Omega will eventually fall to your power!! For winning, you will get a Three Stars. And one heck of a lengthy death scene.
There is another thing you can see, once you defeat Omega Weapon. Inside the tutorial, you will find a new item in the Information titled: "Proof Of Omega". All it is is a plaque that says you are the most powerful person in the world for defeating Omega Weapon. See I told you there was nothing monetary to gain from this fight. But don't you feel like you are bigger than life now??