Final Fantasy Kingdom


Compilation of VII

Finest Fantasy For Advance

Sequels

Fabula Novis Crystallis

Tactics

Crystal Chronicles

Film / OVA / Anime

Spin-Offs
Final Fantasy VII WEAPON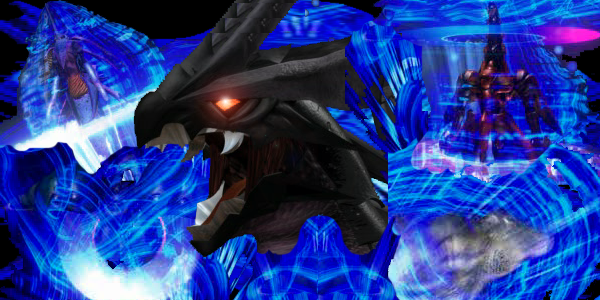 In Final Fantasy VII, when Cloud gives Sephiroth the Black Materia, WEAPON's are awakened. Sapphire, Diamond, Ruby, Emerald, and Ultimate WEAPON begin to reek havoc across the planet. Sapphire WEAPON is destroyed by the Junon Cannon. Diamond WEAPON is a forced fight to progress the story, as is the first fight with Ultimate WEAPON. The other encounters with Ultimate WEAPON, as well as the fights with Ruby and Emerald WEAPON are purely optional.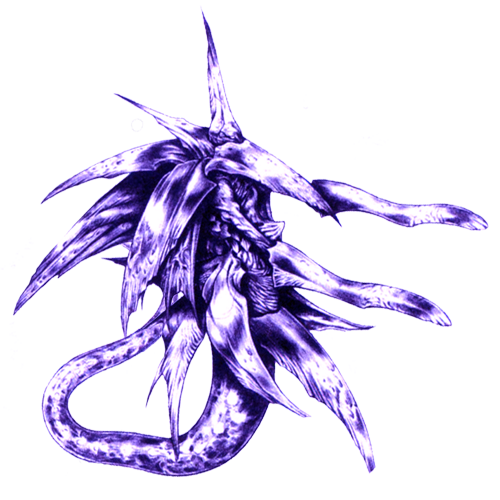 Sapphire WEAPON
Sapphire WEAPON is the only weapon you cannot, and do not fight. This aquatic WEAPON crashes into Junon, and begins attacking the city. This attack allows Tifa to escape her cell. He is then destroyed by a blast from the Junon Cannon.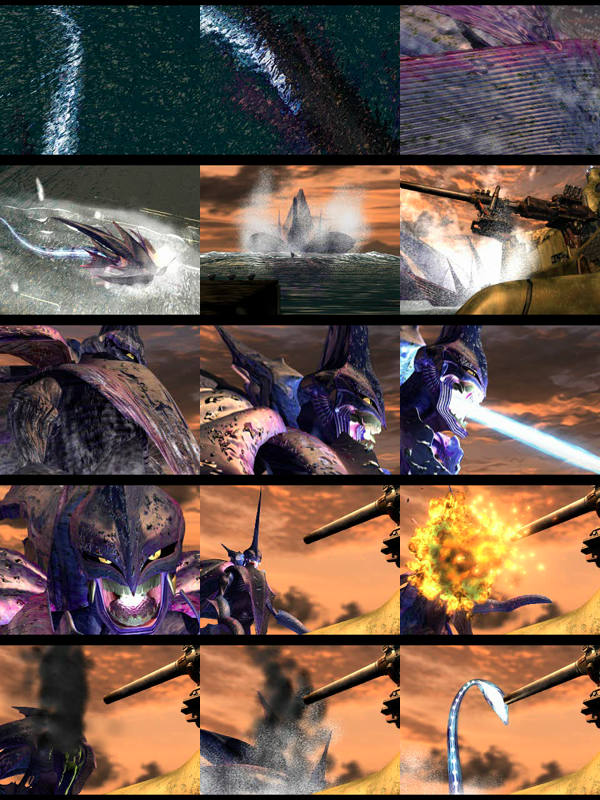 Battled WEAPON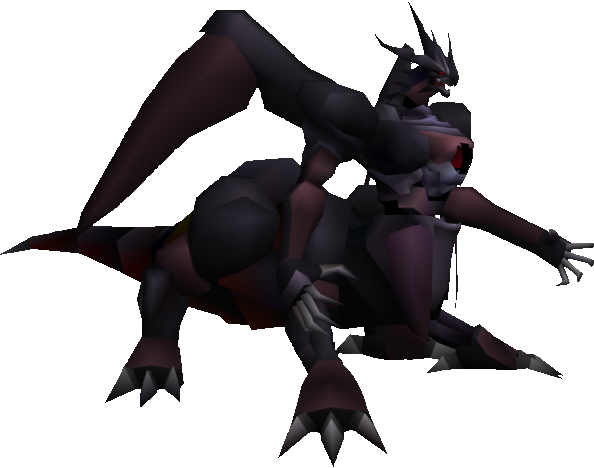 Ultimate WEAPON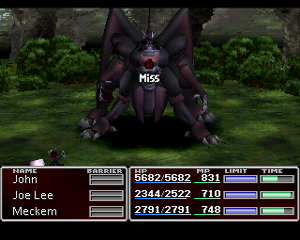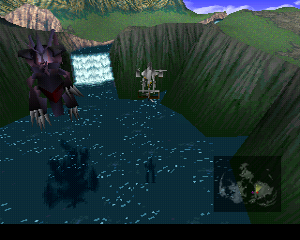 Ultimate WEAPON is the first fought when you return to check on Cloud in Mideel. In the first encounter, your priority is just to survive the battle. WEAPON has an array of attacks, and magic that can wipe your party out.
What I would suggest is having the first character cast Big Guard, and the second cast Regen. Then let loose on Ultimate WEAPON.
Your Limit Breaks will fill up fast, so use them when they become available. Have anyone ready to cure the party, if their HP get too low. Any of WEAPON's attacks can kill a person with low HP. After a few thousand HP are taken out,Ultimate WEAPON will fly off. This is not the last time you will see him.
After you defeat Diamond WEAPON, Ultimate WEAPON appears over the crater by Junon.When you are ready for the fight, ram the Highwind into him.
Boss Fight:
Ultimate WEAPON
The basic strategy for any fight with Ultimate WEAPON is the same. Set yourself up with Big Guard, and Regen. Then just focus on attacking WEAPON, and keeping your party healed. Most everyone's limit Breaks will do decent damage, and will come up quickly. Also Ultima, Hades, Comet 2, and Bahamut Zero work really well. After a few thousand more HP damage, Ultimate WEAPON will fly off again.
You now need to chase WEAPON around, until he flies off again. He will stop at either Northern Crater, Nibelheim, Mideel, Midgar, (If he is over Midgar, and you are

at the point of infiltrating Midgar, do not engage WEAPON. When you fly over Midgar, you are immediately taken into Midgar.) and Cosmo Canyon. If you catch up to WEAPON, while he is flying, try to ram into him. This will cause him to find a new location faster. Whenever he stops at a new location, just fly into him, and resume fighting.
When he has taken all he can take, he will head for Cosmo Canyon. This will be the final fight with him. When you go into this fight, make sure your character who lands the final blow has all the Enemy Skill Materia in their left-most weapon and armor slots. Before Ultimate WEAPON dies, he will cast Shadow Flare on the last attacker. This allows you to get one of the most powerful Enemy Skills in the game at one time!

With Ultimate WEAPON gone, Cloud will receive his ultimate weapon: Ultima Weapon, and a way to the Ancient Forest is made available.
*Note* In each fight with Ultimate WEAPON, try to steal from him. The has a Cursed Ring, Circlet, and Reflect Ring. You will need the Long Reach Materia for the aerial fights.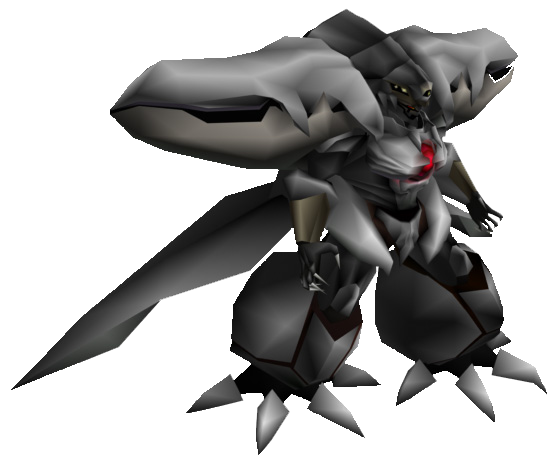 Diamond WEAPON
When you return to the Highwind after visiting the Forgotten City on Disk 2, Diamond WEAPON will emerge from the ocean floor, and head for Midgar. You will need to stop it, before it destroys the city.
Boss Fight:
Diamond WEAPON
Diamond WEAPON can be difficult, but if you are up in levels, it shouldn't be much of a chore. To begin, cast Big Guard and Regen. Diamond is virtually immune to any physical attacks, so magic is the way to go here... unless you are trying to steal the Rising Sun from him.
Comet and Ultima are great spells, but nothing beats Knights of the Round. Two shots of this, and Diamond is dust. If you do not have KOTR, then use your strongest magic, and have one character focus on healing.
When you drained enough HP from Diamond WEAPON, it's chest plate will open, and a countdown will ensue. It is preparing for it's Diamond Flash attack. This will do around 2000-3000 Pt's damage, and cast Mute on one character. You will have three rounds to try to destroy WEAPON. If you fail, the countdown will repeat until you do.
When you finally cause sufficient damage, The scene will shift to Midgar, where they fire the Sister Ray at Diamond WEAPON. He will fire at Midgar in return. Diamond WEAPON is destroyed by the Mako powered shell. Diamond WEAPON's artillery connects with Midgar, and it is presumed President Rufus is killed in the explosions.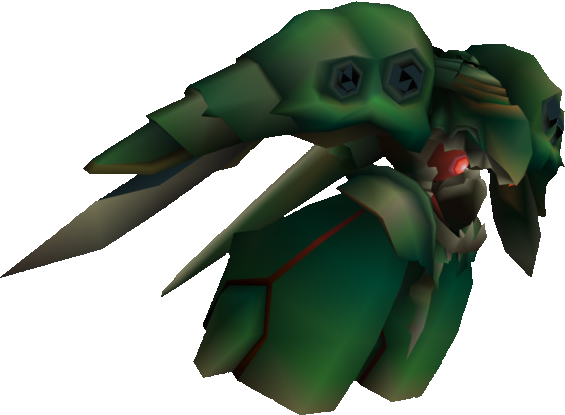 Emerald WEAPON
Emerald WEAPON is one of the optional WEAPONs found in the American, and International versions of the game. It is insanely tough if you are not prepared for it. But it can be a cinch if you are. This is what you will need:


Underwater Materia- Rids you of the 20 minute timer on the fight. This is acquired by going to the Underwater reactor, and morphing a Ghost Ship into a Guide Book. Give this to the traveler in Kalm, and he will give you the Underwater Materia.

Mime-3


Mastered Magic Plus-3

Knights of the Round Level 3-1


Mastered Pre-Emptive Materia-1 (Optional)

W-Summon-1
Whoever has Knights of the Round, should also have Magic Plus, W-Summon, and Mime Materia. Make sure everyone else has a Mime and Magic Plus Materia as well.
Boss Fight:
Emerald WEAPON

In the beginning of this fight, have your first character cast Big Guard on the entire party. If the first one to go is theone holding Knights of the Round, skip over them to the next in line. Big Guard may not be as effective in this fight, but it will reduce the damage by the Emerald Beam, as well as giving you a bit of a speed advantage.
Speaking of Emerald Beam, this is Emerald WEAPON's main attack. It can easily knock over half a character's HP out. Be sure to recover quickly, if you are fighting straight out. I would suggest using Regen on everyone. Emerald will also try to stomp on the entire party at once. This attack can do a 2000-5000 in damge to everyone. These will be Emerald WEAPON's main attacks through the first part of the fight. Just be sure to keep everyone at top health, to avoid getting knocked out. If someone does happen to fall, quickly get them back up with Life 2, or Angel Whisper Enemy Skill. If you do not have these, use Life, or a Phoenix Down. But you will not likely survive the next attack, before you are killed again. Now you see why it is imparitive to have mastered materia in your possession.

After taking on so much damage, Emerald will open his side lasers. There is two on each side. One will hit your HP for 5000-7000 HP damage, and the other two will hit your MP for 500-700. This is where Multi-target attacks and spells become a must. You do not want to try to fight with 5 attacks coming at you. Ultima, Bahamut Zero + Quadra Magic do really well, as does Shadow Flare, and Pandora's Box. Once you destroy the lasers, the fight will continue with Emerald WEAPON alone.

After you get about half of the 1,000,000 HP taken out, Emerald will use a new attack. This one, called Aire Tam Storm can easily be your doom. It will hit you in accordance to the amount of Materia you have equipped. Basically the less you have, the less it will do. Considering the Materia you need just to fight it straight out, you could easily die. This is where having the Final Attack + Phoenix will come in handy. It will get you back into the fight, if you are defeated. With this attack out of the way, the fight will go back to the beginning, and repeat through, until you defeat him. This will easily take about an hour to accomplish, thus the need for the Underwater materia. But there is a far better, and more known way to get rid of this beast in 10 minutes.
This method is where the three Mimes, Knights of the Round, and W-Summon come into play. When you go into battle, have the first person (Without Knights of the Round/W-Summon) cast Big Guard, to give you a speed advantage. Now go immediately to the one carrying Knight of the Round. Dual cast it, and simply have everyone mime the attack. After5-6 rounds of this, Emerald WEAPON will fall. He might get a shot in before you cast it off, and he will get one between the first and second round of KOTR mimes. But you should be able to survive each with Big Guard in place. (It does not go down while KOTR is running, because of the wait status)
There is a slim chance that Aire Tam Storm will be executed between the rounds, but this has only happened to me two times in 12 years.
Once you have defeated Emerald WEAPON, you will get 50,000 EXP, Gil, and AP. You will also get the Desert Rose. This is usless of course, but you will definately want to give it to the Kalm Traveler. It is worth doing...trust me.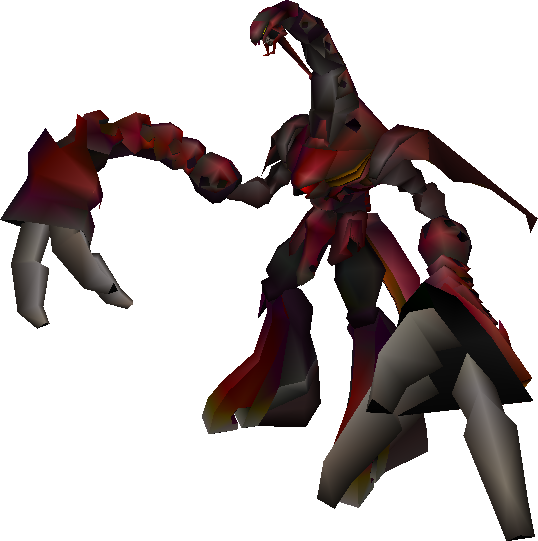 Ruby WEAPON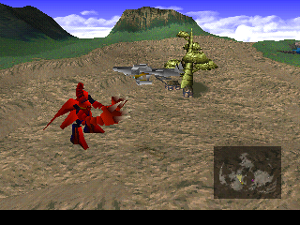 Ruby WEAPON can be found popping his head out of the sand around Gold Saucer, once you defeat Emerald WEAPON. To begin combat, simply run into it with the Highwind, or Gold Chocobo.
Believe it or not, Ruby WEAPON can be the more difficult of the optional WEAPONs in the game. He has extremely powerful magic, and his tentacles can drain HP, MP, and cause every status effect in the book. If you go in with three characters, he will use his Quicksand attack twice. Thus taking two out of the fight. This fight took me literally two years to win. This is how I finally did it....
First off, pick a character to fight, (I went with Cloud) And kill the other two off. That's right, KILL THEM! Now that that is done, this is what you will need:



Cloud's Omni-Slash Limit Break


30+ Elixirs (Morph a Valkorados outside of Bone Village, or steal from a Master Tonberry in the Northern Crater.
Or you can use the W-Item trick to get 99, if you have two in your inventory)

Mime Materia


Magic Plus Materia mastered

Master Summon Materia (From emerald WEAPON is the easiest way)

W-Summon Materia


Apocalypse Sword


Ribbon Accessory
Place HP/MP Plus Materia's to max both out.
After that, I fill the remaining slots with Materia needing to be leveled up. If you do not have Shadow Flare and have room, place the Enemy Skills in the front slots of the weapon and armor.
Now for the fight.
Boss Fight:
Ruby WEAPON
When you enter the fight, Ruby will bury his arms behind you right away. This not only creates three different enemies to worry about, but it also prevents you from escaping the battle. (You can escape, if he retracts his claws.) The claws are bad in their own right. The furthest can take up to 800MP from you, while the closer takes up to 8000HP. The closer tenticle also hits you with about every status in the book. This is the reason the Ribbon is an absolute must have thing for the fight.
By the time his claws go under you, you should be able to make your first move. My suggestion is to cast Big Guard. This not only gives you some defense from his attacks, but it will also cast Haste giving you a speed boost. With your next move, begin the usage of Elixirs. Just keep miming them, until you get your Omni-Slash activated. wait for a good chance to use it (I go right after the MP tenticle hits me) it on the tenticles. This should cause Ruby to retract his claws. He will then either bury them right away, or swing at you a few times. Just use your Elixir, and continue miming it.
Once he buries his hands a second time, he will pull out all of his attacks.

Ruby WEAPON has two regualr attacks, his Ruby Ray, and the Ruby Flame attack. Both of these can easily do 3000-7000 HP of damage to a character over level 80. You can cut the damage of the attacks down with Big Guard, if it is on, but it is really nothing to worry about, since you are miming Elixirs after each attack. Now as bad as these are, his magic attacks are far more devistating.

Ruby WEAPON can cast Ultima, Comet 2, and Shadow Flare, on top of his regualr attacks. Shadow Flare will do usually around 9000 HP damage, while Ultima will go for about 7000-8000. The one to watch out for is Comet 2. This attack has taken me down to triple digets each time. Even when I leveled up Cloud to 99. Again it is not a big concern since your next attack should be to mime an Elixir. And the magic is reduced by Big Guard, but it is not needed. If you do feel safer with Big Guard, it is best to use after the MP tenticle hits you. This way you are at full health for the next attack, and able to use an Elixir right after.
Once he begins using his magic spells, it simply becomes a waiting game. If you feel brave, you could throw in some attacks while you are waiting. Avoid Knights of the Round right now, as it will cause Ruby to hit you with Ultima. I might suggest Quadra-Magic + Bahamut Zero, Hades, or any other strong spell/Summon you have. But it is far better, and easier, to just keep miming your Elixirs and waiting.
Now I am sure you are wondering what it is you are waiting for right? Well, Ruby WEAPON is even limited in his stats. After about 20 minutes you will see a familiar message appear, saying he has used up his skill power. This is the time that everything is a go. Hit his claws with Omni-Slash again. He will pull his hands out of the ground. Now if he swings at you, just use and mime Elixirs. When he buries his hands, you should get a turn in process. Hit him with Knights of the Round/W-Summon. It will be the start of attacking. He will not get a shot in, until you have done both, since Ultima is no longer a concern.
If he begins hitting you after the first set of KOTR, just use and Mime Elixirs. When you get a shot, hit his claws with Omni-Slash again to bring his hands out of the sand. Now either you can mime Elixirs while you are getting hit, or Cast KOTR when he reburies his hands. Or...
On occasion he will try and cast spells. This is shown by the message "Ruby Weapon's skill power is used up". While he is stupidly trying to cast spells, hit him with another shot of Knights of the Round. If He does the spell attempt after again, Mime KOTR again. I got this shot once through my fight, and it was enough. This is how this battle went:
Omni-Slash to unbury his claws. when he buried them, hit him with KOTR. Got them Back out, and while he was pulling them out, hit him with KOTR. He tried some spells, Mimed KOTR. Burried his claws, and mimed KOTR while he was burying them. The fight was over right then.
It will take up to 5 shots of Knights to bring him down. Just be very patient while fighting, so as not to make a mistake. The best of the best thing to do is hit his claws with Omni-Slash after a magic drain, to retract his claws. Throw Knights of the Round/W-Summon, when he puts them back in the sand (Providing you are at full HP/MP, which you should always be). It is a sure fire way to victory. And if done correctly, it cannot miss because you will always get a turn to hit an Elixir. And when he hits you before burying his hands, you will most likely have Omni-Slash already set to go.



A three party method



As you know, Ruby will hit you with whirlsand if you enter with more than one party member. But there is a method that would allow you to use 3 members, and not worry about this. Not only would you get 3 members, you will be able to maximize the amount of Materia you are trying to max out, and complete the fight even faster. You do not have to worry about waiting until his skill is used up or retalliation from Knights of the Round. You need two other items instead, and the W-Item glitch can ensure you get a max of 99 of them.
The first item is Megalixir, and the second item is Dasers. Megalixirs are a complete must because of the tentacles hitting you. You want to heal everyone at once. The character that goes in alive needs W-Item, and a Revive with Life 2 attached to a All Materia. Give yourself no les than 30 of the two items, and place them in the top two slots. (Dasers being first).
One of the other charcacters then Needs a Mastered Summon and W-Summon Materia. (Mastered Summon allows for unlimited castings of KOTR).
The final character needs only a Mime Materia for this to work. Now max everyones HP to 9999, and fill in the rest with Materia for mastering. Also of note you MUST have each character equipped with a Ribbon. You get two through the story, and morph the other from a Master Tonberry. When everyone is set up right, kill the other two off, as would normally be done for the strategy above, and head into battle.
Ruby should immediately bury his claws. When he does, on your first turn, hit him with a Daser, and then use a Megalixir. This will paralyze him. Yes old Ruby is succeptable to paralysis!!!! Then the Megalixir to get you from being killed by the tentacles.
On the next round, Use Life 2 on everyone. Have one of the revived characters use a Megalixir, while the other one casts Big Guard.
Now everyone should be upright, and we are back to the W-Item character. Have him use a Daser on Ruby WEAPON, and a Megalixir on the party. From now on, this is all he does each and every turn. The next to attack should be whomever has the Mastered Summon and W-Summon. Dual-cast Knights of the Round, and have the final character Mime it.
Simply repeat this process, until the dude falls. Again it is at least 5 runs of KOTR. With Ruby paralyzed, you cannot get the Ultima retaliation. His tentacles will be doing the only damage, and that is cured with the Megalixir each round. This battle will be over in less than ten minutes with this set up and attack method. And with all 3 characters in your party, you can get some extra Materia mastered easily. If Cloud and Cid are used with their x3 Materia Growth weapons, An entire set of Magic and Command Materia can be close to or completely mastered if done right. Well worth it I think.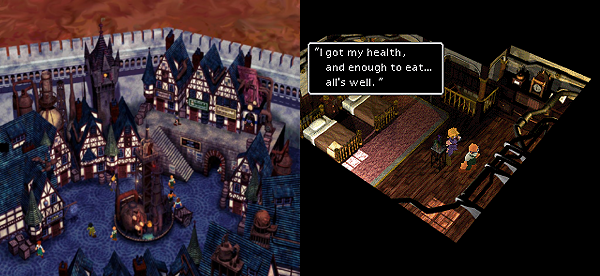 On your first visit to Kalm, you might have ventured into the right-most house in town. Here, you will meet a man who is perfectly content with the world. He has his health, and plenty of food to eat, so he is happy. He even has some things in his home you can get.
However, his tune changes after Meteor is summoned, and the WEAPONS are attacking. He is discontent with the world, and mournes the loss of many friends. He wishes to embark on a journey to pray for their souls. He is also looking for three items to take with him.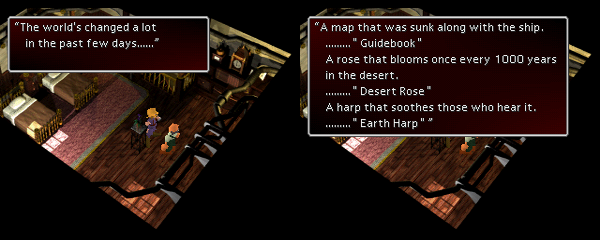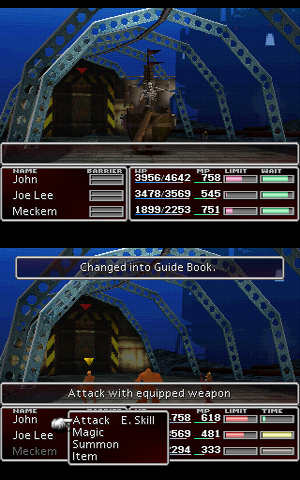 Guide Book- This is the hardest one of the three to get a hold of. It is not just lying around, waiting for you to pick up. You need to find and morph a Ghost Ship. (Right) He is found only in the glass tunnel of the Underwater Reactor. Be careful though, because he has the ability to knock your party members out of the fight. If he knocks out the one doing the morphing, kill him, and try again. Once you get the Guide Book, take it to the traveler, and he will give you the Underwater Materia. This takes the timer out of the Emerald WEAPON fight.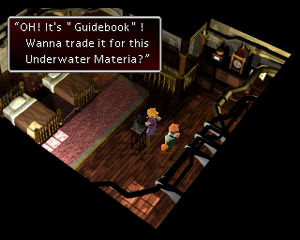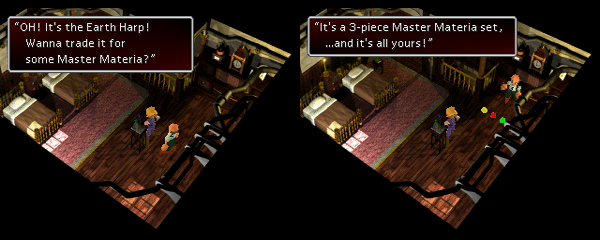 Earth Harp- This is the prize you win for defeating Emerald WEAPON. Take this back to the traveler, and he will reward you with a full set of Master Materia! Yup all three of them. This is definitely the best prize from the Kalm Traveler.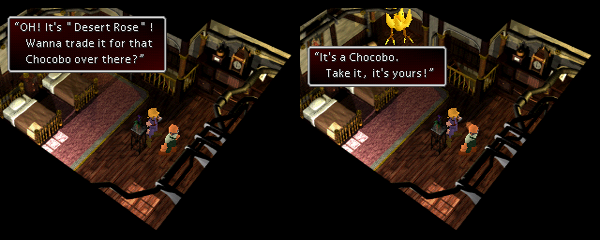 Desert Rose- This is rewarded after the Ruby WEAPON fight. When you take this to the Kalm Traveler, he will give you your very own Gold Chocobo. Since you used the Knights of the Round in the Ruby WEAPON fight, you will already have one of these lovely birds. This one is by no means better, (it is worse in fact). So you may actually choose to get rid of it. If you keep it, and you have the time/Gil...feed it, race it, and mate it with your other Gold Chocobo ( If you can)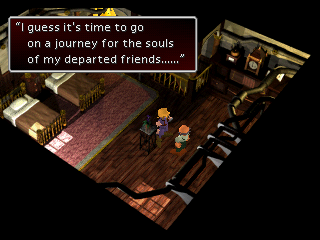 Once you have given him each of the items he asks for, he will go on his journey. Aren't you glad you were able to help someone out like that?