Final Fantasy VII Misc. Stuff
Easy Experience early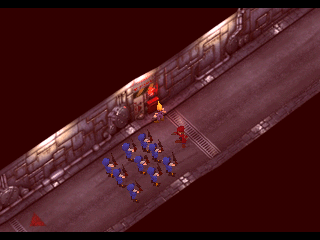 Well, might be pretty easy, might not be depending on your levels. After you have gone through the parade in Junon and headed over to Costa Del Sol, there is a place where you can gain some levels really quickly. Hop aboard the ship again, and return to Junon. In between the two sections of the city, there is a path leading to the Underwater Reactor. On the left side of the Drill Sergeant, you will see a red panel on the wall. Activate it, and it will trigger an alarm. This will bring out enemies that are about 15-20 levels above you. Not going to lie, they can be some tough fights. I used Beta a lot, and that seemed to get rid of them within one to two shots.
This is a great place for some early experience. I might suggest though, holding off until you complete the Gold Saucer/Corel Prison. This gets you in a little better shape. Also gather Big Guard, Beta, and White Wind for the two Enemy Skill Materia. This will make the fights go even more smoothly.
You can potentially gain about 10 levels in 15-20 minutes. Not too bad eh?
Hidden Materia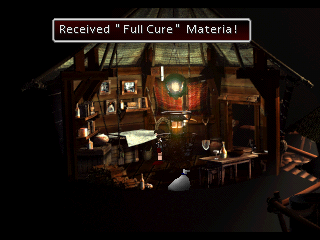 Most of the Magic Materia is either found in shops, or is along some path open for all to see. (Comet is a little hidden in the Forgotten City, but it is still in the open). Two Materia, however are not so easy to find. These are the Full-Cure and Contain Materia. Both are extremely powerful and useful Materia, that should be gotten as soon as they are available. So where and when is the question. Anytime after escaping Junon, you can get these Materia. The first is in Cosmo Canyon. In the Materia Shop, you might have noticed a rope preventing you from going to the back room the first visit through. After WEAPON are awaken, that rope will be gone. You can then collect the Materia off the table in the back room.
The second Materia is a lot more difficult to find. One thing you need to do is get a hold of some Mimett Greens. If you do not have any, you need to make a stop at the Chocobo Ranch for some.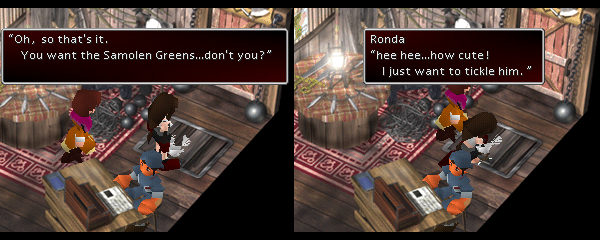 Now head for Mideel. make sure if you are not wanting to get Cloud just yet, you avoid going near the dog on the main path. instead head to the right and up the stairs. in the weapon shop, you will see a very distraught lady who is constantly followed by a small white Chocobo. If you speak to it, you can feed it the Mimett Greens. Once you do, you will decide you want to tickle him. You are given a choice of spots to tickle...choose behind the ears, and you will get the Contain Materia. So what is so great about this Materia. Join it with an Added-Effect Materia in your weapon slot and see. This is an awesome combo for the Battle Arena, as it will end most fights before they even begin! Trust me you do not want to miss either of these Materia.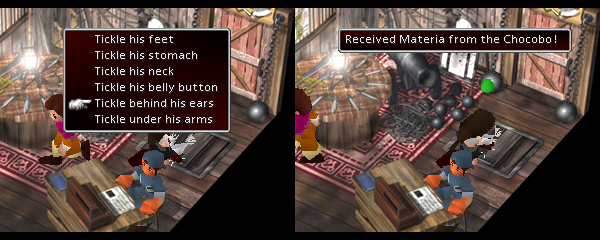 Leveling Materia and party made easy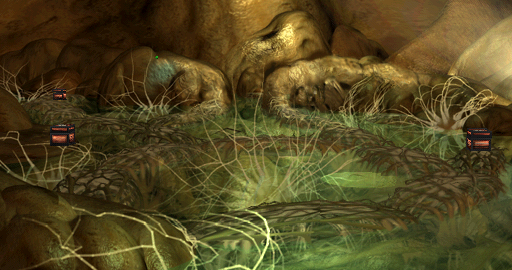 So it is no for gone conclusion that leveling up, whether yourself or your Materia, is a major time consuming pain in the rump. But if you are patient, you have a place where it can take off in a fast way.
In the Northern Crater, take your main party to left, and then down when asked to choose directions. You should then enter two rooms looking like the one above, where the music is more calming and relaxing than the rest of the crater. In the second room (Above) is a great place to go about massively leveling. Gather the Shield Materia from the rock ledge, and lets get ready.
First you will want to have the W-Item Materia. This will allow you to duplicate 99 Elixirs. (So you will need at least two of those). If you do not have two Elixirs to begin, worry not. Master Tonberries frequent this area as well, and you can steal them from him.
Now make sure you have your Materia set up the way you wish. If you have your Apocalypse Sword, and Cid has his Scimitar, you have 5 Triple Materia Growth slots. I would suggest Mime, Knights of the Round, followed by the last three Summon Materia. And fill the rest of your slots with Materia needing to be mastered. Now there are two enemies you are looking for. The first is the Magic Pot enemies.
Magic Pots are so easy. They will begin the fight by asking for Elixirs. And they will just sit there, until you feed them one, or run off. Go ahead and feed them one. This will make them vulnerable to attack. Once you have given them an Elixir, defeat them. The reward is 1-2000 AP (depending on if there is 1 or 2 in the fight), and 8-16000 Exp. And all of that for a really simple fight. with the triple growth, you gain upwards of 3-6000 AP! Now tell me that is not enough to get down here and fight! And if you need to save, simply head into the last room, create your Save Point, and backtrack to here. (You will come out where you went up or down) But even this is not the best of it...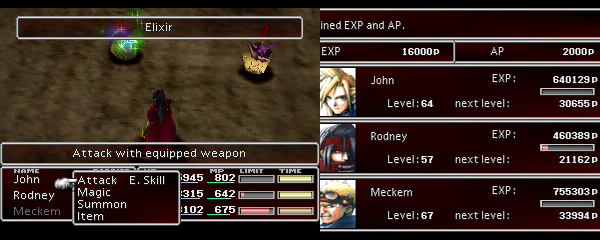 Rarely you will come across a familiar enemy to Final Fantasy veterans...the Mover. This trio is a little different. You do not have to feed it anything, but you need to kill them quickly. If you do not kill them in time, they will run away, and you get nothing.
So the greatness of these guys...? Hows about they give you 2400 AP and 90000 Gil per victory! That is 7200 AP for any triple growth Materia in your weapons! And come on, 90000 Gil! Who could possible ask for anything more? on the downside, these little blobs do not provide Exp. But you will not be needing it fighting all over the place.
As you get higher in levels, take on the Master Tonberries. When morphed, they will turn into Ribbons. You can gather the remaining 7 needed to cover the entire party! They are 44444 HP. So it will take some time. Laser heals them, so do not use it. They are weak to Freeze and Bio. Bio might kill him before you can morph him. To speed things up, Freeze him until he gets to within 1000 HP or so remaining. Then have the Morpher do his thing, and everyone who can Mime the action.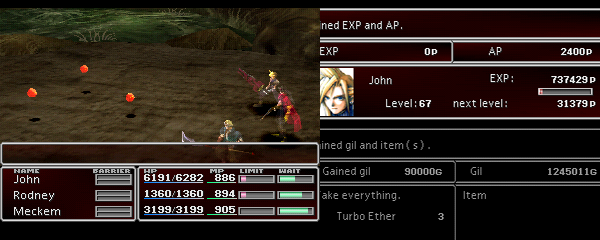 The key to the city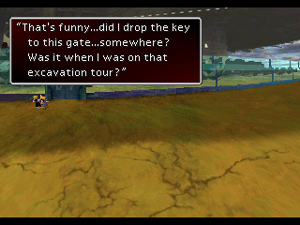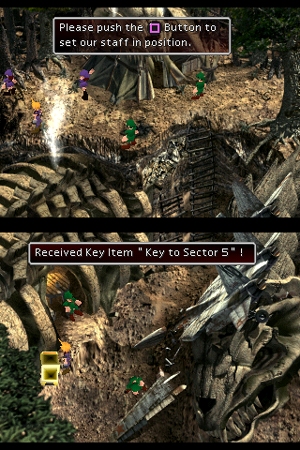 There is a way to get back into certain portions of the Midgar Slums. On Disk 2, visit the place, where you leave the city. You will find a guy standing there alone. Speak to him, and he will mention a missing key that he might have dropped on one of his excavation digs. Well you know there is only one place for excavation in the entire world right? Yup, head on over to Bone Village.
Here, you will want to dig, such as you did for the Lunar Harp. This time you are wanting "Normal Treasure". Place your men at the top area, next to the forest entrance, and set off the TNT. The place you will want to dig is almost immediately SW of the lowest tent post. If successful you should get "Key to Sector 5". Before heading over to Midgar, place Tifa and Cid in your party. You will need Cid to fix something, and Tifa gets a wonderful prize in the Slums.

Take your party to Wall Market. here is a couple of things you can get a hold of, not found anywhere else in the world. First stop is the Item Shop.
You might recall, no matter what you did on the first visit, the machine shot at you. Well, Cid just happens to know how to fix this pain in the butt machine. Stand back, and let him work his magic. When he is done, use the machine again. You will then receive Tifa's Ultimate Weapon Premium Heart. Now once you get this, the machine will break and begin shooting at you again. Can't win them all I guess.
| | |
| --- | --- |
| | Your second destination is the Item Shop where you bought the batteries. In here, the guy on the left side has something of high interest. Now being that all he has ever sold you is batteries, you might be hesitant on getting what he is selling. Especially for 129,000 Gil. Do yourself a favor and buy it. You will get the Sneak Glove accessory. This drastically raises the success rate of Steal/Mug. And it is definitely well worth its price. If you do not happen to have the Gil for it, he will certainly wait for you to get it. |
Midgar Assault Secrets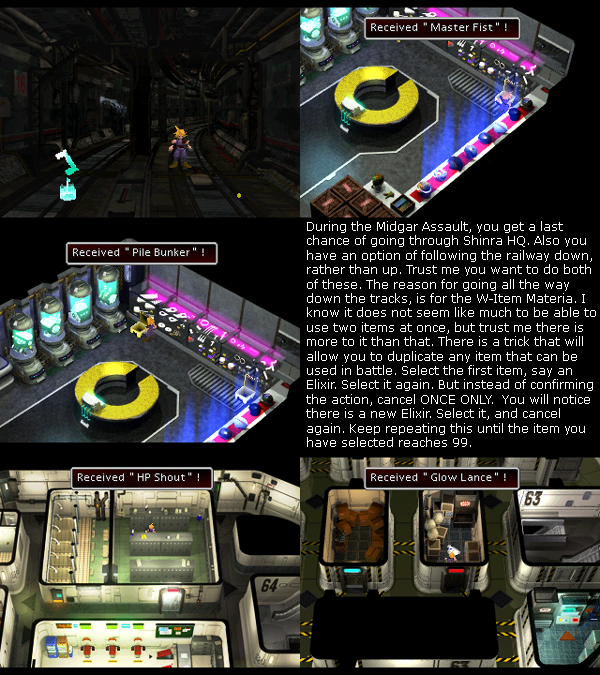 when you get to Shinra HQ itself, there is some great items to obtain here as well. First head into the 2nd Floor Shop. Remember the two chests that would not open before? Well, no one is guarding them and they are ripe for the taking. You will get the Master Fist for Tifa, and Pile Bunker for Barret. (Make sure if you have not read it to find the Turtle Paradise Flyer on the first floor. This is the only chance you have left to read it.)
Now head up to the 63rd Floor. The floor where you got the items from climbing through the air ducts. The walls are now down, and you can get a Grow Lance for Cid here.
Now go up one more floor to the Recreation Floor. Rest and save if you need to, but that is not all. If you checked everywhere your first time through, you would have found a megaphone in the back locker. Could not figure out why you would need one back then. But of course you should now. It is none other than Cait Sith's Ultimate Weapon HP Shout. Get it and continue on. If you tried to use the vending machine the first time through, you can gather two source items from it now.
And finally in the stairwell, you will find a Behemoth Horn for Red XIII. And there is also a Elixir on the stairs too. Now you know why it is such a great thing to go back to Shinra HQ one more time!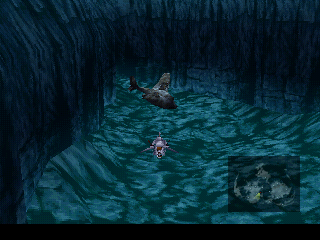 Crashed Gelnika
The Gelnika plane crashed off the Costa Del Sol shore. It was en-route to deliver massive weapons to destroy Meteor. It is assumed that WEAPON sent it to the ocean floor.


*WARNING* Emerald WEAPON is roaming the ocean floor. He may be in front of the plane when you get there, or leave. To get him to move, simply surface and dive again. But above all, save before you dive, and when you leave the Gelnika. You really do not want to risk running into him!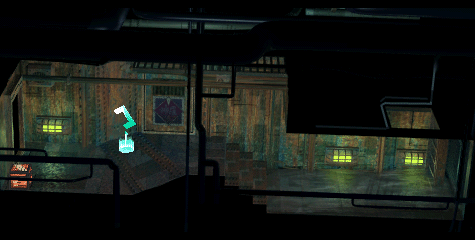 The Gelnika is one of the more dangerous places in the game. It is in your best interest to save, even if you saved on shore. The entrance is monster free, and you are able to get your first item. It is Cloud's Heaven's Cloud Sword.


In the door to Clouds right, you will find the Generator Room. In here you will discover the Escort Guard, Double-Cut Materia, 2 Megalixirs, and Yuffie's ultimate weapon Conformer. (The Conformer, and Double-Cut Materia are well concealed. Just look in both top corners for them)


Return to the entrance, and head into the room to the left. Here you will fight Rude and Reno. (Only if you have not fought them in the Midgar assault yet)
Boss Fight:
Reno & Rude
This is a pretty straight forward fight with the guys. Set up Big Guard and Regen right off the bat. Make sure someone ahs the ability to steal from both, as they are both carrying some great items. Rude has his usual punch attack that can do close to 1000 HP damage. He seemingly is more active than Reno. So you might want to go after him first.
Reno uses his wand more than not, and can also confuse a character. If you do not have Ribbons, try to equip something to prevent confusion.
Basically this fight will end pretty quickly. It is not near as tough as the fight coming in Midgar. It certainly is easier to survive than the fight with most the enemies on the plane.

After the battle, continue to the next room.

This is the Hangar, and where all the real goodies are. On the top tier, you will find 2 more Megalixirs, and Cid's Spirit Lance. On the bottom, you will find the Hades Materia, Vincent's Outsider, and Cid's Highwind Limit Break.
Be very careful roaming around in here. Shinra has some nasty abominations for you to fight. If you are strong enough, each Unknown morphs into a different source item. This is a great way to max some of your characters stats out. A fast way to beat them is have a Added Effect+Gravity on your weapon, and morph away!
When you are done and ready to leave, you need to SAVE! If you run into WEAPON outside, you will die. Do you really want to go through this again??

Vacation home for sale


In Costa Del Sol, there is a home for sale. When you first speak to the man on the bed, he will comment about no one ever having enough Gil to be serious about buying it. Well, he is right. On Disk one, unless you cheated, or spent an obscene amount of time leveling up, you do not have the Gil to buy the home. The home is going for the incredibly low price of 300,000 Gil!
However, after Disk 2/3, after you have amassed a small fortune, you will then be taken more seriously by the seller. He will hand over the keys, and be on his way. There is not much you can do here, accept for resting for free. But there are some nice prizes in the basement, (Motor Drive, Power source, and Fire Ring) that you can get at any time.


Turtle Paradise flyer give away

Wutai's Turtle Paradise is having a promotional give-away. If you can spot their six flyers scattered across the world, they will give you a pretty descent reward. Here is the locations of these elusive flyers.

FLYER #1
FLYER #2
The first flyer is in the top floor of the eastern-most house of sector 5. This one needs to be obtained before the Pillar Assault Mission.
The second is inside Shinra HQ. it is in the lobby in the back area. If you do not get this one on one of your two visits here, you missed out!
FLYER #3
FLYER #4
Flyer #3 is located in the lobby of the Ghost Hotel, inside Gold Saucer.
The fourth flyer is hanging on the eapon sellers stand, in Cosmo Canyon.
FLYER #5
FLYER #6
The fifth flyer is next door to the fourth, at the inn in Cosmo Canyon.
The final flyer is in Wutai itself. It is on the wall in Yuffie's basement.

Ok, I bet you are wanting to know what the pay off is for getting all 6 fliers huh? Well if you return to Wutai, and talk to the bar keep, he will give you one of each source item, and a Megalixir. Not a bad prize at all, considering you really did nothing to get them.