Final Fantasy Kingdom


Compilation of VII

Finest Fantasy For Advance

Sequels

Fabula Novis Crystallis

Tactics

Crystal Chronicles

Film / OVA / Anime

Spin-Offs
Final Fantasy VII Hidden Characters
Finding Yuffie
Getting Yuffie to join is not as hard as it looks, providing you follow 3 rules.
1 - Do not do anything to take your eyes off Yuffie. A thief cannot be trusted...you have been warned!
2 - Do not use the save point! No matter how critical the damage may be. This is like taking your eyes off Yuffie, and she will flee. (She will help herself to some of your gil too!)
3 - Do not insult Yuffie either. Thief or not, she is a skilled ninja. Her skill is something of honor to her.

Below is the dialog between Yuffie and the party. Just follow it, and everything will be fine.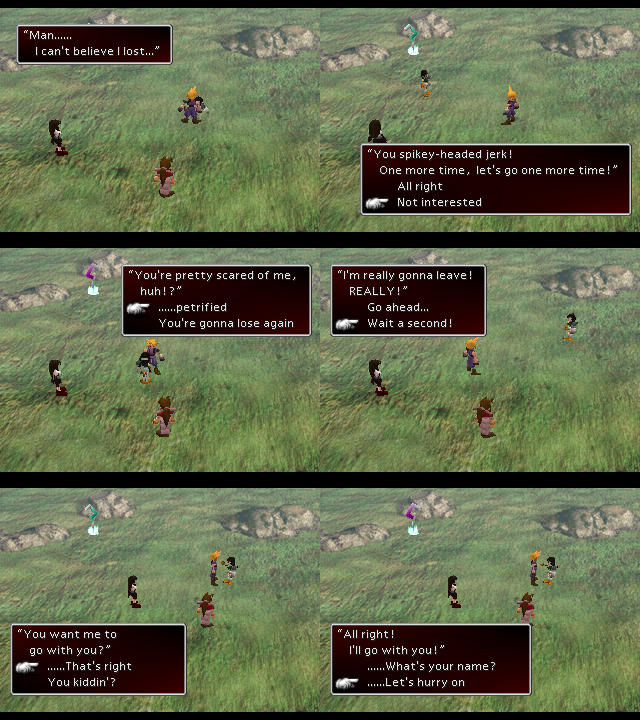 Finding Vincent
Getting Vincent is almost easier than getting Yuffie.
1 - Get the Basement Key out of the safe, in the upstairs room of the Shinra Mansion.(On the left side, in the right room.)
2 - After defeating Lost Number, head to the lab in Clouds flashback. Before you enter the lab, enter the room on the left.
3 - Talk to Vincent, until he closes his coffin. Speak to him one more time, and he will give you his name.
4 - Once you leave the lab, Vincent will stop you and join. He is now in the party for good.