Final Fantasy Kingdom


Compilation of VII

Finest Fantasy For Advance

Sequels

Fabula Novis Crystallis

Tactics

Crystal Chronicles

Film / OVA / Anime

Spin-Offs
Final Fantasy VII's Gold Saucer is indeed something to behold. Your first visit to this large amusement park in the sky is nothing short of impressive.
The Gold Saucer is owned by one man named Dio.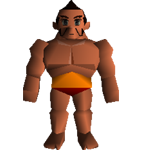 He's the guy running around in nothing but a red speedo and a championship belt. After your initial encounter-gone-wrong, he becomes a great friend to the party. This is also where you find Cait Sith, your fortune telling party member.
Come on in, and enjoy the rides. There is literally hours of things to do, and prizes to be won!



Eat your heart out Disney Land!
| | |
| --- | --- |
| Battle Arena | Event Square |
| Chocobo Forum | Ghost Hotel |
| Speed Arena | Round |
| Wonder Square | Station |