The Rat Tail, and Excalibur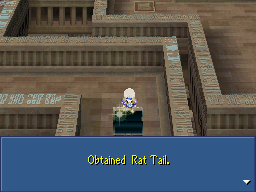 When you venture into the Land of the Summons, there is something you will definately want to pick up. This item is the Rat Tail.
(Anyone else get the nod to the first Final Fantasy here?)
You will notice it is blocked by a teleport stone. You simply need to teleport back to this area, and head to the chest. You cannot do anything with this item, until you are able to go back to the overworld. At that time, you will need to get the Hover Craft, and take it to an island between Fabul and Mysdia.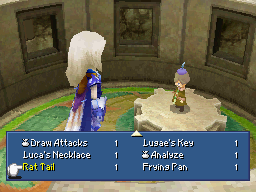 Here you will find the town of Mythril. There are bubbles in the water to a nearby cave. inside you will find a man who loves tails. give him the Rat Tail, and he will reward you with a piece of Adamant. This Adamant can then be given to the Smithy in the underworld. He is located south of the dwarven castle. If you had visited here earlier, you would find him in a state of dissapointment, and upset. There was nothing for him to work with, and he could not even find Adamant to work with. Well, now you can give it to him. He will then get all kinds of excited, and ask you to hand over your Ancient Sword.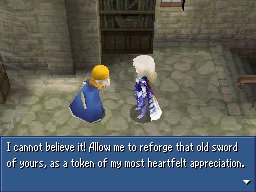 Follow him downstairs, and he will tell you that it will be a while before your sword is finished. Actually it will be never if you do not make your first journey to the moon.
After you have returned from your trip, visit the smithy again.He will hand over your new Excalibur Sword, which will come in handy in the final stages of the game. Also he has opened something of a shop for you. Here is a list of what he is now selling.
| | |
| --- | --- |
| Shuriken | 20000 |
| Fuma | 50000 |
| Yoichi | 140 |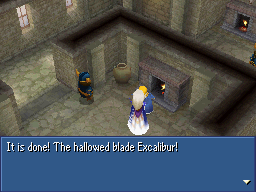 Flan Princess and the Pink Tail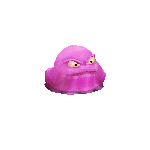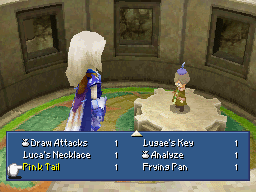 And you thought there was only the Rat's Tail to deal with huh? Well, if you go into the lunar underground B5, you will find a room with a single chest containing an Red Fang item. In this room, there is an extremely (and I do mean EXTREMELY) rare chance that you will run into the Flan Princess enemy.
To make them show up a bit faster, you can use an Alarm Clock item. About 7 of 10 times this will bring you right into a fight with them.
Once you defeat these little slimewads, you might, just might get a Pink Tail as a reward. Take this tail to the tail collector, and he will give you Adamant Armor. This armor can be worn by anyone, and greatly boosts your stats by 15 points. I usually spend about 3-6 hours just to get two of them for the ladies. It is difficult to get, but you can get as many as you wish. The chance of this item dropping is 0.4%
Other tails and rarities of Interest
In the DS version of IV, the Tail Collector has many many more tails for you to go get. Though, he does not specify this. In order to find out, you would simply have to stumble upon them yourselves. But here I can list those nice tails, where to get them, and what they gain from the collector. The Onion Equipment is simply the best set of equipment in the game.
| | | |
| --- | --- | --- |
| Tail Name | Enemies | Item gained |
| Black Tail | Armored Fiend | Onion Armor |
| Blue Tail | Thunder Dragon | Onion Shield |
| Green Tail | Green Dragon | Onion Helmet |
| Red Tail | Red Dragon | Onion Sword |
| Yellow Tail | Yellow Dragon | Onion Gloves |
There are also several items out there, that are high ranking items. These can only be gained from certain enemies found within the game. Here is a breakdown of some of those awesome pieces of equipment.
| | |
| --- | --- |
| Name | Acquired from |
And if that was not enough, there are also a couple of summons that can only be obtained by defeating certain enemies. The table below gives the summon, and what enemies drop them. Remember though, as with most the other rare items, this is a 0.4% drop chance to get them.
| | |
| --- | --- |
| Name | Acquired from |
Yang, the knife, and the Sylph's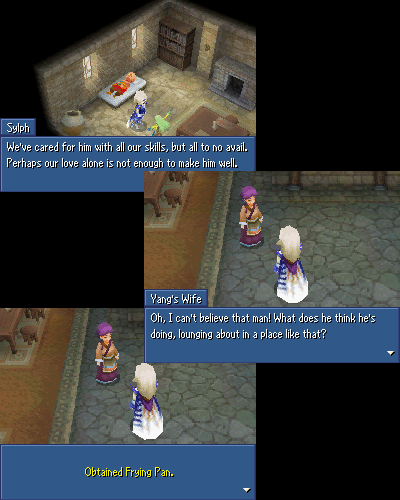 When you return to the underworld, you then have the option for your first visit to the Sylph cave. This cave is found almost directly west of the Tower of Bab-il. (You will want Rosa to know the Float spell, before coming in here.) Here you will find a house, which is the home of the Sylph's. Apon your first visit, they will explain that they found Yang, and that he hasn't awakened yet, but otherwise are pretty cold to you. There is nothing more to do here for now. So you can exit through the room upstairs to the outside of the cave, or explore the rest of the Cave.
When you get the next ability to go to the overworld, your first stop should be Fabul. Talk to Yang's wife, and she will give you a "Frying Pan" to wake him up. Return then to the Sylph's home, and use the "Frying Pan" on Yang. He will then wake up, and give you a "Knife". This is a one time throwing item, that will do 9999 HP of damage to any enemy. Speak to the furthest Sylph from Yang after getting the knife, and they will teach Rydia their summon.


*Note* This must be done before gaining Fusoya at the Moon. If you acquire Fusoya and return, Yang will no longer be in the cave.
Memories of Final Fantasy IV
In the DS version of Final Fantasy IV, there is quite a lot of the original script added back into the game. This was there the entire time, but for some reason or another, it was removed from the SNES, as well as subsiquent releases. But for the first time, we get to see these new additions.

When Golbez is confronted by the gang in the Babil Giant, an entire flashback plays out, which explains so much of the history. Directly after this, another flashback between the meeting of Kain, Cecil, and Rosa as children also plays out. I do not want to give too much away, but here is a couple of screens through those flashbacks. *Spoiler alert*
New work for an old friend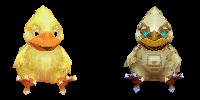 Not since the days of old has our friend the Fat Chocobo had to hold your extra stuff for you. Now a days, he is a keeper of things in the game. As you progress through the game, Namingway will change jobs. When he is done doing certain ones, he relinqueshes them to the Fat Chocobo. He begins by being in charge of Whyt's page, but before long he will have the bestiary, Movie Theater, and Music Box. But he can only open these for you, if Namingway has given him the task of doing them. So you will want to go through Namingways name changes throughout the entire game, so you can enjoy all of these extra features.