Final Fantasy V Advance Optional Bosses
Final Fantasy V is the first title in the series to have bosses simply for the challenge. These two bosses are found late in the game, in the Interdimensional Rift. Omega is easy to find. Shinryu though is hidden in a chest deep in the final area.
Omega
LV
HP
MP
GP
EXP
119
55530
60700
50000
0
STEAL
Common:
DROP
Common: Omega Badge
Rare: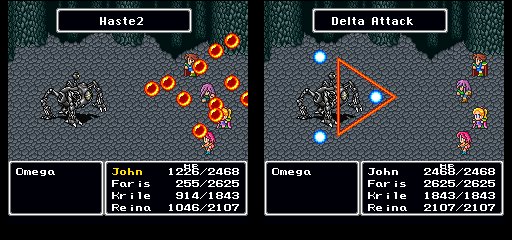 To beat Omega, you will need to be well over level 50. My recomendation is 60-65. You will need as many characters as you can have the !Rapid Fire, !Spellblade LV 5, and the Dual Wield abilities learned. You will also need 4 Fire Rings. This is imparitive, since most of Omega's attacks are fire-based. This is how I did my set-up:

Bartz-Mime

Abilities-!White 6, !Time 5, !Blue

Reina-Bare

Abilities-!Sword 5, !SShot

Faris-Bare

Abilities-!Sword 5, !SShot

Krile-Mime

Abilities-!White 6, !Summon 5, !Blue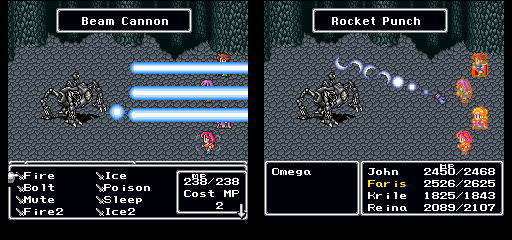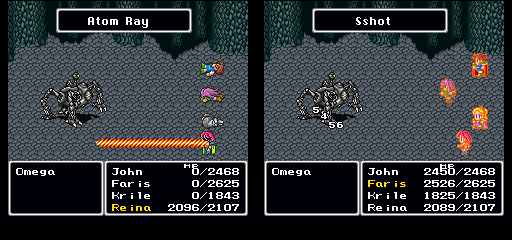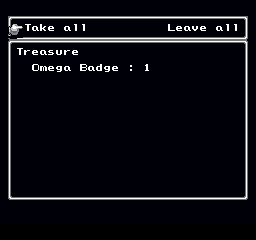 When the battle begins, have Bartz cast Haste 2, and have the others cast Bolt 3 to their weapons. On the next trun have Bartz cast Guardian, while the others begin the pounding on Omega. If you are getting taken down, use White Wind. Just keep yourself alive, and pound away at Omega. If you feel confident enough, have someone cast Bolt 3 to their weapon, and Bartz mime it. This will give you 4 people hitting him with Bolted weapons. Eventually he will finally fall. When you defeat Omega, you will get the Omega Badge. This may not seem like much, but you can trade it into the Kalm Traveler for a great prize!!! Oops, wrong game. The badge is just to say you beat Omega.
Shinryu
LV
HP
MP
GP
EXP
97
55500
51000
0
0
STEAL
Common: Dragon fang
DROP
Common: Dragon Seal, Ragnarok
Rare: Dragon Beard
Beating Omega was difficult. But he is nothing compared to what is hiding in the chest at the bottom of the 3rd areas stairs. Inside you will find the long forgotten dragon Shinryu.
This dragon can basically force Bahamut to lick it's feet! I had an easier time beating WEAPONS in VII, than I did this beast!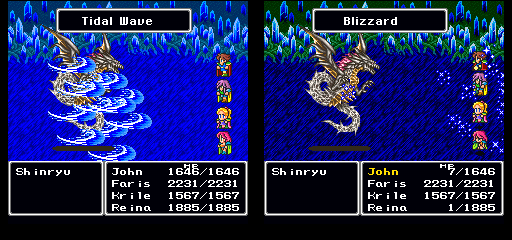 Ok, here is what is recommened by everyone online, And even the official Bradygames Strategy Guide ® says you will need. 4 Coral Rings, and 8 Dragon Lances. Dragon Lances are rarely stolen from Crystal Dragons, in the same area. You also need to have !Jump for all your characters. The best method of getting Dragon Lances is to have a Time Mage who can cast Return, as well as someone with the Mug ability. When you mug the Crystal Dragons, if you get an Elixir, simply cast Return and try again. Took close to 20 times for me to get a Dragon Lance. I also only got one lance. I did nto bother to get the other 7. And in all honesty, it is not really needed. I have a far better method of beating Shinryu.
You need to have at least 10 Dragon Fangs and Eye Drops. Eye Drops can be bought, and Dragon Fangs are dropped from the Dragon Avis enemies in the Tower of the N-Zone. You will also need 5-10 Turtle Shells, Holy Waters, and Antidotes. The Turtle Shells come from the turtle enemies in world 1 & 2. If you are like me, and sold them all, you have another option. Turtle Shells can be stolen from the Cycloskull enemies in the Chain Tower of the N-Zone. Make sure you purchase the final tier of spells in Mirage as well. Arise is important in the fight, as is Quick. You need to buy 4 Coral Rings, which means you need about 200,000 GP. That should be really easy to gain leveling up your jobs in the final area of the N-Zone. Now here is the set up you need for the battle.

Bartz-Bare

Abilities-!Time 6, !Mix

Reina-Mime

Abilities-!Summon 5, White 6, !Blue

Faris-Dragoon

Abilities-!Jump, White 6

Krile-Mime

Abilities-!Summon 5, White 6, !Blue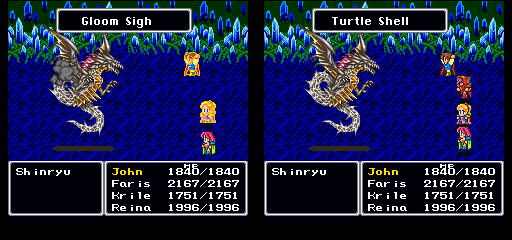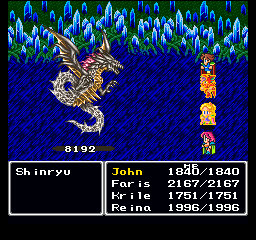 In the beginning of the battle, Shinryu will cast Tidal Wave. Afterwards, have one Mime set up Guardian, while the other sets up Golem. Have your Dragoon with their Dragon Lance jump. Have your Mixer first cast Quick on himself. In the two turns you get, you want to mix a Dragon Fang + Eye Drop to blind Shinryu. In the second turn, you want to mix a Turtle Shell + Holy Water to Berserk on the boss. This takes out almost every nasty attack there is for you. Now have one of the mimes hit Golem almost every turn, while the other heals. Have your Dragoon continue jumping, and have your Mixer now mix a Turtle Shell + an Antidote to lower Shinryu's defenses. From here on out, keep Golem up, your party healed, Dragoon jumping, and you Mixer either reapply Blind with Mix, or attack if you are doing ok. In about 3 - 4 rounds, the fight will be over.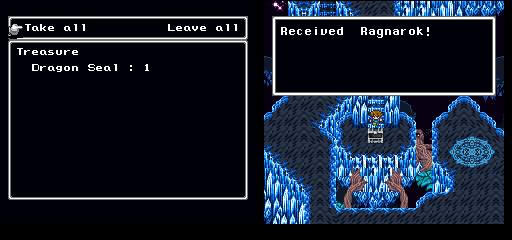 When the fight is over, you will get the Dragon Seal, and the Ragnarok Sword. This is the greatest sword in the game, and makes the fight all worth while. With this method of mixing items to blind and silence Shinryu, I was able to beat this guy at the average level of 42. Almost 20 levels lower than what was suggested to face him at.