Chocobo Hot and Cold is the new mini game for those famous birds. When you first leave Lindblum, on your way to Burmecia, stop by the Chocobo Forest. This is located to the east, just across the bridge. Here you will meet Mene, and his friend Choco. After some dialog, you will be able to begin playing.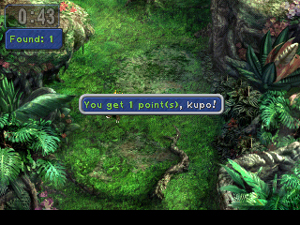 The game is actually very very easy to play. You will pay for time to look for objects with Choco. It is 60 Gil for 60 seconds of time. (30 Gil for 30 seconds in one area)When the timer begins, you need to search for treasure, by hitting the square button. When Choco doesn't detect anything, he will simply say kweh. When you get closer, the kweh gets more intense, until you are right on it. He will then tell you KKWEEEEH! When you hit the right spot, you will need to dig for it, by repeatedly hitting the square button. Once you get the item, you will be given a certain amount of points. These points go for two things: Leveling Choco up, and points to use for items.
When you level up, Choco's beak will become stronger. This will allow you to get items faster. Also, each time you change color, it seems your beak strength increases as well.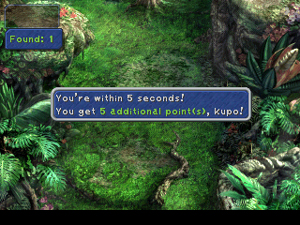 Another way of getting points, is by finding two items within 5 seconds of each other. This will give you 5 additional points on top of the points you got for the item. Sometimes, you will be told you will get a certain amount if you can find another one within 5 seconds. This does not happen very often, but it should happen at least every other game or so.
The best time to put this to use, is in the Chocobo Lagoon. Until you become an Ocean Chocobo, the area will be cut in half. This leaves very little room for items. You can easily get several 5 second hits in a row.
When you find a total of 4 items, Mene will double the points you get from then on. Also he will give you an extra 10 seconds on the timer. If you manage to get 8 items in one game, Mene will ask you to stop, and give you bonus points. The amount is Dependant on how much time is left on your timer.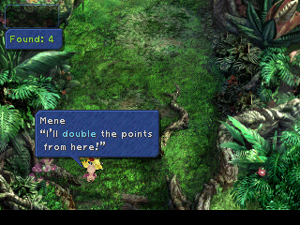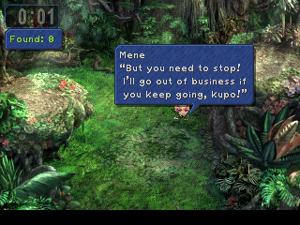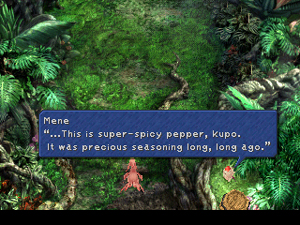 In your search for items and Chocographs, you might stumble across something called a Dead Pepper. If you ask Mene about it, he will that it was a seasoning a long time ago. Now it can be used to give Choco a boost of energy out on the world map. If you see bubbles in the ocean, or cracks in the walls of cliffs, feed Choco a Dead Pepper. He can then get the treasure hidden within these things.
Also Dead Peppers are the only way to get to Chocobo's Paradise, and Mognet Central.
This little item can also be used in battle as well. If you use it on an enemy, it will damage them 30x the total amount you have on you. So basically if you have 99 Dead Peppers, the damage it will do will be 2,970. Pretty cool huh?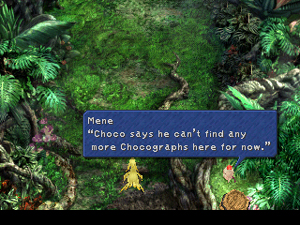 The big things you are looking for in Chocobo Hot and Cold is Chocographs, and Chocograph pieces. Chocographs will give you locations of hidden items in the world, and Chocograph pieces will complete the Chocograph needed to reach Chocobo Paradise. You might wonder at some points if you have gotten all the Chocographs in the area you are in. Don't worry about that. Mene will let you know if Choco cannot find any more. There are only two times you need to return to an area after this has been said.
The first time is after you get the Mountain ability. You will need to return to Chocobo Forest and do some digging again.
The second time is after you get the Ocean ability. You will need to return to Chocobo Lagoon to do more digging there.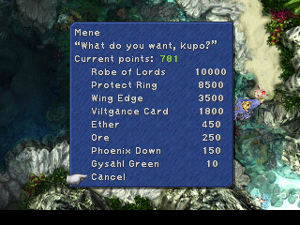 As I mentioned earlier, you will get points for every item you find. If you ask Mene to check your points, a menu will open, giving you a list of items you can exchange for these points.
The best thing Mene has to offer is, of course, the Robe of Lords. It sits pretty at 10,000 Pt's. This may seem like a staggering amount in the beginning, but once you have completed the Chocographs, you should have close to the amount...if not more than the amount.
You should definitely exchange the points, since after you complete the Chocographs, you really have no reason to continue digging for items. Though Armors and such have been known to get dug up from time to time.
There are 3 different areas for Choco to dig for items and Chocographs. Additionally, there are two other areas of interest for Choco as well. Here is the run down of those areas. And enjoy Chocobo Hot and Cold!
This is where the fun begins. Chocobo forest is located east of the Qu Marsh, outside of Lindblum. The big Chocograph you will be looking for is the Healing Shore Chocograph. Once you get the Mountain ability, return and look for the Green Plains Chocograph.
Whenever you find a new ability, you will be taken to Chocobo's Dream world. Here you will see four other Chocobos, as well as the Fat Chocobo. He will then grant you your next ability. When you return to the world, you will be able to use the new ability you got.
Chocobo Lagoon is a bit tricky to get to at first. When you are ready, head for a long island south of Daguerro, with Chocobo tracks. From here you should cross the shallows of southern Daguerro isle, and over to the Forgotten Continent. Then head a bit south, and venture to the west a bit. Now head south between two small islands east of where you landed to the larger island south of you. On the eastern side, in the middle of the island is the door. Once you get the Ocean ability, getting here will be a cake-walk.
You are looking for the Daw3n Lagoon Chocograph, as well as the remaining Chocograph pieces.
This is a place, that is a bit difficult to get to. It will be in one of five places, mentioned on the back of the Chocograph pieces. Once you find the shadow of the gardens, feed Choco a Dead Pepper, and you will be taken there. Once you have visited there, the location of the Air Gardens will be displayed on the map.
This is also where you will face and (hopefully) defeat Ozma.
Chocobo Paradise is what Choco has been searching for his whole life. This is the home of the Chocobos, and their King Fact Chocobo. Inside you can get all kinds of information on the whereabouts of treasures not gotten from Chocographs. Also, once you get all 24 Chocographs, as well as the Dead Pepper treasures, speak again to the Fat Chocobo. You must do this as you would a Tetra Master challenge. He will then reward you with the Fat Chocobo Card. He will then tell you to visit the beaches of the world. Visit every beach, and on the last one your HP/MP will be restored, as well as all your status cured. After this, you can go to any beach and restore your health by pressing the x button.