Final Fantasy XII Clan Centurio
When you accept your first hunt, you will be directed to join a group of hunters called Clan Centurio. Their base of operations is located in the North End of Rabanastre. It is owned by a moogle named Montblanc. He is looking for great hunters, who are able to vanquish the beasts that threaten Ivalice. He will give you the thumbs up, and you will be able to partake in special "Elite Hunts", that are given by Montblanc himself.
Also there is more rewards for being a member of the clan. If you gain a new rank within the clan, you will be rewarded. The same holds true for certain bosses you beat, and the amount of Espers you gain. Hey this is one place you want to be a member of. Below is a list of what you will get for defeating bosses and gaining Espers, rank rewards, as well as a list of the Hunts provided by Montblanc.
It is purely optional to join the Clan. You do not need to do so to finish the game. But if you are wanting to get all the hunts complete, or are looking for rewards a plenty...you really do not want to miss joining the club.
Event-based rewards

Clan Centurio Rank

| | |
| --- | --- |
| Requirements | Reward |
| Defeat Flans | 150 gil |
| Defeat Firemane | 200 gil |
| Defeat Mimic Queen | 300 gil |
| Defeat Demon Wall | 600 gil, Warp Mote |
| Defeat Demon Wall 2 | 1200 gil, Electrum |
| Defeat Earth Tyrant | 1200 gil |
| Defeat King Bomb | 1300 gil, Mallet |
| Defeat Ahriman | 1600 gil |
| Defeat Mandragoras | 1600 gil |
| Defeat Rafflesia | 1800 gil |
| Defeat Daedalus | 1900 gil |
| Defeat Tyrant | 1900 gil |
| Defeat Hydro | 2000 gil |
| Defeat Humbaba Mistant | 2100 gil |
| Defeat Fury | 2100 gil, Bacchus Wine |
| Defeat Hell Wyrm | 50000 |
| Aquire one Esper | 2 Arcana, 2 Teleport Stones |
| Aquire four Espers | High Arcana, 2 Teleport Stones |
| Aquire eight Espers | Gemsteel, 2 Teleport Stones |
| Aquire Thirteen Espers | Serpentarius, 2 Teleport Stones |

Rank Name
Hunts
Points
Reward
Moppet
0
0
Potion x3
Hedge Knight
2
700
Warp Mote x2
Teleport Stone x2
Rear Guard
4
8000
Remedy x3
Teleport Stone x2
Vanguard
8
20000
Hi Potion x3
Teleport Stone x2
Headhunter
10
30000
Ether x2
Teleport x2
Ward of Justice
12
40000
X-Potion x2
Teleport Stone x2
Brave Companion
10
100000
Hi Ether x2
Teleport Stone x3
Risk Breaker
16
200000
Elixer x2
Teleport Stone x3
Paragon of Justice
24
250000
High Arcana
Teleport Stone x3
High Guardian
28
300000
Empyreal Soul
Teleport Stone x3
Knight of the Round
32
500000
Megaelixer x2
Teleport Stone x3
Order of Ambrosia
45
1000000
Hero's Badge
Teleport Stone x3

Elite Clan Hunts

Little Love on the Big Plains

The Cry of it's Power

Crime and Punishment

Paradise Risen

Paramina Run

Antlion Infestation

Carrot Stalk

Battle on the Big Bridge

A Dark Rumor

Truth Shrouded in Mist

Fishy Dreams

God or Devil

Farewell to a Legend
Clan Primer
The Clan Primer is recieved after you gain your first Hunt. It is part of the main story, so there is no way to not get it. Inside you will find all kinds of helpful information to aid you in the game. From bestiary information to keeping track of your Hunts, the Clan Primer will become a well used asset. Below is some information on each of the different sections.
Hunts
This section of the Primer allows you to view progress on the Hunts that you have accepted. As you complete them, there will be a "Complete" placed across them.
You can access the map showing the location of the petitioner within this section as well as gather the information you were given from accepting the mark. Once you accept the hunt from the petitioner, you will then be given the information from them. Not too much else here. But it is a great tool to use when going after your marks.
Bestiary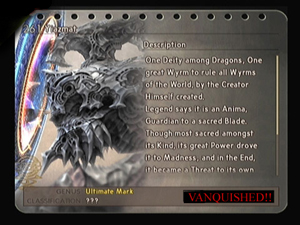 The bestiary allows you to keep track of the enemies you defeat. Rather than providing stats for the enemy, you will be given some information and history. This example of Yiazmat provides a great deal of back story to the enemy. It also gives you the genus (type of enemy), in this case an Elite Mark. Then it will provide the classification fo the enemy. This is what type of enemy it is. It could be undead, flying, wolf, etc. In the case of Yiazmat, it is unknown. If it is not known what the classification is, it will be marked with a ???. For the marks, Espers, and bosses, it will display a "Vanquished" line on the bottom, after you have defeated the enemy.
It should also be noted that just because you gain an entry for every enemy in the game, it does not mean you have compeleted the bestiary. Some enemies have more then one entry, which can be opened by defeating more of that type of enemy. It is difficult to know who will have additions, and who will not. But it is fact that all "one-time" enemies will only have a single entry.
Sky Pirates Den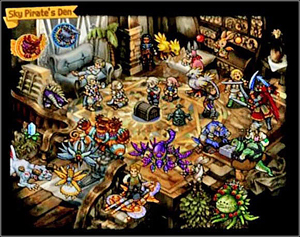 The Sky Pirates Den is simply a place to showcase trophies you earn in the game. Each time you accomplish a certain feat, you will gain a new sprite as well as a new title. It might be for defeating a certain enemy, hitting a certain mark in the game, or gaining a complete something or another. For example, once you cast magic over 200 times, you will get a sprite of Fran, and a title of Spellsinger.
Below is the complete list of possible trophies, and what it will take to get them. To the right is the completed Sky Pirates Den, with every trophy you can get.
There is even a chance of gaining a few of the trophies while playing as Reks in the beginning. You can actually achieve 5 trophies within the small amount of time with Reks, providing you are willing to spend a lot of time doing it. These trophies are marked with a * next to them.
| | | |
| --- | --- | --- |
| Title | Sprite | Achievment |
| Exemplar | | Reach an average party level of 50 |
| Scrivener | | Full Bestiary complete |
| *Assault Striker | | Attack over 300 times |
| *Blood Dancer | | Defeat over 500 enemies |
| Lord of the Kings | | Defeat Behemoth King |
| High Summoner | | Aquire all Espers |
| Freshmaker | | Defeat Carrot |
| Wayfarer | | Take over 50000 steps |
| Runeweaver | | Aquire every spell |
| Eagle Eye | | Defeat Deathgaze |
| Wyrmslayer | | Defeat Fafnir |
| *Spellsinger | | Cast over 200 spells |
| Mist Walker | | Achieve every Concurrance |
| Master Swordsman | | Defeat Gilgamesh (Both times) |
| Spendthrift | | Spend over 1,000,000 Gil |
| Radiant Savior | | Defeat Hell Wyrm |
| Privateer | | Sell 1,000 loot items |
| Collector | | Obtain rare goods on the Bazaar |
| *The Unrelenting | | Achieve a battle chain of 50 or higher |
| Cartographer | | Completely cover every map (Not including one time visit areas) |
| *Plunderer | | Aquired 100,000 gil |
| Conqueror | | Learn all lisences |
| Record Breaker | | Earn 500,000 Clan Points |
| Sharpshooter | | Defeat Trickster |
| Fell Angel | | Defeat Ultima |
| Master Thief | | Steal 50 items |
| Premier Prestidigitator | | Use over 100 Technicks |
| Jack-of-all-Trades | | Aquire all Technicks |
| Hunter Extroidinaire | | Defeat Yiazmat |
| Zodiark Knight | | Defeat Zodiark |
Traveler's Tips
This final section fo the Clan Primer is basically the tutorial of the game. If you ever have any questions or concerns about licences, battle, magicks, technicks, etc, this is the place to check. There is actually very little tutorial in comparison to older titles. But then again there is less to go over.