Story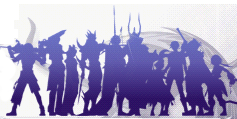 Mode
Story mode is the meat of Dissidia. This is where the main storyline goes. Each of the 10 chosen warriors has their own story to tell. But the stories of each individual character cross other characters stories as well. For example, Zidane interupts a fight between Squall, Ultimecia, and Garland. In Squall's story, it shows him just interupting the fight. In Zidane's story, he actually has to fight Garland.
There are four different story modes you have to go through. There is the Destiny Oddessy, Shade Impulse, Distant Glory, and Inward Chaos lines. You will begin with just the 10 Destiny stories, and have to unlock the rest. In this section, I will cover the entirety of the Story Mode of Dissidia.
Using this section
In the story mode, you will find not only the maps, but the bestiary as well. Each map has a set of numbers next to the game pieces. Below the map is the enemies in the order of those numbers. Let's give an example here.
Inward Chaos 5

Treasure

1st time
B-3: Chemist Lore (Defeat all 5 battle pieces)
2nd time
50 PP
Locked Areas
-



Name

LV

RNK

HP

CP

BRV

ATK

DEF

LCK

GIL

EXP

Ultimecia

110

55

9999

462

1899

183

192

65

1792

0

Behavior
Tactician
DP Chance
win battle (DP+1)
Battle Map
Ultimecia's Castle (O)
Summonstone
Alexander
Weapon
Cardinal
Hands
Seydlitz
Head
Royal Crown
Body
Rainbow Robes
Accessories
Star Earring, Earring (x2), Far from Opponent (x3), HP = 1, Near Death, Phoenix Down
As you can see, this is a map of Inward Chaos 5. The icon with the 1 next to it is Ultimecia, whose stats show up first under the map. Basically, if you are looking for the stats of a certain map piece, find the number by it, and count down the enemies below the map until you find it.
There is a small table below the map, that gives you the information on the treasures found in the map as well. It will provide the grid location (B-3 in this case), as well as the treasure in the first and second run through.
Lastly there is a "Locked Areas" to show where there are blocks, and how to get passed them. There is none in this map, thus it is left blank.
Hopefully this will all be easy to understand and use. Feel free to email me if there is any problems. Otherwise, let's get to the heart of Dissidia shall we.
Prologue
The first time you play Dissidia, you will go through the prologue. This is a basic tutorial of the game, and how it is played. Once you have completed it, it remains open for you to redo at any time. Unlike the other stories, completing it again does not yield anything new.

Prologue
Destiny Oddessy
The Destiny Oddessy is the first set of story lines you get in Dissidia. Each of the 10 warriors of Cosmos have their own individual story to go through.
All of the stories are broken down into 5 maps the player must cross. Each character has their own special items and summons to obtain. In all cases, the final boss fight of their story is the villain of the game they are from. (Garland for Warrior of Light, Sephiroth for Cloud) But this does not mean that these are the only bosses they might face.
Each characters story also has a difficulty rating. For instance Cloud's story has a rating of 2 stars, where Terra has a rating of 5. Though most people would try to run Dissidia in the order of the titles, it is strongly suggested to follow the star ratings.
At the end of each story line, the same cut scene is shown. People have swamped me asking why this is so. It is because Destiny of Oddessy is not the end of the game. Once you complete any of the Destiny stories, you will unlock Shade Impulse. Shade Impulse is where the true end of the game lies.
| | | | | | | | | | |
| --- | --- | --- | --- | --- | --- | --- | --- | --- | --- |
| | | | | | | | | | |
| I | II | III | IV | V | VI | VII | VIII | IX | X |
Shade Impulse
Once you have completed any one of the Destiny Oddessy stories, you will unlock Shade Impulse. This is the final part of the main story. Though you can go through it right off the bat, It is strongly urged to go through all of the Destiny stories first. Once you have done so, get a character with levels above 40-45, before venturing in. This is a far more difficult section to get through.
Shade Impulse is divided into 4 parts with 5 maps each. (Shade Impulse 4 only has 2 maps). Once you complete Shade Impulse, you will unlock the Distant Glory stories.
Distant Glory
Distant Glory XI and XII are aquired after finishing Shade Impulse. Completing these two stories unlocks Shantotto and Gabranth as playable characters. They have a bit more difficulty that Shade Impulse, but not by much.
| | |
| --- | --- |
| | |
| DG XI | DG XII |
Inward Chaos
Once the other storylines have been completed, you will unlock Inward Chaos. This part really has nothing to do with the storyline. It is simply for the challenge of it. You will face level 100+ enemies at every turn, ending with a final battle against a level 110 Chaos boss fight. It is not easy to get through, even with a level 100 character. But it is worth the effort, and the gloating rights.

IC