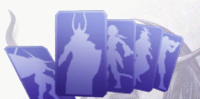 Dissidia Final fantasy Duel Colosseum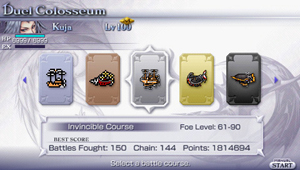 The Duel Colosseum is unlocked after you complete the Shade Impulse. It is different from the other modes, in that you are given randomly selected cards (3 types) to choose from. From these cards, you will determine who you are fighting, and the different actions in the game. In the duel Colosseum you can gain a lot of great equipment, as well as some of the harder Trade Accessories for synthesising weapons and armor.

In the beginning, you will need to choose a character to use. This can be any character that you have unlocked thus far. You cannot use Kuja, if you have not unlocked him from the PP Catalog.
Once you have made your character choice, you will then be taken to a screen where you will choose your course. The courses vary in difficulty, with the first being the easiest, and the final being the hardest. You will begin with the Airship and Faclon course, but the others have to be unlocked through the PP Catalog. The Black Jack course is unlocked by completing the Inward Chaos.
| | | |
| --- | --- | --- |
| | Airship Course | Enemy Level 1-30 |
| | Falcon Course | Enemy Level 31-60 |
| | Invincible Course | Enemy Level 61-90 |
| | Lunar whale Course | Enemy Level 91-120 |
| | Black Jack Course | Enemy Level 121-150 |
Once you have selected your course, you will be taken to the screen with the cards you can select. In this screen, you can change your equipment and summons. You may also leave at any time by selecting EXIT. You can then select a card, and progress.
You will earn points and medals for each round you complete. One round is completed each card. When you decide to end the game, your medals will be tallied and you will be given PP. You will also keep anything you earn in the game, such as accessories or trade items.
Duel Colosseum Cards
There are several different cards that you will come across in the colosseum. It is important that you know what they are, and what they do. Here, you will get the low down on all the cards found within the course.
Enemy Cards
There is an Enemy Card for each selectable character in the game. When you select a Enemy Card, you will be given their full stats the same as if you were fighting them in the Arcade Mode. You will gain/lose medals when the fight is over, and the amount of reward is determined by the level of the enemy and what the card states for medals.
Boss Cards
When you see a gold colored card, this is a boss card. Boss Cards are different than enemy cards, as they are not discarded from the selection area after the player chooses a card. Boss cards are more difficult versions of the same fights found in the enemy cards, but you gain/lose more medals and the rewards are higher. If you lose though, the amount of medals removed is higher.
Job/Status Cards
Job Cards grant you special abilities, increase your selection spaces, etc. Status Cards add negativve effects that can only be removed with a Chemist Card. Below is a complete list of the cards, and what they can do.
Job Cards
Name
Effect

Knight
Increases card selection area by one. Loses effect after losing a battle. Can be stacked. Ongoing.

Thief
Increases the chance of Treasure Cards appearing. Ongoing.

Monk
Causes the next Enemy Cards that arrive in the selection area to become weaker. One Use.

White Mage
Fully heals a character's HP after a battle. Ongoing.

Black Mage
Increases the rate at which Secret Cards appear. Ongoing.

Red Mage
Causes the cards in the selection area to not be discarded after already choosing a card. Also causes all Treasure Cards to be able to be purchased without the loss of medals. Ongoing.

Blue Mage
Increases the rate at which Job Cards appear. Ongoing.

Mystic Knight
Card Luck rises faster. Ongoing.

Ninja
Prevents the loss of medals and Card Luck upon losing a battle. Ongoing.

Ranger
Causes Enemy Cards to hold five more medals as a reward for defeating them. Ongoing.

Samurai
Removes all Boss Cards and Chaos Cards from the selection area. One Use.

Dragoon
Discards all cards from the selection area and replaces the first card in the next hand with a Dragoon Card. One Use.

Time Mage
Increases Card Luck by 5. One Use.

Chemist
Protects and nullifies Status Card effects. It also prevents Status Cards from appearing in the selection area. Ongoing.

Summoner
Causes the next cards in the selection area to contain only Treasure and Job Cards. One Use.

Mime
Transforms into a random Job Card one chosen. One Use.
Status Cards
Name
Effect

Toad
Prevents Treasure Cards from appearing. Ongoing.

Mini
Prevents the character's HP from restoring after battle. Ongoing.

Imp
Cancels the effects of all Job Cards. This can be remedied by playing a Chemist Job Card. Ongoing.

Pig
Reduces the player's medals by half. One Use.
Chaos card
when this card is chosen, you will fight Chaos at the highest level of the course. Similar to Boss Cards, this card cannot be discarded by any means. However using a Dragoon, Summoner, or Samurai card will work. By default you will be rewarded with 50 medals. But if you lose, you will lose your Card Luck, 50 Medals, and a card selection space.
Secret Card

These are rare, but awesome cards. Should you win, you will be rewarded with double your current medals. This card is labelled with a question mark outside the selection screen, making it easy to spot. These cards are equal to the AI of Chaos Cards, however you can change this with a Monk card beforehand. If you lose the fight, it halves your medals, along with reducing Card Luck, and card selection space.
Treasure Cards
Treasure Cards offer a wide range of items. You can purchase the cards with the medals you have obtained. Each course has its own set of items you can obtain, (Seen below) as well as a small amount of treasures found within each course.
Airship Items

Falcon Items

| | | |
| --- | --- | --- |
| Treasure | Type | Cost |
| Frying Pan | Weapon | 17 |
| Kitchen Timer | Bangle | 8 |
| Toque Blanche | Hat | 17 |
| Iron Apron | Light Armor | 13 |
| Mythril | Trade Accessory | 11 |
| Gold | Trade Accessory | 11 |
| White Stone | Trade Accessory | 18 |
| Black Stone | Trade Accessory | 22 |
| Spirit Stone | Trade Accessory | 27 |
| Beast Bone | Trade Accessory | 18 |
| Unknown's Bone | Trade Accessory | 22 |
| Gigas Bone | Trade Accessory | 27 |
| Large Horn | Trade Accessory | 13 |
| Summoner's Horn | Trade Accessory | 22 |
| Wyvern Horn | Trade Accessory | 27 |
| Large Fang | Trade Accessory | 13 |
| Black Tiger Fang | Trade Accessory | 22 |
| Great Serpent's Fang | Trade Accessory | 27 |
| Quality Branch | Trade Accessory | 13 |
| Splinter | Trade Accessory | 18 |
| Lumber | Trade Accessory | 22 |
| Thorny Lumber | Trade Accessory | 27 |
| Iron Carapace | Trade Accessory | 13 |
| Charger Barding | Trade Accessory | 18 |
| Great Serpentskin | Trade Accessory | 27 |
| Aquamarine | Trade Accessory | 13 |
| Emerald | Trade Accessory | 18 |
| Moonstone | Trade Accessory | 22 |
| Ruby | Trade Accessory | 27 |
| Ichthon Scales | Trade Accessory | 13 |
| Yensa Scales | Trade Accessory | 18 |
| Lamia Scales | Trade Accessory | 22 |
| Bird Feather | Trade Accessory | 13 |
| Giant Feather | Trade Accessory | 27 |
| Geranium | Trade Accessory | 8 |
| Rosemary | Trade Accessory | 8 |
| Bergamot | Trade Accessory | 8 |
| Chamomile | Trade Accessory | 8 |
| Clary Sage | Trade Accessory | 8 |
| Ylang Ylang | Trade Accessory | 8 |
| Tea Tree | Trade Accessory | 8 |
| Eucalyptus | Trade Accessory | 8 |
| Lemongrass | Trade Accessory | 8 |
| Dusty Elixir | Trade Accessory | 18 |

| | | |
| --- | --- | --- |
| Treasure | Type | Cost |
| Nail Bat | Weapon | 17 |
| Skull Wristlet | Bangle | 17 |
| Spirit Band | Hat | 8 |
| Bomber Jacket | Clothing | 13 |
| Rubicante's Cowl | Hat | 10 |
| Cagnazzo's Carapace | Light Armor | 10 |
| Gold | Trade Accessory | 11 |
| Diamond | Trade Accessory | 11 |
| Crystal | Trade Accessory | 11 |
| Mako Stone | Trade Accessory | 8 |
| Levistone | Trade Accessory | 18 |
| Dewdrop Pebble | Trade Accessory | 22 |
| Stone of Condemner | Trade Accessory | 27 |
| Nue Bone | Trade Accessory | 8 |
| Ancient Bone | Trade Accessory | 18 |
| Shadow Bone | Trade Accessory | 22 |
| Wargod Bone | Trade Accessory | 27 |
| Taurus Horn | Trade Accessory | 8 |
| Lizard Horn | Trade Accessory | 18 |
| Humbaba's Horn | Trade Accessory | 22 |
| Ixion Horn | Trade Accessory | 27 |
| Chimera Fang | Trade Accessory | 8 |
| Throat Wolf Fang | Trade Accessory | 18 |
| Mammoth Tusk | Trade Accessory | 22 |
| Quality Lumber | Trade Accessory | 8 |
| Mistletoe | Trade Accessory | 18 |
| Big Tree | Trade Accessory | 22 |
| Spiritwood | Trade Accessory | 27 |
| Wormskin | Trade Accessory | 8 |
| Destrier Barding | Trade Accessory | 18 |
| Giant Turtleshell | Trade Accessory | 27 |
| Peridot | Trade Accessory | 8 |
| Sapphire | Trade Accessory | 18 |
| Opal | Trade Accessory | 22 |
| Topaz | Trade Accessory | 27 |
| Landshark Scales | Trade Accessory | 8 |
| Leviathan Scales | Trade Accessory | 18 |
| Emperor Scales | Trade Accessory | 22 |
| Godfighter Scales | Trade Accessory | 27 |
| Demon Feather | Trade Accessory | 8 |
| Fallen Angel Feather | Trade Accessory | 18 |
| Royal Wing | Trade Accessory | 22 |
| Diablos's Wing | Trade Accessory | 27 |
| Elixir | Trade Accessory | 18 |

Invincible Items

Lunar Items

| | | |
| --- | --- | --- |
| Treasure | Type | Cost |
| Impartisan | Weapon | 17 |
| Tortoise Shield | Hand Armor | 17 |
| Saucer | Head Armor | 8 |
| Reed Cloak | Body Armor | 13 |
| Crystal | Trade Accessory | 11 |
| Wyrmstone | Trade Accessory | 13 |
| Blessed Gem | Trade Accessory | 22 |
| Goddess's Magicite | Trade Accessory | 27 |
| Land Dragon Bone | Trade Accessory | 13 |
| Saint's Bone | Trade Accessory | 22 |
| Blood-Darkened Bone | Trade Accessory | 27 |
| Wind Drake Horn | Trade Accessory | 13 |
| Unicorn Horn | Trade Accessory | 22 |
| Beastlord Horn | Trade Accessory | 27 |
| Holy Fang | Trade Accessory | 22 |
| Beastlord Fang | Trade Accessory | 27 |
| Dragonwood | Trade Accessory | 13 |
| Revival Tree | Trade Accessory | 27 |
| Wyrm Carapace | Trade Accessory | 13 |
| Blessed Barding | Trade Accessory | 22 |
| Aged Turtle Shell | Trade Accessory | 27 |
| Dragonstone | Trade Accessory | 13 |
| Holystone | Trade Accessory | 22 |
| Lapis Lazuli | Trade Accessory | 27 |
| Sea Serpent Scales | Trade Accessory | 13 |
| Sacred Beast Scales | Trade Accessory | 22 |
| Djinn Scales | Trade Accessory | 27 |
| Wyvern Wing | Trade Accessory | 13 |
| Sacred Beast Wing | Trade Accessory | 22 |
| Garuda's Wing | Trade Accessory | 27 |
| Hi-Elixir | Trade Accessory | 18 |




Blackjack Items




| | | |
| --- | --- | --- |
| Treasure | Type | Cost |
| Phoenix Down | Special Accessory | 3 |
| Phoenix Pinion | Special Accessory | 3 |
| Valor Resin | Special Accessory | 3 |
| Arcane Resin | Special Accessory | 3 |
| Destruction Resin | Special Accessory | 3 |
| Patience Resin | Special Accessory | 3 |
| Life Resin | Special Accessory | 3 |
| Mystery Resin | Special Accessory | 3 |
| Rosetta Stone | Trade Accessory | 30 |




Common Items




| | | |
| --- | --- | --- |
| Treasure | Type | Cost |
| Wind Stone | Trade Accessory | 21 |
| Water Stone | Trade Accessory | 28 |
| Lifestone | Trade Accessory | 35 |
| Transmogridust | Trade Accessory | 3 |
| Pebble | Trade Accessory | 15 |

| | | |
| --- | --- | --- |
| Treasure | Type | Cost |
| Chaplet | Hat | 13 |
| Blue Moon | Bangle | 17 |
| Lunate Armlet | Gauntlet | 17 |
| Snowflake Sweater | Clothing | 8 |
| Pink Tail | Trade Accessory | 56 |
| Supreme Gem | Trade Accessory | 18 |
| Hero's Bone | Trade Accessory | 18 |
| Behemoth Horn | Trade Accessory | 18 |
| Maduin's Fang | Trade Accessory | 18 |
| Iifa Tree | Trade Accessory | 18 |
| Ancient Turtle Shell | Trade Accessory | 18 |
| Sky Jewel | Trade Accessory | 18 |
| Eden's Scales | Trade Accessory | 18 |
| Bahamut's Wing | Trade Accessory | 18 |
| Tome of Souls | Trade Accessory | 13 |
| Tome of Love | Trade Accessory | 13 |
| Tome of Kings | Trade Accessory | 13 |
| Tome of Shadows | Trade Accessory | 13 |
| Tome of Mysteries | Trade Accessory | 13 |
| Tome of Memories | Trade Accessory | 13 |
| Tome of Lies | Trade Accessory | 13 |
| Tome of the Farplane | Trade Accessory | 13 |
| Tome of Men | Trade Accessory | 13 |
| Tome of Silence | Trade Accessory | 13 |
| Tome of the Orator | Trade Accessory | 13 |
| Tome of the Masters | Trade Accessory | 13 |
| Guiding Light | Trade Accessory | 27 |
| Wheel of Darkness | Trade Accessory | 27 |
| The Youth's Dream | Trade Accessory | 27 |
| Lust for Power | Trade Accessory | 27 |
| Onion | Trade Accessory | 27 |
| Roaming Clouds | Trade Accessory | 27 |
| Twin Form | Trade Accessory | 27 |
| Lone Heart | Trade Accessory | 27 |
| Splendor of the Wind | Trade Accessory | 27 |
| Power of the Void | Trade Accessory | 27 |
| Veiled Magic | Trade Accessory | 27 |
| Fanatic's Leer | Trade Accessory | 27 |
| True Past | Trade Accessory | 27 |
| Life of the Planet | Trade Accessory | 27 |
| Unshelled Bullet | Trade Accessory | 27 |
| Gears of Time | Trade Accessory | 27 |
| Theater Ticket | Trade Accessory | 27 |
| God of Destruction | Trade Accessory | 27 |
| Fayth's Dream | Trade Accessory | 27 |
| Medal of Honor | Trade Accessory | 27 |
| Boiling Blood | Trade Accessory | 27 |
| Gates of Judgement | Trade Accessory | 27 |
| Megalixir | Trade Accessory | 18 |