Final Fantasy IV Developers Room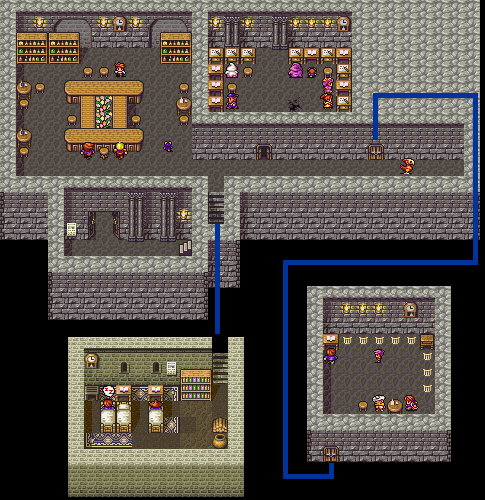 Welcome to the Final Fantasy IV Developer's Room. The developer's room is something new in the PS1 version released in the USA. It was taken out of the original SNES version, due to a porno book being found on a shelf. In later releases, the easter egg was added back into the game. Also, If you fight K. Higuchi, he will drop an item called "Magazine". When you view it in the menu, it says "Cecil's favorite". When it is selected, the music from the scene with the Calbrina Dolls play, and the screen turns a shade of pink for a few seconds. The rest is left to the imagination.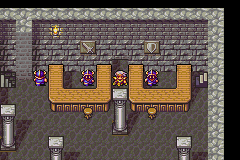 The Developer's Room is found in the Dwarfs castle. When you go down the right stairs, into the weapons/armor shop, go right between the counters, and into the Rally-Ho Pub. Once inside the pub, Go to the bottom right side, and enter the secret area. Here is where you will find the Developer's Room.
In here you can speak to the staff that worked on FFIV. They are the NPC's that are running around. They mostly say some pretty funny, random things. You can even encounter random battles with the staff. (Below is the bestiary for the developer's room.) You should check out the area at least once, and see what the team at square has to say.
| | | |
| --- | --- | --- |
| | Hironobu Sakaguchi | Director |

Kyoji Koizumi

????

Takeshi Endo

????

Yasushi Matsumura

Map Design

Katsuhisa Higuchi

Battle Programing

Hiroyuki Ito

Battle Design

Kiyoshi Yoshii

Battle Programming

Akihiko Matsui

Battle Design

Hiromi Nakada

Lead Graphics

Tetsuya Takahashi

Battle Graphics

Kazuhiko Aoki

Battle Design
A. Matsui

Lv

HP

Atk

Hit%

M. Atk

Spd

Def

Eva

M. Def

M. Eva

31

1

254

99

0

63

254

99

0

0

Gil

Exp

Weakness
Absorb
Resist

10

5

Fire, Ice, Lightning, Projectiles

Steal
Potion
Drop
-
H. Nakada

Lv

HP

Atk

Hit%

M. Atk

Spd

Def

Eva

M. Def

M. Eva

31

60000

19

25

0

61

254

99

254

99

Gil

Exp

Weakness
Absorb
Resist

500

0

-

-

-

Steal
Maiden's Kiss
Drop
Maiden's Kiss
H. Ito

Lv

HP

Atk

Hit%

M. Atk

Spd

Def

Eva

M. Def

M. Eva

1

1969

174

99

63

52

4

30

0

0

Gil

Exp

Weakness
Absorb
Resist

10

5

-

-

-

Steal
Potion
Drop
-
K. Aoki

Lv

HP

Atk

Hit%

M. Atk

Spd

Def

Eva

M. Def

M. Eva

31

10000

19

75

0

15

4

30

0

0

Gil

Exp

Weakness
Absorb
Resist

100

150

-

-

-

Steal
Potion
Drop
-
K. Higuchi

Lv

HP

Atk

Hit%

M. Atk

Spd

Def

Eva

M. Def

M. Eva

63

2

116

85

0

15

255

100

255

100

Gil

Exp

Weakness
Absorb
Resist

50

0

-

-

-

Steal
Smut
Drop
Smut
K. Yoshii

Lv

HP

Atk

Hit%

M. Atk

Spd

Def

Eva

M. Def

M. Eva

31

65000

18

75

0

51

0

0

0

0

Gil

Exp

Weakness
Absorb
Resist

20

10

-

-

-

Steal
Potion
Drop
-
Takahashi

Lv

HP

Atk

Hit%

M. Atk

Spd

Def

Eva

M. Def

M. Eva

1

65000

254

99

0

55

255

100

154

99

Gil

Exp

Weakness
Absorb
Resist

5

0

-

-

-

Steal
Potion
Drop
-