Final Fantasy VI Secrets
Vanish and X-Zone Trick
You have tried X-Zone I am sure, and have had very little success with it right? Well this trick could make X-Zone your new best friend. Instead of using vanish on yourselves, give it a shot on an enemy. Now throw out a X-Zone spell, and you will see exactly why this is so awesome! Anyone with Vanish cast on them becomes extremely vulnerable to magic. This trick works on almost every enemy AND boss in the game! Vanish can also be used with Doom, or Ragnarök Esper for the same effect.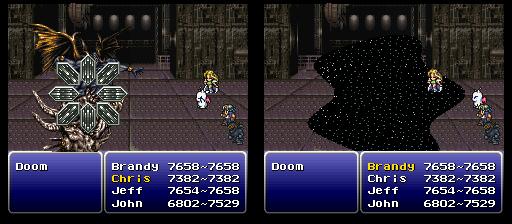 *NOTE* Do not use this trick on Doom Gaze. Though it is successful, you will lose the Bahamut Esper. If at any time you use the Vanish/X-Zone trick, it will prevent the end fight scripts from happening. This will cause the Scene where you get Bahamut to be eliminated. You need to fight Doom Gaze to the end. That said, you can still use Vanish on him, and pound him into submission with magic!
Brothers together, or brothers apart?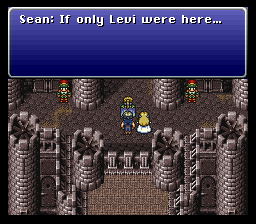 In the world of balance, after Sabin and Edgar are reunited, you will travel to Figaro Castle a second time. The story is set to you taking both brothers. There is a flashback, and a scene between them in the throne room. Ever wonder what would happen if you didn't take them to Figaro together? If you leave either brother behind, and continue with your quest, Sabin will become distant and cold. If you choose a party consisting of Edgar and not Sabin, he will appear, and ask why he cannot come too. You will also lose your discount in the castle, even if Edgar is in the head of your party.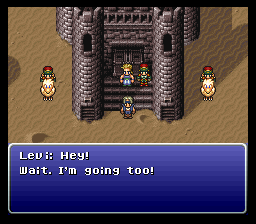 Lifting the shield's curse
When you get Locke in the WOR, take him to Narshe and visit the man hiding in his house. He will hand over the Cursed Shield. And believe me it is definitely cursed. It will tag you with almost every status effect in the game. The only way to lift the curse is to fight 255 battles with it equipped.To negate the status ailments; equip the shield wearer with a ribbon. You can then go somewhere like Solitary Island to have a lot of fast, easy fights . Once the curse is lifted, you will get the Paladin Shield. Not only is this the best shield in the game, but you can also learn the powerful Ultima spell at a growth rate of x1. Just in case you decided to make the Ragnarok into a sword.
As for the Cursed Ring ...despite the rumors circulating on the net, this ring's curse cannot be broken. You will not get a Paladin Ring, or anything like that. However, you can learn Banish at a rate ofx5.
Dinosaur Forest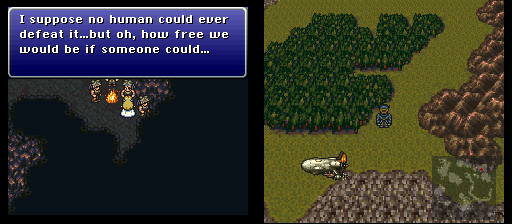 There is a forest just north of the Veldt , in the World of Ruin. Inside the forest, you will encounter Brachiosaur's and Tyrannosaurs.
Brachiosaur

WEAKNESS

LV

HP

MP

GP

EXP

SPD

ATK

DEF

EVA

MAG. ATK

MAG. DEF

MAG. EVA

77

46050

51420

0

14396

95

55

190

70

20

145

50

STEAL

DROP

Ribbon
-

Celestriad
-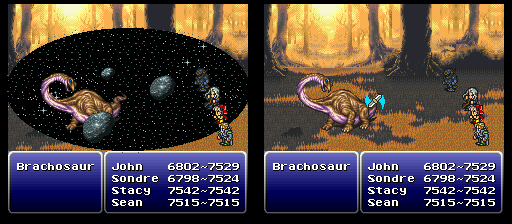 Of the two, the Brachiosaur is the worst to face. He can sneeze you out of the fight, cast a plethora of nasty status effects in a single turn, or wipe out your party with Ultima. But if you have the Ribbon, you can avoid most of the status effects. On a rare occasion he drops a Celestriad. This reduces the MP of all spells to 1. Also with Locke in the party, he can steal a Ribbon.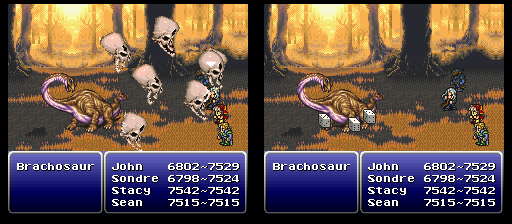 Tyrannosaur

WEAKNESS

LV

HP

MP

GP

EXP

SPD

ATK

DEF

EVA

MAG. ATK

MAG. DEF

MAG. EVA

57

12770

420

0

8800

55

33

125

0

16

160

0

STEAL

DROP

Reed Cloak
-

Impartisan
-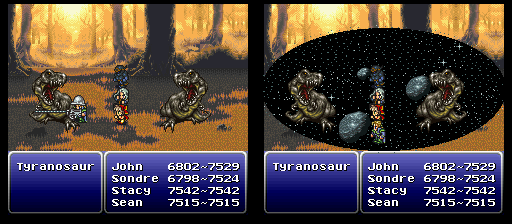 Tyrannosaur's can either attack singly, or get you in a Pincer attack. The Back Guard does not eliminate the Pincer either. Their nastier spell is Meteor, which can wipe out a under-developed party. They can also wipe a character with their bite attack. Sometimes you can steal Reed Cloaks, and on occasion, they drop an Impartisan.
Both dinosaurs are worth a mother load of EXP, and with the Growth Egg, you will reach high levels in a few hours. Tyrannosaur's give 5AP, and Brachiosaur's give 10AP, making it fast and easy to learn those harder to get spells.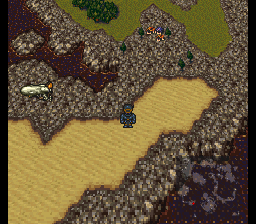 The elusive Cactuars
If you want to gain quick AP and a ton of GP, head to the desert south of Meranda. Here you will occasionally run into Cactuars. These elusive little critters have only 3 HP, but are almost impossible to strike. Equip any character with a Sniper Sight, to ensure you hit it. Also using Sabin's Raging Fist, Edgar's drill, or even Setzer's Dice work too.
If you can defeat these thorny pains, You will get 10 AP, and 10,000 GP! Not too bad huh?

Be careful if your levels are too low. You might initiate combat with the Gigantuar Esper. At low levels, you will become toast in seconds!