Final Fantasy XII Quickenings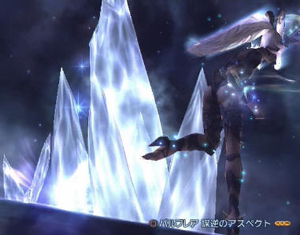 Quickenings are Final Fantasy XII's version of Limit Breaks. Each character has a total of three quickenings they can use in battle, that can be very powerful and turn the tides of a fight. But in order to perform the quickening, you need to have the mist charge for it.
Quickenings require a certain amount of MIST. Level 1 Quickenings require 1 Mist Charge, Level 2 needs 2 Mist Charges, and Level 3 needs 3 Mist Charges. If there is a character without a Mist Charge unlocked, they cannot perform a Quickening, even if the others can. Right now this probably sounds very complicated, but it is in fact simple once you get the mechanics down. So I will get you step by step through the process.

Unlocking Quickenings

In order to obtain Quickenings, you must first unlock them in the Licence Board. Before you go scouring the board for the Quickenings, let me explain. What unlocks the Quickenings is the Mist Charges on the board. There are a total of 18 Mist Charges on the board. Each character can unlock only three. Once a Mist Charge is gained by a character, it is removed from everyone's board. It does not matter which is unlocked by the character, the first one will give him/her the level 1 Quickening. The second Mist Charge will unlock your Level 2, and the third will give you the level 3 Quickening. Quickenings coupled with the fact that Mist Charges double and triple your MP is why it is so very important to get them early in the game.
The consumption of Mist Charges used by the Quickening is based on its level. Level 1 Quickenings use 1 Mist Charge, level 2 uses 2, and level 3 uses 3 Mist Charges. So if you only have 2 Mist Charges, you can only perform level 1 and 2 Quickenings. A neat catch though is if only one character can perform a level 2 Quickening, they can still use it with the other characters level 1 Quickenings. It is better though, until all players get full quickenings to use what level everyone else can use. It allows for Concurrences to activate at the end of the chains. (See below)

How the process works

Think of Quickenings as a casino slot machine. There is a lot of luck involved in keeping a Quickening going on. As you initiate the first move, you will notice the three lines representing your characters in the bottom right side of the screen. These are the possible actions that can be performed next. By pressing the corresponding button in the alloted time, you can then enter the next move. This is basically the wheels of the slot machine. There are four possible actions that can occur:
Level 1 Quickening
Level 2 Quickening
Level 3 Quickening
Mist Charge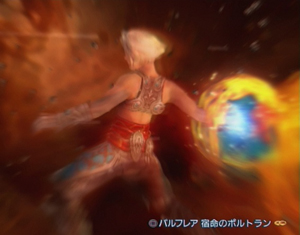 when any one of these appear, hit the command you want to happen next, and the Quickening chain will continue. The lines that appear in grey are no longer available. So what happens if all three lines are grey? Well, like any other slot machine, there is a way to re-spin the commands. Hitting R2 will reshuffle the commands, allowing for different commands to appear. The one everyone should be looking for is Mist Charge. If you hit this, the character's Mist is fully recharged, and thus can use all of their Quickenings again. Most of the time, once you hit this, that characters Quickening becomes one of the next available commands. So it is a good idea to keep hitting the button after Mist Charge is selected. Also, it is good to keep the Mist Charges running, even if you are running out of time. This will provide someone with needed MP in the battle, when the Quickenings are completed and battle resumes. You really do not want to be in a fight with a boss of 1,000,000+ HP, and consume all of your MP in Quickenings. You might of dealt him a massive blow, but without any restorative items/spells for MP you might have to wait a very long time to heal. That said, it is sometimes better to not use Quickenings in any battle of a major foe, until the last stages of the fight.

Running against the clock

As you might have noticed, the time bar gets faster with each successful attack. This is because there is actually a set amount of time you can perform your Quickenings. Yes speed is the key, but the commands should not be entered in haste. The clock has a bit of pause between the last attack, and the next. It will not begin, until the animation begins. This gives you the window of a second or two to check the commands out. It is important to choose the next commands carefully.
Mist Charges are the only commands that do not stop the timer. But once it is used, it will automatically reshuffle the the commands. Be ready to quickly input the next action you want, to avoid wasted time. A very small amount of time is added to the bar, with every command entered, but it will get to where the time bar is moving just too fast to do anything. Eventually you will be forced to stop the chain. This is most likely done to keep you from running non-stop chains and defeating enemies.
Below is the characters Quickenings, and the Quickening levels power. To determine the damage the Quickening is dealing, you will need a bit of math.
(# between 1 and the Quickening power)
(# between 1 and character's Strength) x
---------------------------------------------------
Here is an example. Say Vaan throws out a level 2 Quickening that has the power of 140. His strength is 100. You would get a number between 1 (1x1), and 14,000 (100x140). The best thing to do though is not count on maximum damage. Because there is four different numbers in the variable, you should calculate on getting 1/4 of the total damage. So instead of 14,000, you will only hit for 3,500. Still a pretty descent amount of damage, especially combined with other Quickenings.
Quickening Name

Level 1 Pwr: 90

Level 2 Pwr: 140

Level 3 Pwr: 230

Vaan:
1-Red Spiral
2-White Whorl
3-Pyroclasm
Penelo:
1-Intercession
2-Evanescence
3-Resplendence
Balthier:
1-Fires of War
2-Tides of Fate
3-Element of Treachery
Fran:
1-Feral Strike
2-Whip Kick
3-Shatterheart
Ashe:
1-Northswain's Glow
2-Heaven's Wrath
3-Maelstrom's Bolt
Basch:
1-Fulminating Darkness
2-Ruin Impendent
3-Flame Purge
Concurrences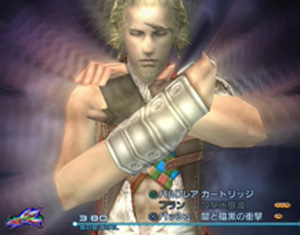 Once you have completed your Quickening chain, you will ahve a good chance of a final attack called a Concurrence. Similar to the Quickenings, Concurrences are not elemental despite their names and looks.
Each Concurrence is triggered by completing certain amounts of Quickenings in your chain. The easiest Concurrence is Inferno, which only requires three level 1 Quickenings be performed. Of course to get the better Concurrences, you will have to complete more different level Quickenings. Black Hole for example, requires you perform 4 of every level Quickening. Yea, that is a hard one.
Also the best Concurrence available is always the one that gets used. Sy you perform 7 level 1 attacks, 5 level 2, and 3 level 3 Quickenings. This allows for a total of five different Concurrences, but Ark Blast will be the one chosen. It is the most powerful of the different possible Concurrences. This is a great thing, when it comes to just going through the battle, but if you are wanting to get everything in the game, like filling your Sky Pirates Den, this can get a bit frustrating.
Below is a list of the Eight possible Concurrences, their power, and the requirements you need to trigger them. Try your best to get every one of them at least one time.
Inferno

Power

Lv 1

Lv2

Lv3

90

3

-

-
Cataclysm

Power

Lv 1

Lv2

Lv3

110

7

-

-
Torrent

Power

Lv 1

Lv2

Lv3

130

2

3

-
Windburst

Power

Lv 1

Lv2

Lv3

155

-

5

-
Luminescence

Power

Lv 1

Lv2

Lv3

175

-

-

5
Ark Blast

Power

Lv 1

Lv2

Lv3

205

2

2

2
White Out

Power

Lv 1

Lv2

Lv3

215

3

3

3
Black Hole

Power

Lv 1

Lv2

Lv3

253

4

4

4