Final Fantasy V Advance Cloister of the Dead


Once you are done with Enuo, you will be sucked back into the entrance cave of the Sealed Temple. You will then be given the final Job: Necromancer. Here you can either head to the sub, or go save. But not before a little bit of chatter from someone who walks out of the center door.



This guy will begin telling you abou the Cloister of the Dead. Somewhere in his conversation an enemy will appear in front of the door. He will tell you about the enemy, as well as the Necromancer's Dark Arts. Do yourself a quick favor when you are able, turn all your characters into necromancers, and go battle the foe.


After the battle, you will gain your first Dark Arts ability Drain Touch. The mystery man will then give you the entire run through of what the Cloister is. He will get you kind of a idea of what you are doing. But here is a low down.
This is basically a gauntlet of past boss fights. Only one from the Sealed Temple appears though sadly, but that is ok. It is really not all that difficult either, if you have already come this far. That being said, there is some setting up that needs to be done in order to make it through.
Ok, the first thing you will want to do is place a Reflect Ring on one of your party members. And with that being done, you will need to have a Blue Mage to utilize the White Wind to heal a



Reflect Ring equipped person.
You want to have Summon, White Magic, Black Magic, abilities on the others. You will also want Rapid Fire on two, and Mime on the other two. This will provide a great attack and magic arsenal. Have everyone put on Ribbons, and Angel Rings as well. Just for the precautions of it. :) If you can, bring in a good dose of Ethers, and Elixirs. That should be about all you will need though. When you are ready, head on into the Cloister.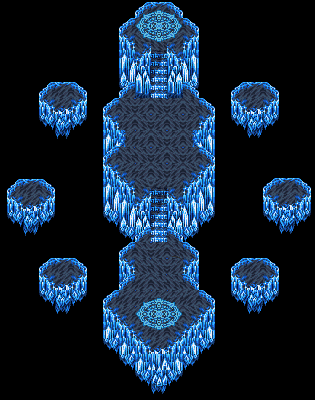 When you enter, you will find yourself in a small area, similar to the final dungeon where you fight Enuo. Do not worry, it is not a giant area. And it is just a simple come in at the bottom and leave at the top.
When you enter, make your way to the top of the screen. In the main portion you will see 5

in front of you.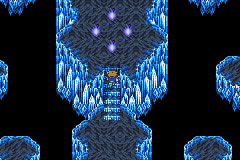 When you reach the top of the stairs, you will be pulled into 5 fights, one after the other. There is absolutely no time between fights to heal or remove any status effects. So keep yourself up and running good during the fights.
There are 5 fights per floor, and 6 floors in the Cloister. Do not sweat it. There is plenty of time between floors to heal and get well again. And you can leave at any time, by using the bottom warp point. Once you leave though, you will have to go through it all over again.
Below I will go through each floor, good set ups, and the best strategy for quickly getting through the fight.
| | | |
| --- | --- | --- |
| | Floor 1 | |
Boss Fights
Wing Raptor
HP
12000
There is not too much need for anything other than a single shot of Rappid Fire. Even with the increase in HP, he is a push over.
Boss Fight
Garula
HP
10000
Hit him with a rapid Fire as well. Simple, clean, and done.
Boss Fight
Siren

HP
14000
Rapid Fire combo. She will be down before she can even take her undead form.
Boss Fight
Magissa & Forza

HP
13000 & 16000
Magissa is a push over in this fight. Forza is quick enough he might get a hit in. Hit them with a Rapid Fire, or a couple of shots of Bahamut.
Boss Fight
Gil Turtle
HP
40000
Make sure to cast Mighty Guard immediately for the Float effect. Then hit Gil Turtle with a Blizzard Sword and Rapid Fire. Two shots of that, should do him in just fine.
| | | |
| --- | --- | --- |
| | Floor 2 | |
Boss Fight
Liquid Flame
HP
13000
You know this guy. Simple Ice enfused Rapid Fire will do the trick quite well. I have never seen his other two forms, because I kill him rather quickly. So just be careful with the hand as it will counter attack spells.
Boss Fight
Soul Cannon
Launchers x2
HP
30000
12000
Lv 5 Death should take the Launchers out, which will leave you the main cannon. Hit it a couple of times with a lightning fused Rapid Fire. That should bring him down in no time.





Boss Fight
purobolos x6
HP
6000 Each
Mute the purobolos one at a time. When they are muted, get rid of them quickly. They will still raise the fallen enemies when they die. So be sure to Mute, or use multiple targeting Blizzard Spells.
Boss Fight
Minotaur
HP
24000
Minotaur is exactly the same as before. Magic cannot hurt him. Simply go after him with whatever physical attacks you have. He will of course cast Holy at the end of the fight...but like before, it will fail utterly.



Boss Fight
Phobos, Triton, and Nereid
HP
18000 Shared
This is a pretty straight fight. Anything that hurts undead is the thing here. Thunder magic, and Slydra work well here. Or hit them with a lightning fused Rapid Fire or 3.
| | | |
| --- | --- | --- |
| | Floor 3 | |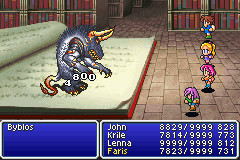 Boss Fight
Byblos
HP
12000
Simple easy Rapid Fire shot. He will fall easily. His hits are weak enough to miss most of the time.
Boss Fight
Tyrannosaur
HP
22000
Phoenix Down and or Arise. The guy will hit you 4 times at the beginning if he can. But those two things will knnock him out pronto.
Boss Fight
Dragon Pod & Dragon Flowers

HP
22000 & 3000
Begin with a multi-strike spell, and or Bahamut to get rid of the flowers. Then strike the Dragon Bulb with a Rapid Fire or two.
Boss Fight
Archeodemon
HP
50000
Archeodemon is just as nasty as he was before. If you strike him with a physical attack, he will cast Death on himself and be revided. Use the strongest magic and summons you have to counter this. Flare, Holy, And Bahamut are the best go here. You survived him once, you can do it again.
Boss Fight
Apanda
HP
35000
He is still weak to fire. But a simple shot of Rapid Fire, should blow him over. Better if it is fire fused.
| | | |
| --- | --- | --- |
| | Floor 4 | |
Boss Fight
Manticore
HP
13000
Simple and easy to kill him off. A Rapid Fire will do it. He might get a Aqualung in, but it should not hurt too much.
Boss Fight
Adamantoise
HP
18000
A single Lv 5 Death will end his fight. But be careful if you do not have it. He is a lot faster than before with a high defense. Summon Golem, and hit him with your powerful magic.
Boss Fight
Jackanapes
HP
6000
And another simple Lv 5 Death cast to get rid of this guy as well. He is strangely weaker than he was in Walz. Not sure the point of him even being in the list, but hey. Enjoy the break.
Boss Fight
Calofisteri
HP
24000
The same exact fight as before. Hit her with a couple of Rapid Fires, and she will be toast.
Boss Fight
Twintania
HP
55000
This guy is much faster, and his defense is a lot higher. When he charges his Giga Flare, his HP will not drop, and Odin no longer has the effect he did. Treat him as you did before. Set up Mighty Guard, and Golem. And pound away at him with Rapid Fires. Keep your health up, and all would be fine.
| | | |
| --- | --- | --- |
| | Floor 5 | |
Boss Fight
Omniscient
HP
23000
And like before, Omniscient can only be damaged with powerful spells. So hit it with your best arsenal of magic. Remember he will launch a last ditch Flare spell at the end of the fight.



Boss Fight
Wendingo
HP
30000
Wendingo has his four hosts, and only one at a time takes damage. Hit it with Zeninage if you have it. Otherwise hit it with Rapid Fire. Hopefully it will hit the right one a few times. Also watch out for the Tornado attacks. Cast Mighty Guard to reduce the damage from the Frost attacks. Hold through, and all four will eventually go down.
Boss Fight
Sandworm
HP
18000
A single hit of Aqualung will not kill it this time, but certainly bring it to its knees. (If it had knees that is) Strike with a strong physical attack or Aqualung again to finish it off.
Boss Fight
Atomos
HP
25000
Atomos has not changed one single bit...but you have. Now you can outlast the Comet attacks. Keep everyone healed, and strike fast and hard with a Flare fused Rapid Fire. He should go down in two attacks.
Boss Fight
Halicarnassus
HP
44444
Basically the exact same fight as well. A few Rapid Fire strikes will take him down. Do not worry about unloading a lot of strong magic, unless you are healing.
| | | |
| --- | --- | --- |
| | Floor 6 | |



Boss Fight
Crystals
HP
15000 Each
As before, be sure to cast Mighty Guard or Float. Then hit it with Titan repeatedly, just like before. Or you could simply summon Odin once, and call it a day.
Boss Fight
Melusine
HP
24000
She might have a little higher HP, but certainly she is no different from before. Strike her fast and hard, and she will fall much quicker than before.
Boss Fight
Catastrophe
HP
33333
Well, if you heeded the advice at the beginning, someone has a Reflect Ring on. If this is the case, And Float is in place, you know this fight will be easy as pie. If not, simply have your Blue Magic weilder cast Mighty Guard after Catastrophe hits you with 100 Gs. Then immediately cast Carbuncle. Now kick his tentacles all over the place.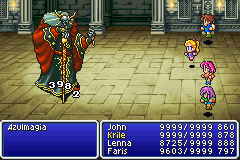 Boss Fight
Azumlmagia
HP
40000
Same fight as it was the first time. Srike and fight is over fast.
Boss Fight
Necrophobe & Barriers

HP
55055 & 12000 each
Necrophobe is your final fight in the Cloister. And he comes complete with his four barriers. You have to take them out first of course. Hit them with Zeninage, Bahamut, or any other multi-striking attack you have. Once the barriers are gone, go full force on Necrophobe. Gilgamesh will not enter this fight, so you will have to finish it on your own.
This of course is the end of the Cloister of the Dead. You will step out, and be rewarded with the Medal of Smiting. Like your other trophies, this is just for the right to brag about it.
There is nothing left to do, unless you want to go exploring the world with your new job, hit the Sealed Temple for more fighting, or go through the Cloister again. Congratulations on beating all there is to Final Fantasy V Advance.