Final Fantasy IV DS Whyt
Whyt is a new friend of Rydia's exclusive to the DS port of Final Fantasy IV. Not only is Whyt a friend to Rydia, he is also one of her summons. He can be called into battle, where he will replace her for serveral rounds. His attacks and damage depend on you the player, and what you do with him.
To check on Whyt's progress and help develop him, you need to find a Fat Chocobo. The first thing on the list is your Whyt. And inside you can do all kinds of things with him. Below is some details on all things Whyt, from the mini games, to giving him your own personal look.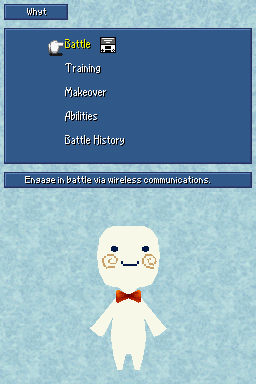 | | |
| --- | --- |
| | Whyt Battle |
The Battle is done online with Whyt. Here you are able to connect with other people, and allow your Whyt's to compete in a battle. This is a good way to test out your Whyt, without really losing anything, or risking him dying in real battles. I cannot give too many details on this, as there is no one close enough for me to connect to, and I no longer own the game.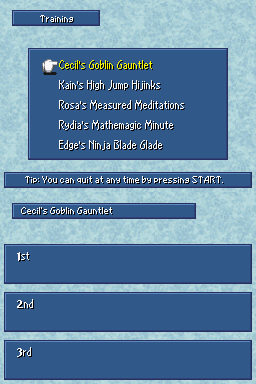 | | |
| --- | --- |
| | Whyt Training |
The training mode is most likely where you will spend most of your time with your little guy. Here there are a set of five mini-games, that are not only fun, but the only means of increasing Whyt's stats. Each of the games, will give Whyt a increase of a single stat when done properly. This is certainly a great diversion from the main game, as well as a good way to make a more formitable Whyt character.
Below is the all the info on the mini-games, and the ways in which they can be beaten. Scoring high will net you a new outfit for Whyt to wear as well. Give it a shot, you might end up liking the games, thus making a really strong summon for Rydia...Not as strong as bahamut, cause he is lord of all summons...but perhaps Leviathan.
Cecil's Goblin Gauntlet
Stat Increased
Strength
Tap the goblins as they run at you from the left side of the screen to deal damage. Different color/sized goblins will take varying hits to kill, and yield varying points. The longer you play, the more goblins run at you, and the faster they run.
You have two hearts that represent your health. Get hit twice and you lose your points. Whyt stands at the bottom right corner with "Escape?" above his head. If you get hit, and want to keep what points you have, use the escape to get out of the game. If you are hit twice, you lose all your points.
Occasionally you'll obtain a "bomb" item, accessible at the bottom left screen. Tap that to instantly destroy any and all goblins on the screen. Save these for when you are outnumbered or too many large Goblins are in the screen! Also, if you're focused on Cecil you'll notice an exclamation mark above his head ocassionally. This happens when a giant green goblin appears. This is a good time to use one of these bombs.
The purple goblin and the giant green goblin both must be attacked multiple times to be killed. If you attack them once, they stops for a while, giving you more time to focus on others. Use this to stall them if too many appear. When you get a bomb, use it to instantly get rid of them.
If you win the challenge, you can get the Whyt Paladin costume for your little guy to wear. Pretty neat to have a costume huh? And here is the points you get as well as the hits needed for each Goblin.


Green Goblin: 30 pts, 1 hit
Red Goblin: 50 pts, 1 hit
Purple Goblin: 80 pts, 3 hits
Large Green Goblin: 200 pts, 10+ hits
Kain's High Jump Hijinks
Stat Increased
Stamina
Rotate the stylus around Kain as fast as you can for 10 seconds to leap high into the air. The faster you keep rotating, the higher Kain will jump (you can see how high you will jump by looking at the bar on the left). Tap the birds as they fly at you to have Whyt blow them to bits. Get hit and the game is over. You score more points the higher you are able to jump.
Quick rotations around Kain with the stylus really help. About the time you get 3500 points the birds will really start to pick up speed. This is where your focus should remain on Kain, and hit the birds you see in your periphreal vison. People catch movement really easy, even when focusing on something else. This is a good way to rack the points up.
If you win the challenge, you can get the Whyt Dragoon costume for your little guy to wear. Pretty neat to have a costume huh? Unlike the challenge for Cecil, all of the birds only require a single hit to knock down. But they do begin coming at a much quicker speed than the Goblins in Cecil's trial.
Rosa's Measured Meditations
Stat Increased
Spirit
Ever played Majora's Mask? (Coming soon to a Final Fantasy Kingdom near you!) There is a mini-game similar to this one in which the postman tries to record your sense of timing. This mini-game is no different. There is no battles and no enemies running at you. You just simply need to pray.
This game relies solely on your internal clock. If you do not have a good internal clock, this one can be a bit difficult. You have three rounds that give you different numerical goals. When you are given the time, you need to hold the stylus on the screen for that amount of time. Get as close to the goal for the most points. If you go over more than a couple seconds after the goal, you will not receive any points.
The game tries to mess you up by having a ticking clock at various speeds. DO NOT TRY TO USE THIS CLOCK! It will only mess you up and equal failure. I would actually suggest losing the sound all together in this game. No matter how good you aer, the clocks in the background can mes you up. Your best bet would be to find a stopwatch. Most of you all have a stop watch built into that cell phone you use for anything but calling people :-) Press "Start" on the stopwatch just as you touch your stylus to the screen. This will give you a far more accurate time needed.
For winning the challenge, you will get a Whyt White Mage costume for the little guy. Kind of a nice one, but I am privey to the Dragoon one :-)
Here are the scores you get based on your time.

Perfect - 4000
0.01/.05 seconds - 3000
0.1 seconds - 2000
0.15 seconds - 1000
0.3 seconds - 500
1 second - 250
2 seconds - 100
Rydia's Mathemagic Minute
Stat Increased
Intelligence
This is a basic math game in which you try to reach "10" using the four numbers and addition, subtraction, multiplication, or division. You can arrange the numbers and symbols as you see fit with the stylus. As you try to come up with the answer, you are timed. If you run out of time, you lose the points for that set.
You will also notice two buttons on the bottom right side of the screen. The left button goes back one step, allowing you to correct any mistakes you make. The right button will replace the current set of numbers with all new ones. If you are just beyond stumped on how to get 10, hit this button to change the numbers.
You get more points if you chain together solutions. Basically you want to avoid using the pass button. If you chain together correct answers, you will get a higher score. If you keep a chain going from the beginning, it shouldn't take you more than 9 correct solutions to reach 9999 points.
And just for you, a extremely useful way to make this one fo the easiest games to beat. When you get your numbers, close the DS screen and do the math on your own. Paper and pen is better than a calculator as you can set it up with all the numbers. While it is closed, the Ds will not run time. This is the most effective way to complete the minigame if you find yourself having trouble. And with some you definitely will (Unless you were one of those smart kids in class lol)
For winning the challenge, you will get a Whyt Summoner costume for the little guy. Not too shabby huh. Friends always dress alike! You have 60 seconds to complete the challenge. With the little trick of doing your own math, this will be easy.
Edge's Ninja Blade Glade
Stat Increased
Speed
If an enemy is not killed quickly, it will launch an attacks right at you. You can deflect these attacks, if you have good enough aim, with a shuriken to avoid being hit. If you tap and hold down the stylus on Edge, he will cloak himself as a tree. This will also keep you from being hit. You can take three hits before the game ends. The enemies will get faster and more aggressive as time goes on.
Your first priority should be to attack any enemy that shows up. First in, should be first out. Leave an enemy out too long and they'll attack you. Multiple attacks will end your game quickly unless you can cloak yourself faster. You should not attempt the deflection thing. It's based too much on chance, and like most casino's usually ends up in the enemy's favor. Never be afraid to cloak yourself. Cloaking does not mean your weak...it means you are smart enough to know when to dodge and when to fight.
After about 30 seconds the Great Malboro will appear in the center of the screen, and yes enemies will still be popping up all over. He definitely is worth the large points, but if you can't take him down, it's wiser to amass the points from the little enemies.
when you beat the Great Malboro the game ends. Make sure you have at least 6999 points before killing him to get the perfect score. You also need to make sure there is enough time to beat him as well.
For winning the challenge, you will get a Whyt Ninja costume for the little guy. It is pretty snazzy as well. Certainly a good look overall. (Still like my Dragoon outfit though) Here is the list of enemies and the points they give

Death Flower: 150 pts, 1 hit
Treant: 300 pts, 2 hits
Great Malboro: 3000 pts, 20+ hits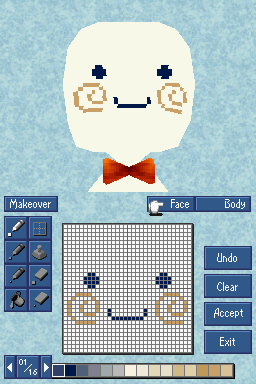 | | |
| --- | --- |
| | Whyt Makeover |
Whyt has the ability to change his appearance with your help. Go into the makeover section, and you can create all new looks for his face, as well as Whyt's body. Hey sometimes just a little ghost white character gets a little boring. Spruce him up a bit, and let your artistic flair go! He does not mind at all. If you make a mistake, there is a "Undo" as well as a "claer" option, that will allow you to fix the mistake or start over. For those of us who remember the old school, this is identical to Microsoft Paint. Only in Final Fantasy IV it is far more fun.
Create yourself a great little Whyt to bring into your battles. And hey if you can screenshot your creative Whyt, send him in, and I will post them here. To start, here is my Whyt. :-)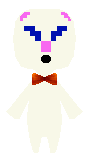 Kupo!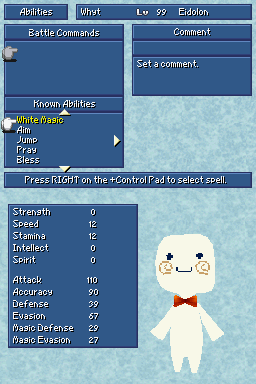 | | |
| --- | --- |
| | Whyt Abilities |
In this section, you are able to assign the abilities you want Whyt to use in battle. You are given most all of the character abilities found in the game. Depending on the mini games you have won the most, you can make him into another heavy hitter, or create a mage that can use Black, White, and Summon abilities. There really is no limit to what you can do with him. But I highly suggest beefing up his stats in the mini games, before having him venture out into battle. This way he can survive the fight and be of good use during.