Final Fantasy VI Misc. Quests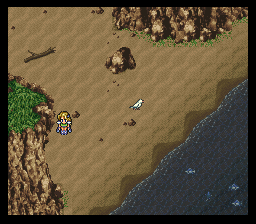 Fishing for Cid
To get fish, have Celes go to the beach south of the house. Here you should see anywhere from 2-5 fish swimming around. Even though there are plenty of fish, you want to be sure they are the best. The faster the fish is swimming, the better it is. Here is each type of fish, and how much they will heal/hurt Cid.
| | |
| --- | --- |
| Yummy Fish | +32 PTS |
| Just A Fish | +16 PTS |
| Rotten Fish | -4 PTS |
| Fish | -16 PTS |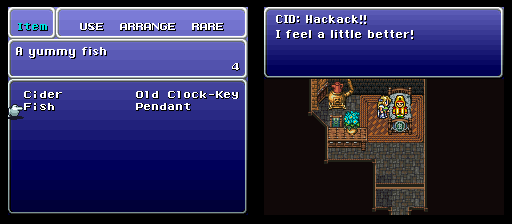 If you save Cid, he will direct you to a raft he was building while you were in a coma. If you let Cid die, Celes will be stricken with guilt and grief. She will head to the jump off point, and attempt suicide. She fails, and winds up on the beach. When you re-enter the house, you will find a letter from Cid telling of the raft. In the Advance version of VI, we will show the sadder ending to Celes taking care of Cid.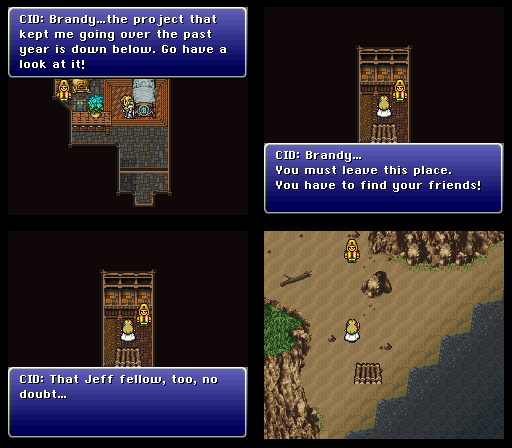 Ancient Castle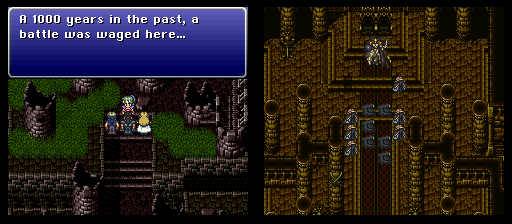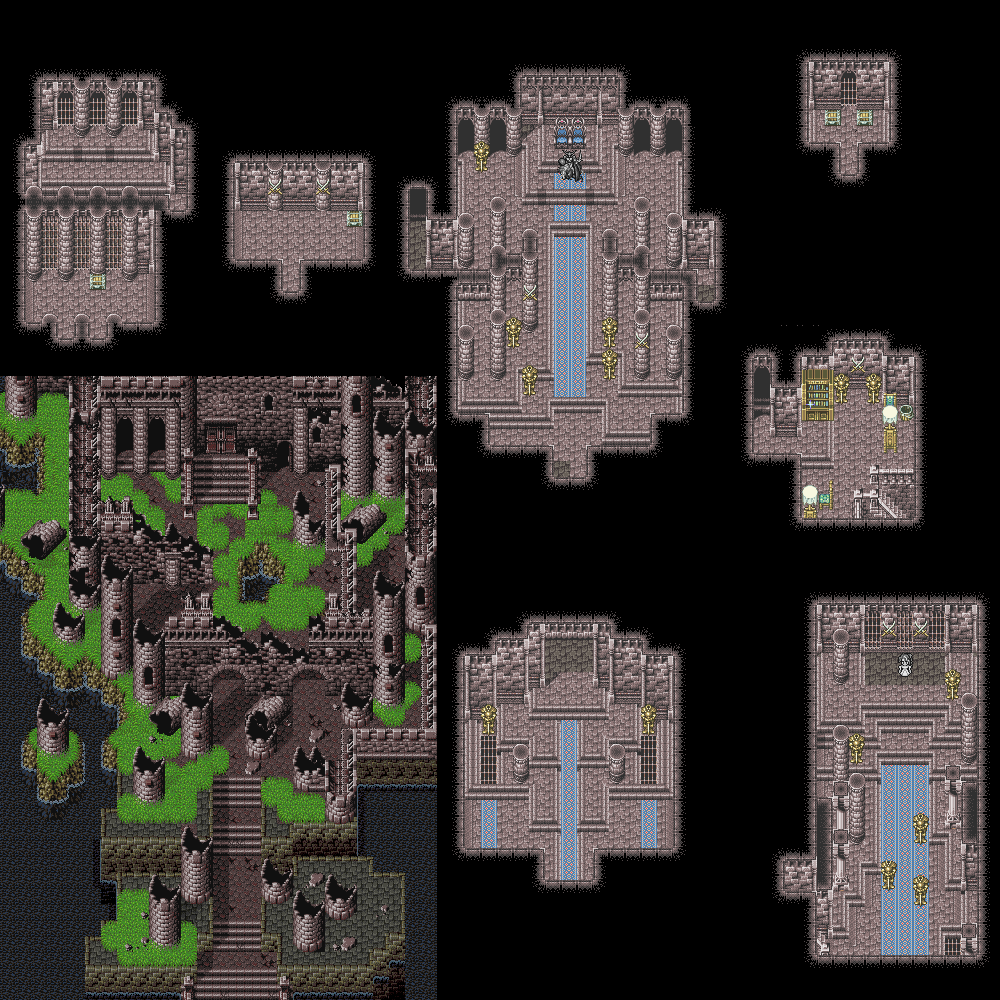 In the WOR, after you get the airship, take another trip to Figaro Castle. Go for a trip through the sand again. This time you will stop about half way through the trek to Kohligan. The crewman notifies you that there is something in the stratum, and offers to let you investigate. Humor yourself...investigate.
Go through the jail cell you first entered the castle in, and you will come out into a cave. Inside you will come across several chests. One chest in the southeast corner has a fight with a Master Pug. He is one tough hombre, but you will be rewarded with the Gradeus. This is the best knife for Strago, Relm, and Locke. After that, head west, into the next room. There you can climb down a ladder, and use a save point. I strongly recommend saving, since there are several difficult fights ahead. When you continue to the castle steps, you will see a flashback of the castle during the War of the Magi. Their defender Odin, fell at the hands of a powerful sorcerer, who turned him to stone. You can easily barge into the castle and take Odin. You might just want to check out some of the outer rooms first though. The two doors to the right of the entrance will take you to a chest with a fight with a Samurai Soul.
This guy can be pretty deadly for low level players. Samurai Soul uses a plethora of attacks. Gale Cut, Fire Skeans, Water Skeans, and Bolt Edges, can heavily damage the entire party each turn. If struck by magic three times it counters by throwing a powerful katana, then using GP Rain. If attacked normally six times it uses Assassin, an Instant Death attack that ignores immunity. It is strongly urged to keep your attacks mixed up to prevent either from happening. After enough time passes the Samurai Soul gains the Blink, Reflect, and Haste statuses, making it even more deadly. This is where the fight needs to be pushed to end very quickly.
Though he is a massive damage dealer, the Samurai Soul has two gargantuan weaknesses: It can be poisoned with Bio. This will eventually cause it to take up to several thousand points of damage each turn. The second is Confusion. If he can be confused, he can possibly use that Assassin on himself...one-hit kill! Sketching it with Relm may also work to use Assassin.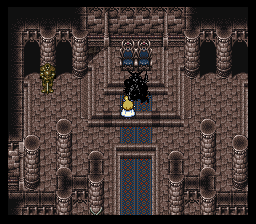 After defeating him, you will obtain the Offering Relic. This allows four strikes/turn with each weapon equipped. In the room to the left, you will find the Punisher. After you collected your loot here, take a walk inside.
In the throne room, you will find the statue of Odin from the flashback. Touch him, and this will cause him to turn into magicite. He is now yours to summon. But you are not quite done yet On the right side of the throne room, there is another door. This will take you to a small room containing a Gold Hairpin, and a Blizzard Orb. This is one of two relics needed to unlock Umaro's full power. But this is not the end of this quest. Not by a far shot.

Return to the throne room. From the chair, take 5 paces south. Hit the confirm button, and a sound should be heard. It should say you hear a distant sound. Now enter the room on the right. This should take you to a study, where you will notice a set of stairs going down, and a sparkle on the shelf. The sparkle is the Queen's Diary. It explains of her undying love for Odin, and how after the battle, she was going to express her heart to the galiant warrior. Reading it is optional of course, but it does lend some more history.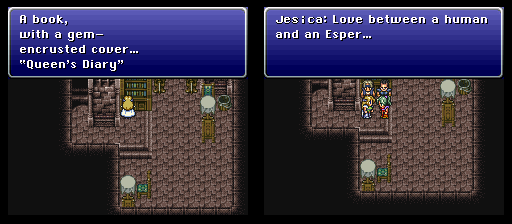 When you are done reading, head down the stair to the right. Here you will encounter the Blue Dragon. You can either fight him now, or come back for him later if you'd like. Your objective is past the dragon.
The Blue Dragon attacks by using Acid Rain, Flash Rain, and Clean Sweep. (What did you expect from a water elemental dragon?!?) Acid Rain can be particularly dangerous because it gives the entire party the Sap status. When he casts this, have someone turn into a straight medic, keeping HP up at all times. If any party members have Haste Blue Dragon will cast Slow on itself and use Rippler to exchange its status with a party member's. The easiest way to avoid this is to simply not cast Haste on any party members. Rippler exchanges all statuses, posative and negative, but the Blue Dragon's AI script only checks for Haste status to determine if it will use Rippler or not. You can gain the spell for Strago in this fight, but it is strongly recommended that you avoid Rippler, thus avoid Haste at all costs. Here is why.
Bringing Shadow to this fight, or to Trance Terra is extremely dangerous if Rippler gets used, since both Morph and Interceptor count as invisible statuses. Due to a glitch these statuses will be transferred to the Blue Dragon. In the case of Interceptor, unless Rippler is used to transfer it back to the party before killing the Blue Dragon, Interceptor will be lost and will no longer block attacks for Shadow. With the Morph status, his magic damage will literally double, as is the case with Terra when she is morphed. So basically it is just overall better to not use Haste.
After fighting the dragon (or avoiding him), head to the end of the room. Here you will find the queen was also turned into stone. Activate the statue, and she will shed a single tear. This tear will transform Odin into Raiden. Raiden is more powerful than Odin, and is the only Esper to teach you Quick. Odin teaches Meteor, and you can learn that a lot faster from Crusader.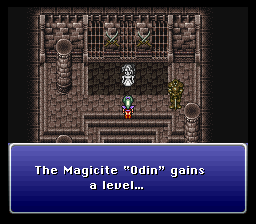 Terror in the sky!
When you get the Falcon in the World of Ruin, you of course go flying off to find your friends. This is a dangerous thing...flying around the skies of a ruined world. When the world was ripped apart, Doomgaze, one of the sealed enemies, was released into the world. At random, he will find your airship. When he does you will have to fight.
Doomgaze opens every battle by casting Lv.5 Doom, killing any party members with a level a multiple of five. Make sure when you go after him, to choose members that do not have this multiplier in effect. Doomgaze then uses Doom, Ice 3, or a normal attack, and on its second turn Aero or Doom. On the third turn of the battle Doomgaze always flees. And you are left wondering what the heck?
The trick to defeating it is that Doomgaze does not recover its lost health when it flees. It will retain whatever damage that was done, into the next fight. It is suggested to land and save after every fight. For optimal damage, get a character with the Genji Glove/Offering combo, and the two best weapons you have. Have another character who knows spells like Ultima with the Gem Box/Economizer combo to hit hit with double spells in these few turns. DO NOT DO NOT DO NOT attempt the Vanish/X-Zone or Vanish/Doom trick on Doomgaze. If it connects, you will defeat him..but you will lose his prize awarded. And exactly what is this prize you wonder? It is the Bahamut magicite. This is one fo the more powerful Espers in the game, and the only one that teaches the Flare spell. This is more than enough to go after Doomgaze!
Auction House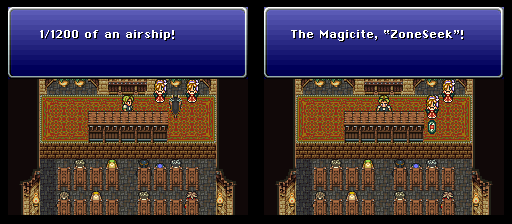 Once you have gone to the Magitek Research Facility and returned, the Auction House in Jidoor will open. There is a wide selection of things for sale, some of which you can (and should definitely) buy. In the World of Balance, the two most important things to look out for is the Golem and Zoneseek Magicites. In the World of Ruin, there is the Excalipoor Sword to save your Gil for. Other items that can be purchased is the Angel Wings and Hero's Ring relics. Here is a complete run down of what is up for bidding.
Items with a * next to their names cannot be purchased no matter how much you have, or how hard you try...sorry.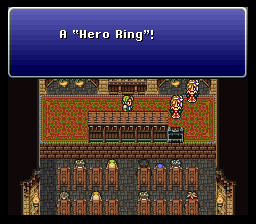 | | | |
| --- | --- | --- |
| Name | Value | When bought |
| Zephyr Cloak | 10000 | WOB |
| *Chocobo | 500000 | WOB |
| Cherub Down | 10000 | WOB |
| ZoneSeek | 10000 | WOB/WOR |
| Golem | 20000 | WOB/WOR |
| *Airship Model | 1000000 | WOR |
| Hero Ring | 50000 | WOR |
| Relic Ring | 20000 | WOR |
It should be noted that if you decline to buy either Esper, you lose them for good. So be sure to have at least 20,000 Gil at any time you enter the Auction House.
Gau...I am your father!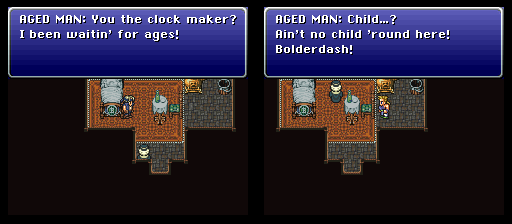 In the beginning of the game, while playing Sabin's quest, you will come to a small house. This is where you come across Shadow. If you go inside, you will come across a have crazed man who wants you to fix everything! No really he wants you to fix everything. If you keep going in and out, the thing he wants fixed is changed. Eventually dialogue will come up about children. He gets real angry, and threatens to toss you onto the Veldt. (Would have been nice of him to do, since that is furhter down the journey for you) He mentions a kid on the Veldt as well (Yes hinting to someone coming into the party), but that is all there is to it.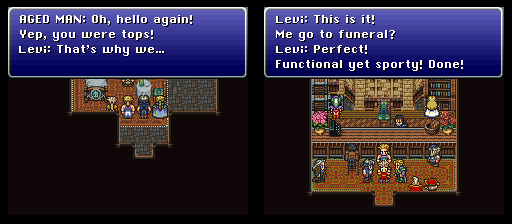 Well, certainly after that "ehem" wonderful series of conversations and forced manual labor, you have forgotten all about him. Believe it or not, he survived the world being destroyed, andresides right where he always has. Given his previous dialogue, you almost know who to bring to see him huh? Put Gau in your party, and visit the old goat again. Yes he actually thinks you fixed his house back then...yeah. Sabin realizes this MUST be Gau's father. So everyone hops aboard the falcon and heads to Jidoor for some clothes shopping.
Everyone chips in for fashion advice. Celes though, ends up finding clothes for herself...go figure. Cyan tries to get Gau to dress like a clown, to much failure and some funny remarks. Sabin makes Gau wear a kenpo gi (and holy crap that sprite looks awesome!), but that does not do it either. Locke goes Thief look Treasure Hunter look, but Edgar mocks the idea. After Edgar mocks this idea, Locke punches him. Edgar goes with a Tux, Silk hat, and a rose between his teeth??? Drop the rose and hat, and we are set!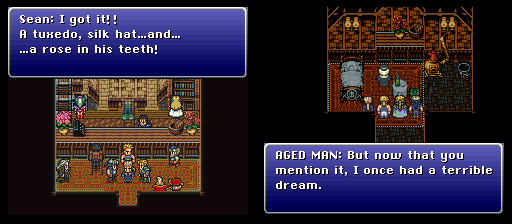 Return to the crazy man, and Sabin will ask if he is indeed Gau's father. He denies it, but remembers a dream of having a demon child. This child was thrown to the Veldt where it is assumed he died. He then says that this could not possibly be Gau. Gau is such a fine person, and his parents must be truly proud to have him as a son. Gau leaves, and Sabin follows. Gau states that his father is alive, and that makes him very happy. It was enough to see him alive and well for Gau.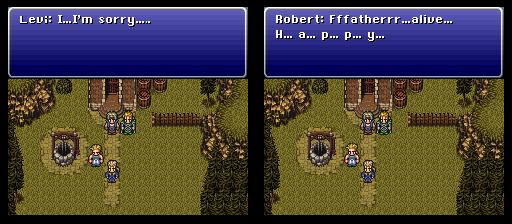 To wait for Shadow...or not wait for Shadow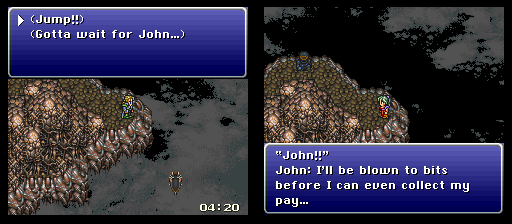 On the Floating Continent, Shadow tries to stop Kefka, and tells everyone to run for their lives. You are then to make your way to the end of the path, and get to teh airship. When you get there, it will say you see the airship below, and ask if you want to jump, or wait. If you have over 10 seconds remaining when you get there wait. There is a reason for it. If you step back and go to the edge again, the wait choice becomes wait for Shadow! Unless you do not like Shadow at all, wait for him. When the clock reaches 5 seconds, he will appear, and you will both get off the continent together.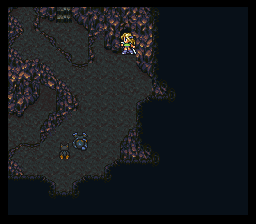 If you wait for Shadow, you can then locate him in the Cave on the Veldt in the World of Ruin. When you find him, you will face a Behemoth King in life and in death. Afterwards, you will be taken to Thamasa for him to recover. When you go to the Colosium, wadger the Ichigeki. This will bring you into a fight with Shadow. Beat him, and he will join the party for good. From then on, he is selectable at any time.
It should be noted that if you do not wait for Shadow, you will find Relm here instead. Despite this, the dialogue in the SNES and PS1 versions remained for Shadow. Things such as you saying "His wounds look pretty bad". And there is one other reason for keeping Shadow around...and that is...
Shadow's past
If you waited for Shadow on the Floating Continent, you will be able to get a glimpse into who he really is. Once you find Shadow, you will get a series of dreams, when you rest at some inns. The first of the five dreams occurs when you take Shadow back to Thamasa. The other four occur when you rest in inns. These dreams give a little light on who Shadow is, why Interceptor likes Relm, and why Strago was so surprised the first time you visited Thamasa.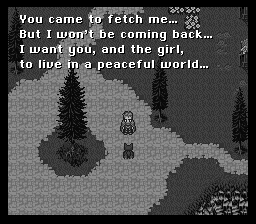 Dream 1
Fueled by the guilt of his past, Clyde decides to abandon his family to fight the oncoming threat of the Empire. The family dog Interceptor tries to stop him, but Clyde speaks of making the place safer for the girl and leaves. Interceptor hesitates, before following his master to this day.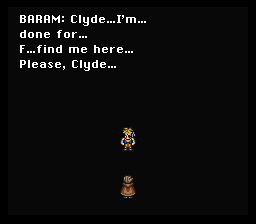 Dream 2
In this dream, Clyde is being haunted by the memory of his one time partner, Baram. He wants to know why he was left to suffer, while Clyde fled.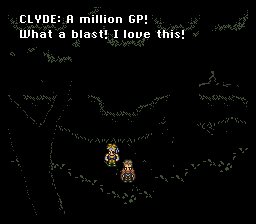 Dream 3
In this dream, you are taken back to when Clyde and Baram have commited their first robbery, and are celebrating. Thus they choose a new name for themselves. Clyde chooses Shadow.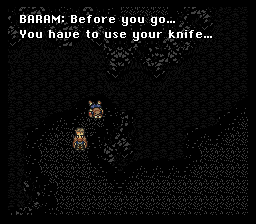 Dream 4
The enemy has caught up to Baram, and Shadow discovers him mortaly wounded. He begs for Shadow to end his suffering, as well as the suffering he will get when caught alive. But Shadow finds he cannot do this, and leaves his friend at the mercy of the enemy and flees.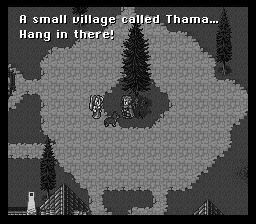 Dream 5
Shadow finds himself in a village called Thamasa. Here he is approached by a Madonna, who asks for him to stay and begin a new life with her. He agrees, and stays in the small village.


The girl Clyde speaks of is none other than our dear sweet Relm. Relm and Shadow both are initially equipped with the Memento Ring. They are the only two in the game who have it. This is why Interceptor is friendly to only Relm, and why Strago is so surprised to see him. Shadow is Relm's father.

A theory on Baram: At the time of the SNES version, several friends of mine and I came up with a theory on what happened to Baram. Who else hides their true identity in the game? Gogo of course!. We figured that Gogo somehow eluded his captors, and found himself in the belly of the Zone Eater. Their he fully recovered, and decided to remain hidden. This theory was brought to naught however, with the American release of Final Fantasy V. Gogo was just a carry over from the game before....or was he??