Final Fantasy VI Imperial Banquet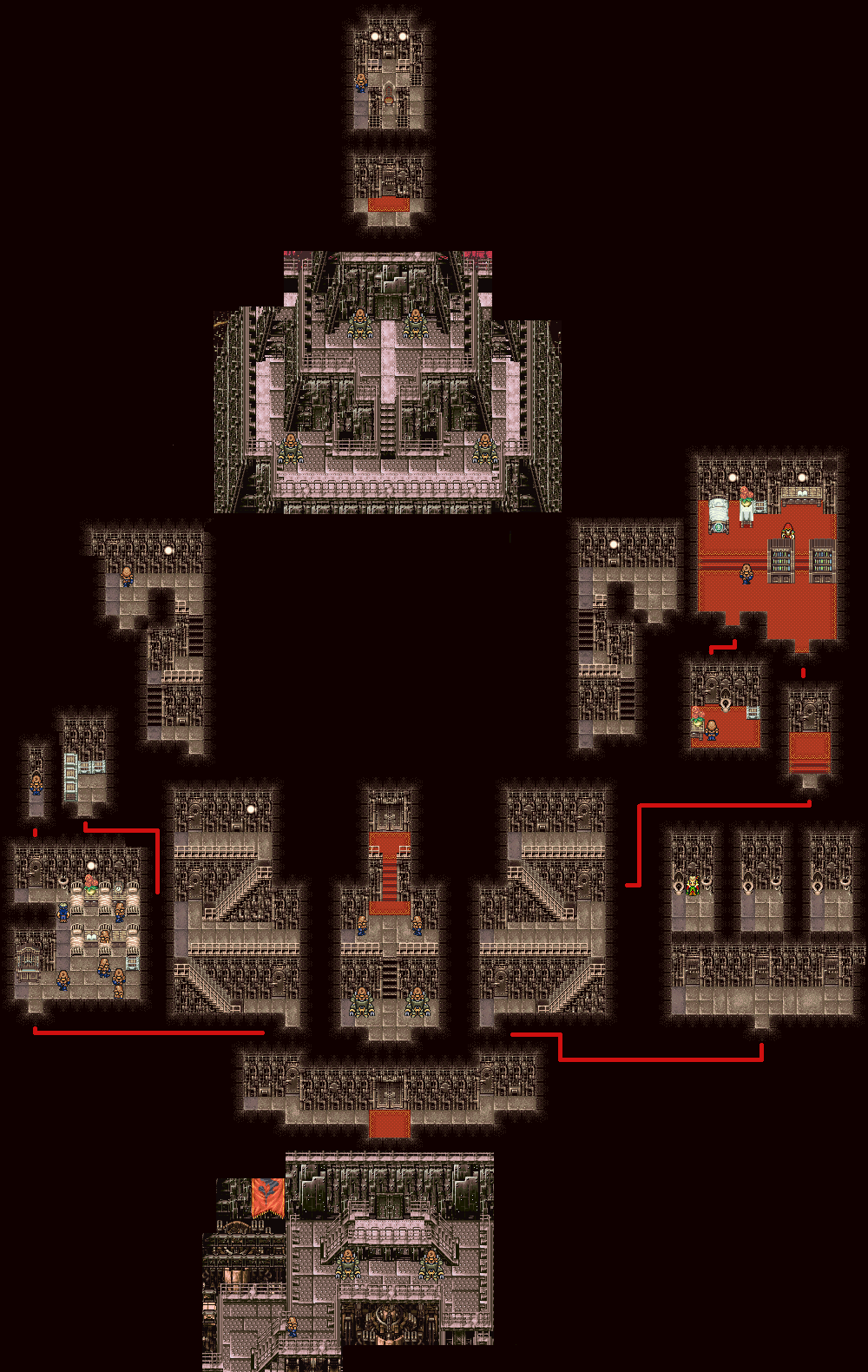 After the Espers escape from their realm, they lose control of their power and decimate Vector. When you arrive, you will find the Emperor is expecting you. He tells you he has decided to hang up his weapons, and end his war. But first he wants you to convince his troops of the end of the war. You will need to talk to as many of his soldiers as you can in 4 minutes. There are 24 soldiers you can talk to. Some will easily agree, but there are four that will fight you. Their locations are:
Front left Magictek Armor on the "roof"
Sergeant in the throne room on the "roof" (where Terra gets her slave crown in the flash back)
One in the room full of soldiers on the left side
And the final one is in the bathroom
Refer to the map on the left, for a full view of the soldiers locations. One person you do not want to talk to is Kefka. Avoid speaking to him at all costs, since you will lose 20 seconds of time. The total amount of soldiers you talk to will be tallied with the banquet score later.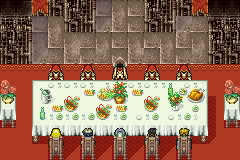 After the 4 minutes are up, you will join the Emperor in the dining hall. Cid joins as a Returner, and a series of questions are asked. Each answer will give you a certain score. These scores, and the total amount of soldiers will be added together. Here are the questions, and the points given for each answer.
The toast
To the Empire
2
To the Returners
1
To our homeland
5

What to do with Kefka
Leave him in jail
5
Pardon him
1
Execute him
3

Poisoning of Doma
What's done is done
1
That was inexcusible!
5
Apologize again
3

Regarding Celes
Was she an imperial spy
1
Celes is one of us
5
We trust Celes whether she spied or not
3

Further questions
Ask a question once
2 pts EA.
Repeat a question
-10 pts EA.
-
-

About the Espers
They have gone a bit too far
5
You're the one who brought them here in the first place
2
-
-

Your first question
Answer correctly
5
Answer incorrectly
0
-
-

Take a rest
Take a break
5
Keep talking
0
-
-

What to say
That you really want peace
3
That your war is truely over
5
That you're sorry
1

Aiding the Empire
Yes
3
No
0
-
-
*Note* If you have Cyan in your party during the banquet, you will get an extra bit of dialog on the poisoning of Doma from Leo.

After the banquet, you will be stopped by one of the Emperor's counselors. He will then reward you according to the score you got speaking to the troops, and the questions during the banquet. Here is what you will receive.


| | |
| --- | --- |
| 0-39 PTS | South Figaro is liberated |
| 40-49 PTS | Doma is liberated |
| 50-59 PTS | The imperial base is unlocked |
| 60-69 PTS | You will also get a Tintinnabulum |
| 70+ PTS | On top of everything else, you will get a Ward Bangle |
Well....